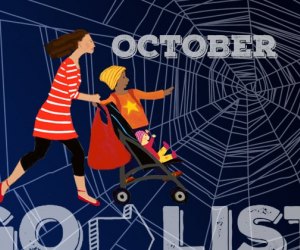 October GoList: Best Things To Do With Long Island Kids
Why is it the final day of the month seems to garner all of the attention paid to October? If you didn't know better, on Long Island you might assume all of the month's activities swirled around Halloween.
To which we say, there's a whole month of family-friendly entertainment just waiting to be had. Think about it: The weather is comfortably cool, ideal for picking pumpkins and hayrides. The changing leaves color the Island in natural splendor and cultural and seasonal festivals dot the landscape from Long Beach to Montauk.
Yes, the main event is Halloween; we just don't want you to overlook all this wonderful month has to offer while you are searching for that perfect costume for your little prince or princess. In the 30 days before your community's grand costume parade, make sure you find time for a fall festival, a Columbus Day celebration, even some children's theater. Kids have some down time from school this month, so why not take advantage before things turn a bit chillier.
Remember, if you need some more activities to keep those sugar-rushing kids busy, our Long Island Events Calendar is continuously updated with exciting family options throughout the month. Also, check out our list of FREE family activities in October that are sure to delight your wee ones without denting your wallet.
Sign up for our free newsletters to get up to date posts like this delivered to your inbox.
Picture This! The Art of Children's Books — Roslyn Harbor
All month long (closed on Mondays)
Artistic kids, or kids who merely love to read, will thrill to the work of contemporary illustrators at the Nassau County Museum of Art's newest exhibit. Picture This is Long Island's first-ever museum exhibit dedicated solely to the art of children's books and features works on loan from the Eric Carle Museum in Amherst, Massachusetts.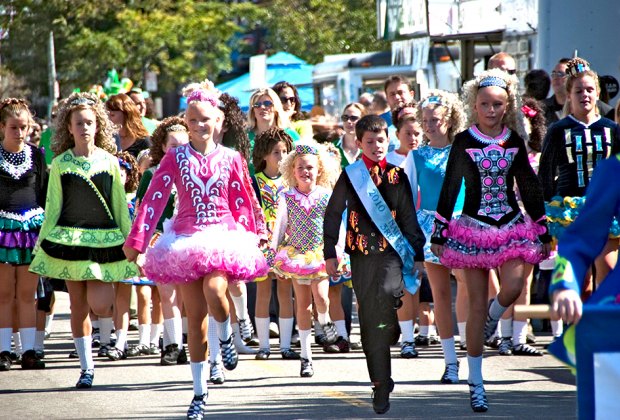 Long Beach Irish day is a celebration of things Irish. It is held every year on the first Saturday of October. Photo courtesy of the event
Long Beach Irish Day — Long Beach
Saturday, October 5
St. Patrick's Day in October? Not quite, but the Ancient Order of Hibernians, the folks behind many of Long Island's March parades, are promising a day of bagpipers, Irish dancing, a parade and plenty more. The city of Long Beach is sponsoring a kids zone from noon to 4pm with rides, games, a DJ, and more. In the case of bad weather the kids zone will be moved to West Elementary School.
Oktoberfest — Seaford LIRR station
Saturday, October 5
Join in the fun at Seaford's first-ever Oktoberfest celebration. Enjoy a game truck and other entertainment, craft and food vendors, baked goods, and the cover band Vinyl Revival. Adults can enjoy craft brews from Destination Unknown Beer Company and Small Craft Brewing Company.
Pumpkinfest — Yaphank
Saturday, October 5-Sunday, October 6
The Suffolk County Farm and Education Center hosts this seasonal celebration. complete with music, food, pumpkin picking and decorating, games, a corn maze, wagon rides, and more. The Spirit of Long Island Mounted Drill Team performs; a children's craft area includes hands-on science activities, and kids can meet and feed the farm animals.
A Kooky Spooky Halloween — Port Jefferson
Saturdays, October 5, 12, 19, 16; Sunday, October 20; sensory-sensitive performance, Sunday, October 6
In this seasonal musical, ghost Abner Perkins is afraid of the dark. Can he conquer his fear with the help of some new-found friends? At Theatre Three.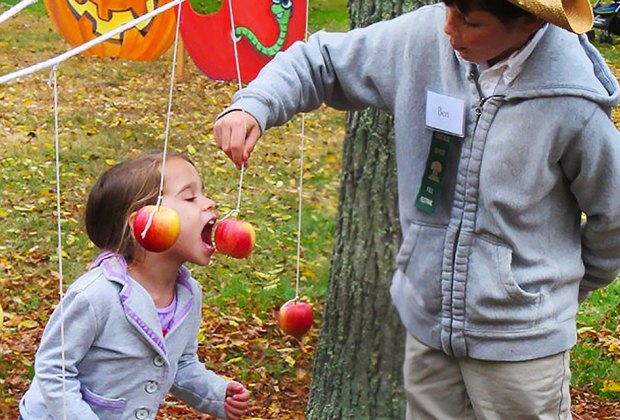 Catch an apple on a string at Sagtikos Manor's fall fest; it's more challenging than you think. Photo courtesy of the manor
Fall Festival at Sagtikos Manor — Bay Shore
Sunday, October 6
Enjoy old-time activities such as spinning, weaving, broom-making, beekeeping, and metal smithing, then take a self-guided tour of the manor and cemetery. Members of the 3rd New York State Regiment perform drills.

Hand-carved jack-o'-lanterns light up the night at Old Westbury Gardens. Photo courtesy of Rise of the Jack O'Lanterns
Rise of the Jack O'Lanterns — Old Westbury
Weekends beginning Friday, October 5-October 29
View 5,000 hand-carved, illuminated jack-o'-lanterns in a breathtaking musical display inside Old Westbury Gardens. The trail is flat and and stroller-friendly. Weekday performances on October 17, 24, and 28.
Long Island Fall Festival — Huntington
Friday, October 11-Monday, October 14
This Columbus Day weekend tradition, hosted by Heckscher Park (not Heckscher State Park), features carnival games, three entertainment stages, food courts, a brewery for adults and a host of other activities for children. FREE admission.
Columbus Day Fair — Farmingdale
Thursday, October 10-Monday, October 14
Celebrate the celebrated explorer with games, carnival rides, and more. Weekday festivities begin at 5pm; weekend festivities at noon. The community parade steps off Sunday at 6pm.
Fall Festival and Chowder Contest — Montauk
Saturday, October 12-Sunday, October 13
​Enjoy great chowder and plenty more, including a carousel, Oktoberfest celebrations, local beer and wine, and live music, and more at Long Island's most celebrated seaport. FREE
Fall Festival and Costume Parade — Long Beach
Saturday, October 12-Sunday, October 13
This fall celebration, at Kennedy Plaza, feature a pumpkin patch, a carousel, craft vendors, a petting zoo, musical guests, hayrides, and more. Of course, the highlight of the weekend is the annual costume parade, which steps off at noon on Saturday.
Long Island Book Fair — Carle Place
Saturday, October 19, 2019
Find a good book to curl up with at the Long Island Book Fair. Visitors will meet local authors who will sign their books and discuss their work with you. Enjoy family-friendly entertainment, including face painting, and fun games for kids, and a raffle.
Long Island Oyster Festival — Oyster Bay
Saturday, October 19-Sunday, October 20
Fittingly, Long Island's largest oyster festival takes place in Oyster Bay. Kids, even those who don't like the slimy shellfish, will find plenty to do here, including carnival rides and games, exotic animals, a butterfly tent, and more. FREE admission and most activities are free too. A word of advice: Activities begin at 11am; arrive early as parking can sometimes be an issue.
Rock Hall Country Fair — Lawrence
Saturday, October 20-Sunday, October 21
Rock Hall welcomes visitors for a weekend of country fun. Featured entertainment includes Stephen Christopher's Time Traveling Magical Medicine Show. Enjoy guided tours, a harvest market, pumpkin patch, children's craft area, farm animal and pony rides.
Oktoberfest at Garden of Eve — Riverhead
Saturday, October 19-Sunday October, 20
Enjoy Long Island craft beer, pumpkin picking, roasted corn, lemonade, hot dogs, farm tours, vendors, hayrides, pony rides, live music, kiddie activities, and more.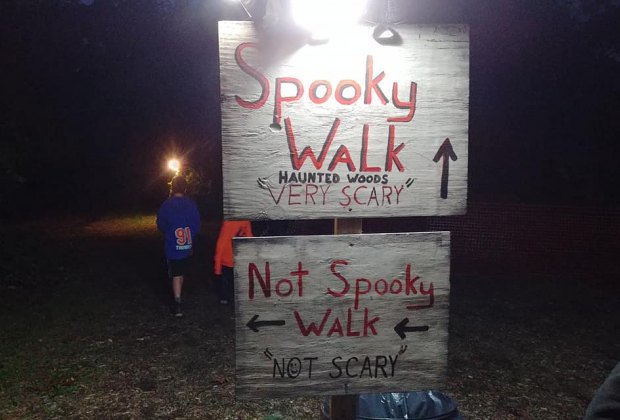 The Center for Science Teaching and Learning has spooky and non-spooky exhibitions at Spooky Fest, and all proceeds support a local non-profit organization. Photo courtesy of the CSTL
Spooky Fest — Rockville Centre
Friday, October 18-Saturday, November 2
Sixteen acres of Tanglewood Preserve are transformed into a family-friendly Halloween showcase of non-scary attractions, arts and crafts, live animals, and more.
Great Jack-o'-Lantern Spectacular Sail — North Babylon
Saturday, October 26
Watch the pageantry as 50 carved pumpkins, contributed by visitors, are placed on flotation devices, inserted with candles, and sailed around the lake. Other children's activities include crafts, games, inflatables, funny photos, and trick-or-treat stations. Mature kids might also enjoy the not-so-scary Spooky Den. The pumpkin sail begins at 6:15pm.

Sag Harbor welcomes Halloween with the traditional Ragamuffin Parade. Photo courtesy of the Sag Harbor Chamber of Commerce
Ragamuffin Parade — Sag Harbor
Sunday, October 27
Join the fun at this East End tradition, where kids, adults, and pets parade down Main Street to welcome in Halloween. The parade ends at the Custom House Lawn, where visitors can enjoy games and a bake sale. FREE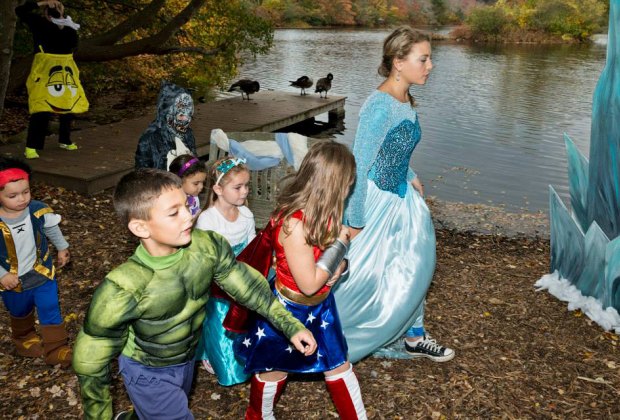 Follow your guide to meet whimsical, fun, and educational characters on the Enchanted Forest Trail. Photo courtesy of The Quogue Wildlife Refuge
Enchanted Forest Trail — Quogue
Saturday, October 26-Sunday, October 27; Saturday, November 2
Follow a guide along the trails at Quogue Wildlife Refuge to meet a host of whimsical, fun, and educational characters. Kids are invited to dress up.
Trick-or-Treating — Islandwide
Thursday, October 31
Some communities on Long Island might sponsor downtown trick-or-treat days before the actual holiday. But for most kids on Long Island, Halloween day (or night) is the big day for candy gathering. Wherever you live on Long Island, you'll benefit from our guide to Halloween activities, including our rundown of the best neighborhoods for trick-or-treating, Halloween parades, and more. Wherever you go trick-or-treating, remember it's always safety first. Our Mommy Poppins experts prefer neighborhoods where houses sit close together, have merchants who participate, are well lit, and have minimal traffic.
RELATED: The Best Pumpkin Picking Destinations on Long Island
RELATED: Corn Mazes and Farm Fun on Long Island