Not Just Skiing: Smugglers' Notch Is Year Round Vermont Resort for Families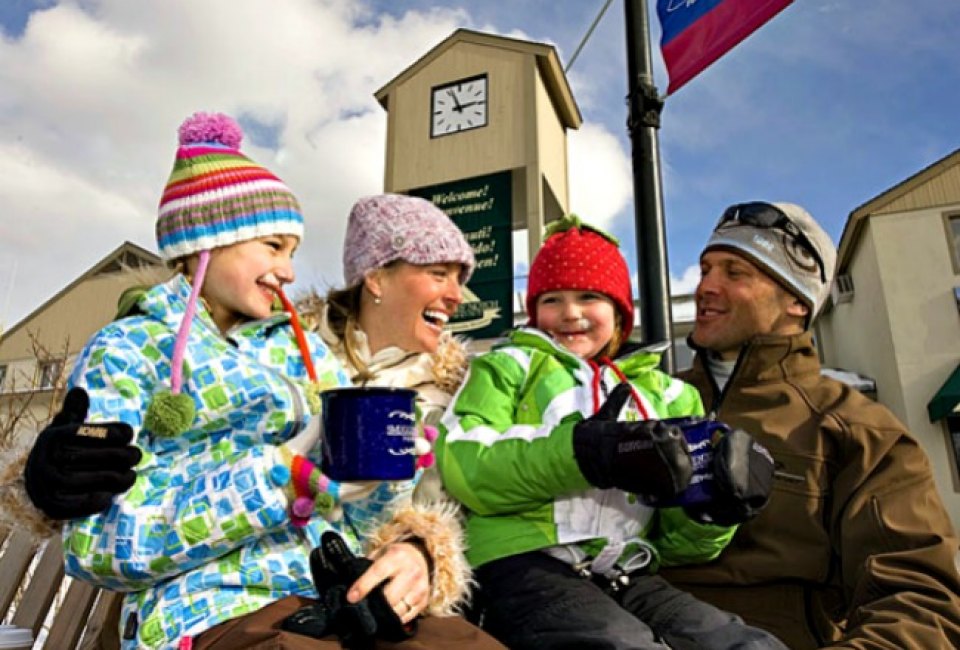 1/23/16
- By
Stephanie Ogozalek
Smugglers' Notch Resort is one of my family's favorite places to ski in Vermont, and like many other families in the Northeast, we find ourselves returning year after year to hit the slopes. However, we vacationed here last summer and discovered it's also a great year-round destination. We will be visiting again this February during our extended family ski trip, but another summer trip to Smugglers' Notch Resort is awfully tempting, too.
With outdoor adventures and special activities, each season at Smugglers' Notch has its own individual charm. The resort reinvents itself throughout the year, offering families distinct and unique recreation options to make the most of a mountain vacation.
The best part about a vacation at Smugglers' Notch Resort is the sheer number of ways to engage your family during your precious down time. The full service resort publishes a guide, nearly 50 pages thick, chock full of things to do each season. Offerings include yoga, magic shows, sports, swimming, guided excursions of every ilk, and family movie screenings. My son loved his visits to the Fun Zone, a kids' activity center with games, bouncy castles and other amusements. There's also a similar space for teens.
In my opinion, though, the outdoor activities are what make "Smuggs" a hot spot for families. A winter highlight is the guided, adults-only snowshoe hike, where you explore the mountain at dusk with a naturalist, enjoy a candlelit dinner in a small mountain top cabin, and then make your way back down in the dark on foot. A summer favorite is the guided family llama trek on the mountain followed by a light breakfast in the woods. There is so much to choose from that no matter when you visit, you can't possibly do it all. We tried but still didn't get to the three-hour, ArborTrek Zip Line Canopy Tour. Since it is open year round, we will give it a go this winter.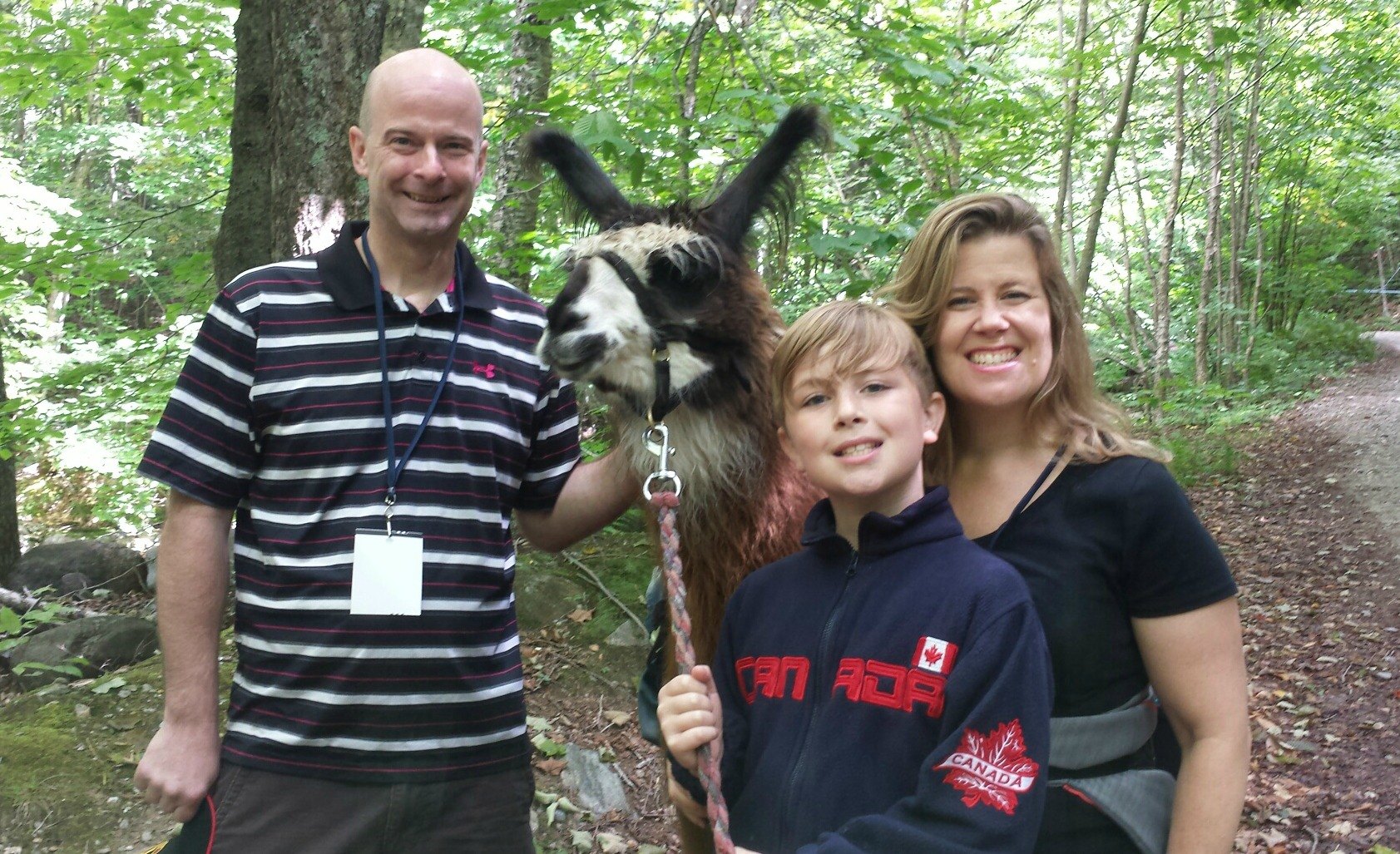 Mugging it up with Shilo, our llama, during our guided trek. Photo courtesy of the author.
During the winter, Smuggs is a snow sports paradise, with 78 alpine skiing and snowboarding trails crisscrossing three interconnected mountains. There is an entire Nordic Center with cross country skiing, snowshoeing, winter walking trails, and a terrain park for free stylers. You can also ice skate, snow tube, airboard, take a carriage ride, go sledding, and watch a weekly fireworks show.
A large part of the snow sports experience is learning the sport. The Smugglers' Snow Sport University is incredible, with all day progressive camp programs for kids (ages 3-15). A week's session culminates in a public race where parents can watch their kids in a solo run down the learning mountain. The University also offers special half day enhancement programs for teens, as well as women's clinics and lessons for adults in both downhill skiing and snowboarding. Plus, Smugglers' Notch guarantees that the lessons will improve your sport.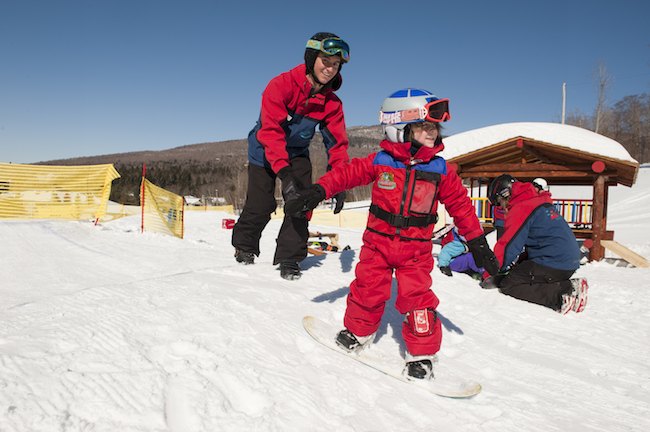 Learning to snowboard at Smugglers' Snow Sport University. Photo courtesy of the resort.
When you trade your ski goggles for swim goggles, Smugglers' Notch is an entirely different experience. A warm weather vacation here is an authentic Vermont summer adventure with lake and pool swimming, nature walks, boating, mountain biking, hiking and fishing. Smuggs offers guided hikes, excursions to local fishing holes, and even a full-fledged skate park. You can take a lessons or clinics in new-to-you sports, too. I had a blast learning to paddle board in a one-hour session last summer. If that isn't enough, take your pick from eight outdoor swimming pools, four water parks, and a treetop obstacle course with 70 stations.
A highlight of the summer is a visit to Bootleggers Basin, a new attraction that opened in 2015. The rustic Vermont swimming hole experience is centered around a reservoir with freshwater swimming, grassy fields for pick-up soccer or volleyball games, and picnic tables. You can also pack a picnic and a good book and forgo all that activity. Mountain biking is another big attraction, and the resort has recently ramped up its offering in this arena by adding a mountainside learning park with entry level features, lessons, clinics, group rides, and family learning sessions.
During our August vacation last year, we were amazed at the summer camp offerings for kids. The warm weather camps range from a traditional summer camp experience to specific learning programs for sports like tennis, mountain biking, and skateboarding. In the general camps, kids are grouped by age and spend their days in different pursuits on the mountain. Older kids and teens can try the survival adventure or sleepaway camp options.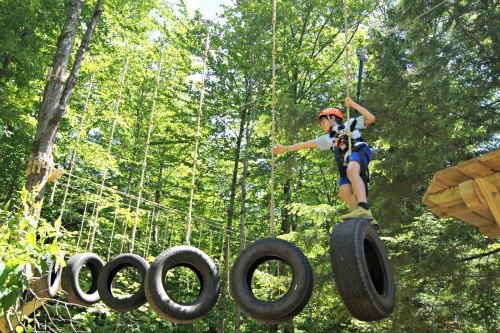 A young climber makes his way through the stations on the Arbor Trek Tree Top Canopy Adventure arial obstacle course. Photo courtesy of the resort.
No matter what time of year you visit, the accommodations range from studio apartments to huge five bedroom townhouses, all nicely appointed with full kitchens and balconies. Some rooms even have fireplaces. Lodging is found throughout the resort, so for a winter visit you may choose to be slope side and during warmer weather you may opt to stay closer to the main village. The resort also offers complimentary in-resort shuttles. I loved parking my car and forgetting about it for a week!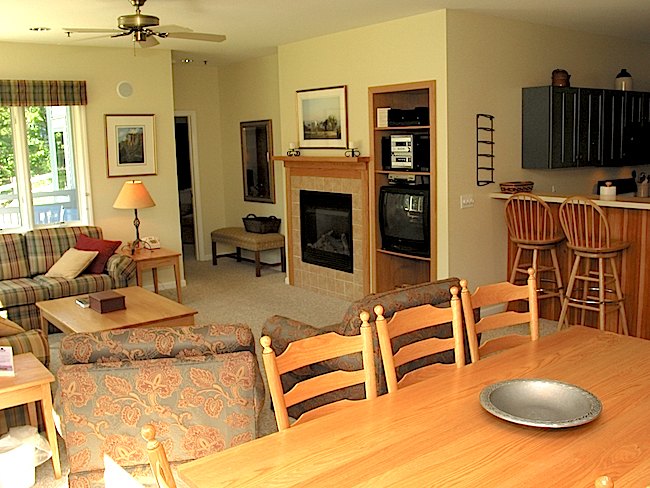 Smuggs townhouses are spacious and include all the comforts of home. Photo courtesy of the resort.
One of the best things about a trip to Smugglers' Notch is that you get a full kitchen in your room, so you can eat breakfast (or dinner, for that matter) in your pajamas and not worry about rushing to a dining room for your meals. The resort offers a lot of dining options, too: a nice lounge for apres ski, a quick service deli perfect for lunch, a coffee shop, and an ice cream parlor (Ben & Jerry's, of course!). For sit-down dining, the family-friendly Morse Mountain Grille offers breakfast, lunch and dinner. There is also fine dining at the dinner-only establishment, Hearth & Candle.
Rates start at $129 for adults and $99 for children per night in winter, and $250 per night for a family of four in summer. A stay at Smugglers' Notch is a good value, as lots of the above activities are included in your Smuggs Pass.
Smugglers' Notch Resort is located at 4323 Vermont Route 108 South in Smuggler's Notch, Vermont, a four hour drive from Boston and a six hour drive from New York City.
Top image: Families enjoying apres ski hot chocolate at the village. Photo courtesy of the resort.
Places featured in this article:
Click Here to Sign Up!
i