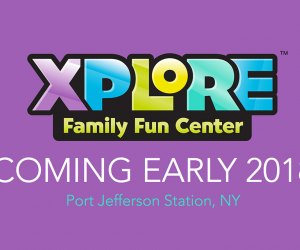 New Play Space to Open from the Safari Adventure Team
If you're wondering what's been happening at the space that used to house Fun4All in Port Jefferson Station, well, wonder no more. We've got the scoop!
Xplore Family Fun Center is slated to open at that very spot in early spring. Owners have told us by email the site has been undergoing a complete head-to-toe renovation. It's been a few months now so anticipation has been building. And since Xplore will be managed by the same folks who own and operate the popular indoor play space Safari Adventure in Riverhead, there are plenty of reasons to be excited.
According to the owners, the new facility will be filled with attractions for kids 1-12 years of age. Included will be huge inflatables; a 20-foot, dual-tower soft playground with slides, a swing, bouncy web, zip line, and more. There will also be a soft toddler area, laser maze and a state-of-the art arcade. The indoor play space will feature a full-service cafe with organic and gluten-free menu options.
Just like its sister location, Xplore will offer a membership option and loyalty program, and all current members of Safari Adventure will automatically become members of Xplore. Punch passes will be honored at both locations and gift cards and arcade cards will be recognized at both facilities. Xplore and Safari Adventure members will earn and redeem rewards across both locations.
Xplore Family Fun Center will be open seven days a week 10am-7pm for open play. Birthday-party packages and class schedules will be available and announced closer to the facility's grand opening.
Check the company's website for more information. We promise to keep you updated, and we'll add pictures as we get them. Access is limited while the facility is under construction.
In the meantime, check out these other indoor play spaces on Long Island, and our weekly events calendar for more great ideas for family fun.
Xplore will open at the former Fun4All site, 200 Wilson Street in Port Jefferson Station, near the intersection of Route 112 and North Country Road, just a short ride from downtown Port Jefferson and from Route 347.