Pumpkin Festivals and Jack-O-Lantern Displays for New England Families
New England is brimming with fall festivals, but kids are particularly enamored with events celebrating the humble pumpkin: the symbol of autumn and Halloween. Whether you stick close to home or make a day or weekend trip out of it, going to a pumpkin festival or visiting a glowing jack-o'-lantern display is a fun, family-friendly way to get into the spirit of the season. Here's a sampling of pumpkin fun in Massachusetts, Connecticut, Rhode Island, New Hampshire, Vermont, and Maine over the next month. Get inspired for a trip to the pumpkin patch for a jack-o'-lantern display on your own front porch!
Pumpkintown USA—East Hampton, CT
September 21 - October 31, 2019
One of New England's premier non-scary fall attractions, Pumpkintown attracts about 25,000 visitors each year with its display of "pumpkin people" and an enchanting hayride through the forest.
Seymour Pumpkin Festival—Seymour, CT
September 22, 2019
Browse a large variety of crafts and food vendors, enjoy live music and entertainment, and engage in kid-friendly activities ranging from carnival games and rides to a fun petting zoo.
Vermont Pumpkin Chuckin' Festival—Stowe, VT
September 29, 2019
Held at Stoweflake Mountain Resort & Spa, the festival challenges kids and adults to build a better trebuchet: a modern version of the medieval catapult. Spectators get to watch those pumpkins soar and smash.
Jack-o-Lantern Spectacular—Roger Williams Park Zoo, Providence RI
October 3 - November 3, 2019
The Jack-O-Lantern Spectacular celebrates 30 years of wowing guests with some 5,000 intricately carved pumpkins on Roger Williams Zoo grounds. After a stroll through the pumpkin trail, take a ride on the Soaring Eagle Zip Line (42-inch minimum height). Consider visiting on a weekday evening for a discounted rate, or on a special theme night (Fairy Tale Nights are 10/9-10; Video Game Nights are 10/16-17; Superhero Nights are 10/23-24).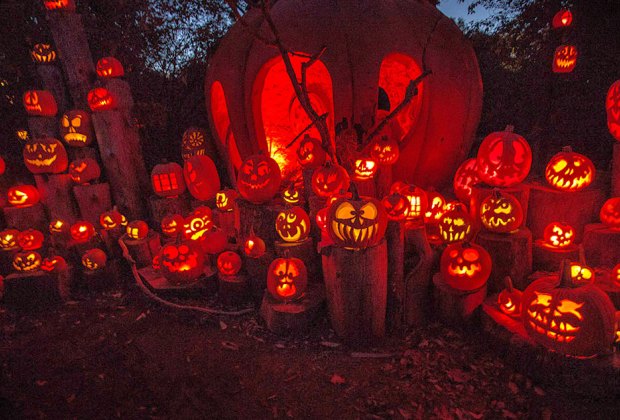 Roger Williams Zoo Jack O'Lantern Spectacular. Photo courtesy of Providence Warwick Convention & Visitors Bureau
Pumpkinfest—Mass Audubon Boston Nature Center, Mattapan, MA
October 5, 2019
Let kids carve pumpkins, play pumpkin games, and sample autumn treats while they learn about the history of pumpkins and hear a Jack-O-Lantern story. Register at least a week in advance to ensure a pumpkin of your own. ​
Pumpkins on the Pier—Walnut Beach, Milford, CT
October 5, 2019
A large corn maze, an obstacle course, a pumpkin patch, pumpkin activities, face painting, arts and crafts, food trucks, and amazing pier displays welcome visitors to another year of fun festivities.
Damariscotta Pumpkinfest & Regatta—Damariscotta, ME
October 10-14, 2019
Featuring the annual Giant Pumpkin Parade, a pumpkin derby, and a giant pumpkin drop, this family-oriented festival also showcases the pumpkin growers in the area. Be entertained by pumpkin dessert contests, pumpkin pie eating contests, artist demonstrations, pumpkinboat building, magic shows, and street performers.
New Hampshire Pumpkin Festival—Laconia, NH
October 18-19, 2019
Get ready for a 34-foot tower of jack-o-lanterns, pumpkin carving, more than 60 food and craft vendors, live bands and performers, amusement rides, pumpkin bowling, a car show, and a duck derby.

Pumpkin People in the Park—Chatham, MA
October 19-28, 2019
This annual tradition on the Cape brings together local businesses which craft clever, funny, or awe-inspiring displays of people and activities out of pumpkins.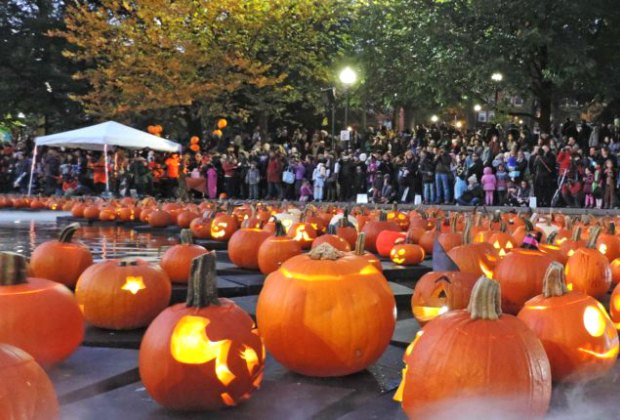 Bring your pumpkin creation to the Frog Pond Pumpkin Float. Photo courtesy of The Skating Club of Boston
Frog Pond Pumpkin Float—Frog Pond, Boston Common, MA
October 18, 2019
The family-friendly event includes decoration of Halloween luminaries, refreshments, and more. Attendees of all ages are encouraged to wear costumes and bring an 8-inch or smaller carved pumpkin to be floated on the Frog Pond for a thrilling early evening display.
New Hampshire Pumpkin Festival—Laconia, NH
October 18-19, 2019
The spell-binding centerpiece of the annual festival in the state's Lakes Region (less than two hours from Boston) is the Spectacular Pumpkin Tower, plus thousands of jack-o-lanterns lining the street. Other highlights include rides, food and craft vendors, and children's activities along Canal Street (Pumpkin Alley).
The Great Pumpkin Festival—Boothe Memorial Park, Stratford, CT
October 19, 2019
The family-oriented event includes a children's costume parade, DJ music, crafts, face painting, horse-drawn hayrides, moonbounces, and carvers who sculpt 100-pound pumpkins into works of art.
The Great Pumpkin Festival—Union Square, Putnam, CT
October 19, 2019
This town-wide celebration includes food, music, contests, live music, crafts, art, children's activities, and a scarecrow contest. Build a precious memory by taking your child on The Great Pumpkin Festival Railroad Express.
Pumpkinfest—Volante Farms, Needham, MA
October 26, 2019
Benefiting Boston Children's Hospital, this 7th annual pumpkin extravaganza includes carving stations, storytelling, and a Jack-O-Lantern stroll. Linger to enjoy Volante's fresh apple cider doughnuts, local apples, and other market treats. Costumes are encouraged.
Keene Pumpkin Festival—Keene, NH
October 27, 2019
The magic returns when Central Square fills with some 3,000 jack-o-lanterns. Enjoy a costume parade, live music, dancing, and autumn activities.

Originally published October 2011