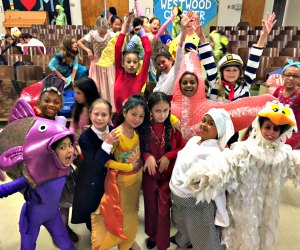 10 Musical Theater and Performing Arts Summer Camps in LA and OC
Has your LA kid caught the acting bug? Does he or she love to perform and sing? Musical theater camps can provide the outlet, with instruction, rehearsals, and a final performance or a recital. Most performing arts camps around Los Angeles and Orange County, California, offer a specific show each session, so you can pick your week based on the show or theme that mosts interests your kid, tween, or teen. Several of the summer theater camps below run for two or more weeks, giving campers plenty of time to learn and rehearse before the big show.
Each of these LA summer camps offers something unique—it might be location, depth of offerings, small camp sizes, or after-hours care. If you're hoping to find something close to home, be sure to check out your local Parks and Rec offerings. And if your child is not interested in performing, maybe a movie or animation camp would be ideal. Whatever your camper's interests, you're sure to find fresh ideas in our Summer Camps Guide.
Note that some musical theater camps require parents to provide costumes; be aware of any commitments required before signing your child up. As far as attending the final performance--we know you don't want to miss that!
Agoura Hills Dance and Performing Arts Center
9 themed week-long sessions
Location: 5015 Cornell Dr, Agoura Hills 91301
9:30am–3:30pm
Ages: 5–8, 9–17
Cost: $ (multi-week and sibling discounts)
With nine themed weeks in 2013 (June 17 - August 16), Agoura Hills Dance has something for everyone. Themes run from Seussical to Grease to Rent, and there is a Michael Jackson Pop Week as well. Every day is broken up into a variety of classes: voice, dance, acting, improv, and musical theater. Fridays are performance days. All levels are welcome; beginners can gain a strong foundation, and more advanced students are challenged at their levels.
Center Stage Studio
10 1-week themed sessions (7–13); 3 1-week themed sessions (13–19)
Location: 27101 Aliso Creek Road, Aliso Viejo 92656
9am–3pm, before- and after-care available (7–13); 4pm-9pm (13–19)
Ages: 7–13, 13–19
Cost: $ (sibling discounts)
Center Stage offers 10 weeks of themed camps in 2013 (June 24 - August 30). Each day of camp includes technique (blocking, sound and music, character work), rehearsals, and lots of games to keep things fun. Center Stage assigns Cast A and Cast B, so there are two campers assigned to each role. Fridays are performance days, with rehearsals, cast party, and then evening cast A and B performances. Teens ages 13–19 have their own evening camp opportunity. Beginners are welcome.
Kids on Stage
1 week, 3 week, 4 week themed sessions
Location: various locations in Santa Monica
9am–2pm for 4–7; 9am–3pm for 7 and up
Ages: 4–7, 8–14, 12–17
Cost: $$$
Kids on Stage offers a variety of camps for three age groups. Imagination Theater (4–7) collaborates on a final performance, while students in Creative Dramatics (4–7) focus on the "Play of the Day." Campers aged 8-14 have a choice of Glee camps, Musical Theater Youth, MT Revue, Create-a-Musical, or Vaudeville/Comedy. Teens have their own Musical Theater camp. See the link for full class descriptions.
Los Angeles Academy of Performing Arts
2-week sessions
Location: 6476 Santa Monica Blvd, Los Angeles 90038 (Hollywood)
Ages:4-7, 8-12, and 13-18
Cost: $$$
Los Angeles Academy of Performing Arts is offering two sessions of 5-day Musical Theater sessions for kids (4-7), tweens (8-12) and teens (13-18). Musical theater camp covers the history of musical theater, song interpretation, and singing technique. All camps culminate in a final performance for family and friends. Students will perform songs from major Broadway shows.
Performing Arts Workshops
5 2-week sessions available; not all sessions at all locations
Locations: Chatsworth, El Segundo, West LA, Redondo Beach, Manhattan Beach, Studio City, Pasadena
8:30am-3pm, extended day until 5 (not at Manhattan Beach)
Ages 5-14
Cost: $
Performing Arts Workshops welcomes all students, whether beginning or advanced. The 2013 offerings are: Sound of Music (session 1), Forever Annie (2), Beauty and the Beast (3), Westside Super Story (4), and Frog Prince (5). The workshops available include: acting & improv, vocal training, physical comedy, TV commercial, dance/hip-hop, yoga boogie, speech & dialects, show hosting, and stage presence. Also covered are stage combat and movie stunts. Campers may be grouped by age or aptitude, and there is a maximum of 60 campers per session location. This camp is non-competitive, and staff assigns all roles. The final performance is a recital showcasing what the students have learned.
Theatre 31 (A Creative Space)
3 2-week sessions
Location: Venice
9am-3pm
Ages: elementary school; junior counselor opportunities for older students
$$
Theatre 31 is offering three different two-week camp sessions for 2013: Wicked, Horton Hears a Who!, and West Side Story. Camps are held at the Beyond Baroque Theatre (681 S Venice Blvd), with final performances at The Electric Lodge (1416 Electric Ave). Each day of camp includes vocal training, singing, theater games, acting, improv, writing, and dance. The final performance features demonstrations of the work done and a musical adaptation of the session's theme piece.
Theatre 360
1-, 2-, and 3-week sessions
Location: 75 N. Marengo, Pasadena, CA 91101
9am-12pm ages 3-5; 9am-3pm ages 6 and up; extended day available
Ages: 3-5, 6-19, 13-19
Cost: $
Theatre 360 offers many choices of sessions, weekly options, and even an audtion-based advanced program for ages 13-19. Full-day camp (6-19) consists of four daily classes: acting, dance, voice, and then an elective option (musical theater, acting, film production, technical theater). Ages 3-5 have a half-day camp. Experienced kids aged 13-19 can apply and audition for the Academy Camp.
Upstage Schools
3-week sessions
Locations: South Pasadena and Westwood
9am–3:30pm; aftercare available
Ages: 6–15
Cost: $$; early bird discount
Upstage's three-week summer camps focus on the production of a show from rehearsal through to final performance, with costumes, lighting, and scenery. Each camp session ends with two performances in a fully equipped theater. Upstage was founded on the principle that theater should be fair and fun, with productions featuring ensemble casting and reasonable rehearsal hours.
Parks and Rec
There are nearly as many Parks and Rec departments as there are cities in LA and OC; be sure to check those programs that are most convenient to you. Many parks and rec departments announce current summer camp offerings after spring break.
El Segundo
4-week session for juniors; 8-week sessions for seniors
Location: El Segundo Middle School
10am–4pm
Ages: juniors 5-11; seniors 12-18
Cost: $
El Segundo is combining the junior and senior casts to create a spectacular performance of The Wiz in August. See the link for audition and callback dates, cost, and performance dates. This is a full-summer camp for older kids and a one-month camp for the youngsters. All performances are at El Segundo High's Performing Arts Center.
Irvine
1- and 2-week sessions
Location: California Victory Church Arts and Learning Conservatory
9am–12pm
Ages: 5–8, 9–14, 9–16
Cost: $
Irvine is offering one-week Musical Theater Jam camps for ages 5–8 and 9–14; campers learn songs and dances from a variety of Broadway styles. Themed theater camps for ages 9-16 are two weeks long and culminate in a performance for family and friends.
Originally published February 25, 2012