May GoList: Best Things To Do with Westchester Kids
May is a lively month in Westchester and the Hudson Valley, with events honoring Mother's Day, Memorial Day, and spring. Below we've rounded up our top picks; limiting them was no easy task!
Numerous annual traditions return, such as the UFO Fair, the zaniest of the many spring festivals we've rounded up, while the two cupcake festivals are the most caloric.
Of course, the main event of May is Mother's Day, and we've rounded up both where to go for Mother's Day brunch and 35 alternatives (or supplements) to the family meal. And be sure to indulge in assorted Star Wars–themed activities at any of the many events called May the 4th Be With You (get it?).
If you're looking for the return of Valley Con, you'll have to wait till July. In the meantime, head to Rye Playland or the Science Barge, both of which open for the season on Saturday, May 11, or soak up the sun at a Westchester County beach.
Read on for the rest of our lowdown. If you're looking for even more options (and trust us, there are many), check out our Event Calendar and sign up for our free newsletters to stay in the know!
Y Healthy Kids Day – Sleepy Hollow
Saturday, May 4, 2019
In addition to assorted kid attractions, the star of this annual tradition is the famous Rubber Ducky Derby. Cheer on your favorite quacker as swarms descend upon the waterfall toward the finish line. Some 2,000 duckies compete in six heats! Read our firsthand review.
Hudson Children's Book Festival – Hudson
Saturday, May 4, 2019
Now in its 10th year, this book festival offers numerous meet-and-greets with authors and illustrators of children's literature, as well as live performances, as part of a mission to promote literacy and a love of reading. FREE
Hudson Valley Cupcake Festival – Beacon
Saturday, May 4, 2019
Are four hours enough time to browse, assess, and consume some of the 20,000 cupcakes available and take in an inflatable slide and bouncy castle? If you feel more time is needed, there's a similar event later this month: Gardiner Cupcake Festival.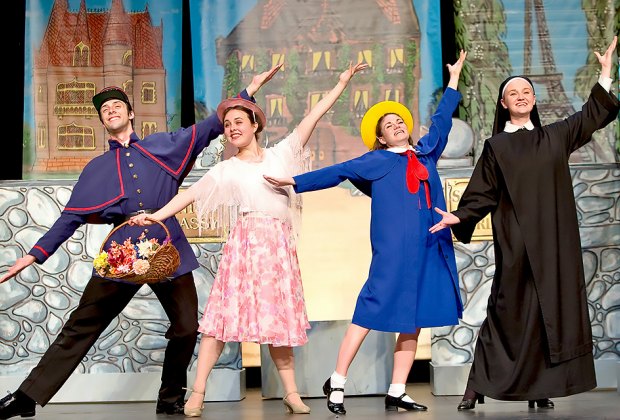 See Madeline and Pepito on stage in Madeline and The Bad Hat. Photo courtesy of the Emelin Theatre
Madeline and the Bad Hat – Mamaroneck
Sunday, May 5, 2019
Given the frequency with which productions at the Emelin Theatre tend to sell out, we strongly advise getting tickets asap. Based on the third book of Ludwig Bemelmans' "Madeline" series, ArtsPower's Madeline and the Bad Hat focuses on the unbreakable bonds of friendship and family, set to a musical score.
Mayfair – Yonkers
Sunday, May 5, 2019
This annual spring festival will feature a bouncy house, obstacle course, carnival games, arts-and-crafts, face painting, and more.
Science Barge Season Opening – Yonkers
Saturday, May 11, 2019
The Science Barge will kick off the 2019 season with a ribbon-cutting and assorted family STEM fun, all FREE.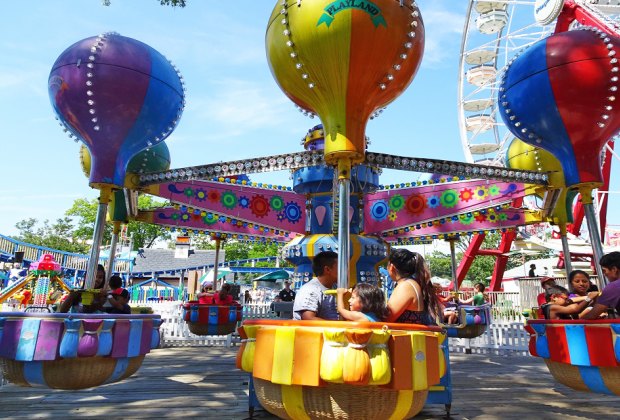 Rye Playland opens for the season! Photo by Susan Miele
Rye Playland Opening Day – Rye
Saturday, May 11, 2019
Nothing says fun like a spin around Playland Park, now in its 92nd year. The park opens this weekend.
St. Patrick's Annual Carnival – Bedford
Tuesday, May 14 – Sunday, May 19, 2019
Carnival season returns with this six-day fair featuring rides, food, and other fun.
Family Arts Bash – White Plains
Saturday, May 18, 2019
Block out the afternoon for an assortment of performances and hands-on art workshops.

Celebrate Pinkster, a holiday that was celebrated by African and Dutch New Yorkers throughout the 1700s. Photo courtesy of Historic Hudson Valley
Celebrate Pinkster – Sleepy Hollow
Saturday, May 18, 2019
This festival features performances of African drumming and dancing, traditional storytelling, cooking demos, crafting, and a parade, all rooted in the African traditions of welcoming spring in the 17th century.

Run a 5K, then eat cupcakes at the Gardiner Cupcake Festival! Photo courtesy of the festival
Gardiner Cupcake Festival – Gardiner
Saturday, May 18, 2019
Held at Wright's Farm, this festival kicks off with a 5K through the orchard and then segues into a day packed with cupcakes (more than 10,000!), music, vendors, wagon rides and other fun stuff. Kids can also try the zip line, get their faces painted, and bounce on inflatables. And, yes, there will also be other food to eat. The icing on the cake? Enter your own creation in the cupcake competition!
Yonkers Arts Weekend – Yonkers
Saturday–Sunday, May 18–19, 2019
This weekend-long celebration of the arts is held at multiple venues and includes free workshops for kids, including paper quilling, painting, sculpting, clay creations, and more. Hundreds of artists, representing various artistic media, are expected to participate. Events are FREE, as is a shuttle bus for venue hopping.
Story Pirates – Tarrytown
Sunday, May 19, 2019
Story Pirates turn kids' original stories into wild sketch-comedy musicals featuring professional actors. In this interactive production, the work of local kids will be brought to life onstage with help from the audience. Preceding the show will be a story-making workshop.
Westchester Beaches Open
Saturday, May 25, 2019
Westchester County beaches begin their pre-season schedule, now open on weekends through June 23, at which point a daily schedule begins.
Annual Memorial Day Races, Parade & Fair – South Salem
Monday, May 27, 2019
The 43rd annual fair is preceded by a fun run (adult and kid races), and includes a craft fair, bake sale, games, entertainment, and more.
Be sure to check our Event Calendar for even more fun happening throughout Westchester and the Hudson Valley!