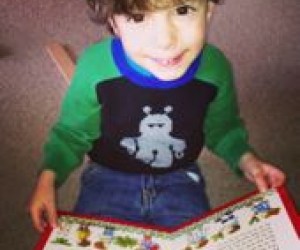 Library Programs in Northern New Jersey
Community libraries are a wonderful resource for families. From story time to special clubs and fun events, they offer a wide variety of programs that appeal to all ages. Libraries are especially wonderful during the cold winter months when you need somewhere to escape with the kids for a few hours. We've rounded up some of the best activities currently scheduled at Northern NJ libraries—read on for some great suggestions to keep your family busy this winter.
BERGEN COUNTY

Edgewater Free Public Library
Upcoming programs include "Bedtime Yoga" on Mondays in January (Ages 3 & up) and "Wee Read Book Club" on Friday afternoons (ages 7-9). 201-224-6144

Johnson Public Library (Hackensack)
Their Children's Room hosts a variety of activities for all age groups. Special events include "Saturday Afternoon at the Movies" and "Lego Day" on February 20. Please call ahead for pre-registration. 201-343-4169
Paramus Public Library
Story time is offered several days a week, as well as afterschool adventures for grades K-4 on Thursday afternoons. Special programming is scheduled during Winter Vacation Week (February 18-22). 201-599-1302

Park Ridge Public Library
All children are welcome for story time on Tuesday and Friday mornings at 10:30am. There's also a teen book group that meets every fourth Monday at 5pm (registration is required). 201-391-5151
Ridgewood Public Library
In addition to regular programs such as story time and reading to therapy dogs, the Ridgewood Library presents an array of special events, including art, language and holiday activities. Mark your calendar for "Valentine's Stories" on February 14 and "Little Leprechauns" on March 13. 201-670-5600

ESSEX COUNTY

Bloomfield Public Library
Starting in February, the library will offer story time twice weekly—Wednesdays at 11am for ages 3-5 and Fridays at 11am for ages 19-36 months. Stop by on February 9 to create a special Valentine's Day card (all day). 973-566-6200

Maplewood Memorial Library
Head to the Main Library for fun events such as preschool story time (Wednesdays at 4pm and Thursdays at 11am). The Hilton Branch also has preschool story time on Mondays at 11am, as well as baby Lit on Wednesdays at 11am. Registration required. 973-762-1622 (Main Library) 973-762-1688 (Hilton Branch)
Montclair Public Library
There are regularly scheduled story times throughout the week: for babies on Tuesday mornings, 2 year olds on Wednesdays and 3-6 year olds on Thursdays. Registration is required. Drop-in crafts and special music activities are also frequently planned. 973-744-0500

Verona Public Library
Winter story time runs through the end of February. Sessions are offered on Wednesdays at 11am (0-18 months), Thursdays at 11am (18 months-3 years), Thursdays at 10am & 1:30pm (3-5 years) and Thursdays at 3:30pm (5 years & up). Advance registration is available online. 973-857-4848

West Orange Public Library
The library hosts many family-friendly programs such as "Downtime with Disney" on the third Saturday of the month—join them at 2pm for a screening of your favorite Disney films. They're also having an Open House for area preschools on Sunday, February 3 at 1:30pm. 973-736-0198

HUDSON COUNTY

Libraries are located in Bayonne, Harrison, Hoboken, Jersey City, Kearny, North Bergen, Secaucus, Union City, Weehawken and West New York. For specific information on activities offered at Hudson County libraries, please check out our post on Indoor Play Spaces in Hudson County.
MORRIS COUNTY

Florham Park Public Library
Children ages 3-8 are invited to a special "Pirates & Fairies Party" on January 28 at 3:30pm. Other fun events include Lego club, afternoon movies, story time and craft projects. 973-377-2694

Library of the Chathams
This library hosts an array of children's programs including story time, drop-in crafts and musical play. Join them for "Super Hero Story time" on January 31 and "Meet the Orchestra" on February 17. 973-635-0603

Madison Public Library
Kids will love reading aloud to therapy dogs—sessions are scheduled for the second Saturday of each month at 11am. Other activities include yoga story time, special winter crafts and "Movie Mondays" (the third Monday of every month). 973-377-0722

Morris County Library
Family-friendly events such as "Pajama Time," "Family Craft Day" and "Friday Films" are among the programs offered here. All are welcome to celebrate "Read Across America Day" on March 2 with special Dr. Seuss crafts. 973-285-6930

Parsippany Public Library
Open 7 days a week, the main branch provides regularly scheduled story time and study time sessions. They also host special programs throughout the year—stop by for their "Pajama Party" on January 28 at 7pm and "Chinese New Year Celebration" on February 2 at 1:30pm. 973-887-5150
PASSAIC COUNTY

Bloomingdale Free Public Library
Movie matinees are shown the fourth Saturday of every month—next up is Tigger & Pooh and a Musical Too on January 26. Children's hour, featuring stories, crafts and games, takes place every Saturday at 10-11am and 11-12pm. 973-838-0077

Clifton Public Library
Clifton Library hosts regular activities Monday through Friday. Highlights include Spanish/English story time on Tuesdays and "Book Buddies" on Thursdays. During Winter Break (February 19-22), they will present a feature film and special crafts every day from 12-4pm. 973-772-5500

Paterson Free Public Library
A variety of children's events are scheduled six days a week. Choose from arts & crafts, movies, technology activities, chess club and more. Special teen programs are offered at the Southside and Totowa branches too. 973-321-1223

Wayne Public Library
Registration begins January 22 for Winter/Spring story time sessions. Select from Teeny Tykes for 0-2 years, Tot-Time for 2-3 years, Picture Book Story time for 3-5 years and Fours & Fives. Visit website for complete schedule. 973-694-4272

West Milford Township Library
Plenty of exciting programs are planned for this winter season. Celebrate Abraham Lincoln on February 9 at 10am (ages 5 & up) or drop in for crafts on February 23 at 2:30pm (ages 2 & up). Winter story time begins the week of January 28. 973-728-2823

SUSSEX COUNTY

Main Library (Newton)
Newton's main branch presents story time for ages 3-6 on Thursdays at 1:30pm beginning January 28. A Lego Club for ages 5 & up takes place on the third Saturday of every month. Registration is required. 973-948-3660

Dennis Branch (Newton)
Preschool story time for ages 3-6 is offered at the Dennis Branch on Wednesdays at 1:30pm. Registration begins January 28. 973-383-4810

Sussex-Wantage Branch (Wantage)
Make Valentine's Day heart boxes at the Sussex-Wantage branch on January 26 at 10am ($2 fee). Story time is scheduled on Mondays at 10am for 6 months-2 years and at 1:30pm for 3-6 years. 973-875-3940
UNION COUNTY

Berkeley Heights Public Library
No snow outside? No problem! Make an indoor snowman during "Family Fun Night" on January 28 at 6pm (ages 3-8 years). Drop in for story time three times a week—Tuesdays at 10:30am for ages 3 & up, Wednesdays at 10:30am for ages 2-3 and Thursdays at 9:30am for ages 6-24 months. 908-464-9333

Cranford Public Library
Regular story hours start January 29 and run for eight weeks. Sessions for 2-year-olds will take place on Wednesday or Thursday mornings at 10:15am. There are also slots for 3-5 year olds on Tuesdays at 10:15am or Wednesdays at 1:30pm. 908-709-7272

Scotch Plains Public Library
Every Saturday at 11am the library hosts "Super Saturdays," featuring fun events for the whole family. Upcoming themes include Caldecott Stories on February 2 and Clifford's Birthday Party on February 16. Other programs include weekly story times and craft activities. Register in person at the Children's Desk. 908-322-5007

Summit Free Public Library
Lego Club, story time and movie screenings are among the activities planned for this winter. Kids can take part in a special baking project on February 9 at 11am (ages 5 & up) or catch the movie Brave during winter break on February 15 at 2pm (all ages). 908-273-0350

Westfield Memorial Library
Westfield Library offers many services for children—ongoing events include story time, Lego Club and Chess Club. Special programs such as "Father Goose's Tales" on February 2 at 10:30am (ages 3 & up) and "Live Animal Friends" on March 2 at 10:30am (ages 3 & up) are also scheduled. 908-789-4090