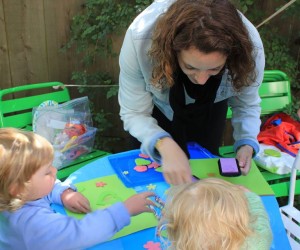 Last-Minute Childcare Options for Families in the Hamptons & North Fork
Your babysitter has bailed and your night out is in jeopardy. Fortunately on the East End of Long Island there are a number of emergency child care options that just might preserve that essential date night. Some are local companies whose sitters are known to other parents in the community, while others are parts of larger national companies with well-earned reputations for reliability and security.
Most require registration on the firm's website. Be aware that most sitters are independent contractors and not employees of their firms. so company liability varies.
Still, with less than a day's notice, these services offer experienced sitters with recommendations that can be accessed online or by email. Prices are as of summer 2015 and vary depending on time, distance and services provided. Cancellation policies also vary.
For other information on activities and events in the area, be sure to check out our Hamptons & North Fork Family Guide.
East Hampton Babysitters
4 Grant Ave., East Hampton
631-324-2201
This local firm services East Hampton and most of the surrounding communities, including Southampton. It advertises New York State- and FBI-fingerprinted sitters trained in first aid and CPR. The firm is run by a former New York City police officer and does background checks on all sitters. The firm is affiliated with many local hotels for vacationers and can usually accommodate requests with only a few hours' notice.
Hamptons Babysitters
631-771-3161
chloe@hamptonsbabysitters.com
This East Hampton-based referral service provides sitters to families from Westhampton to Montauk. It says it actively recruits teachers, students pursuing degrees in childhood education and other experienced caregivers. All sitters go through criminal background and sex-offender checks, and a vetting process that includes multiple reference checks and in-person interviews. Sitters are booked either online (preferred) or via a phone call, if urgent, and costs range from $25 to $33 an hour during peak summer months. Registration on the firm's website is required for booking.
Lucky Li'l Darlings
info@luckylildarlings.com
This national childcare referral agency services East Hampton, Sag Harbor and Southampton, offering services that range from simple sitting to hotel care and summer (swim) fun. For those parents attending, say, a wedding, the company will supply sitters and a kids-only play area. Sitters can be hired by the hour (beginning at $25 for a single child), overnight ($275) and weekend ($550). Emergency bookings can be done via email at bookings@luckylildarlings.com, where parents will be matched with sitters who have passed background and reference checks. (The company says it also monitors its sitters' social media presence.) All are CPR and first-aid trained.
Pinch Sitters
212-260-6005
This New York City-based firm expanded into the East End this summer in a partnership with the activities site Hamptons Family Concierge. It offers on-call sitters available with four hours notice or less. Sitters have at least three years of child care experience and verified references and are at least 21 years old. Most are CPR-trained. Through HFC, Hamptons-area Pinch Sitters are educated in local entertainment options sure to make your child smile whatever the season. Emergency bookings should be done via phone and sitters are paid $22 per hour with a four-hour minimum.
Sensible Sitters
866-660-1549
nyc@sensiblesittersinc.com
This sitter referral service operates in New York City, the Hamptons and in other large cities nationwide. Founded in 2005, it uses a software-based system to link parents with sitters who are vetted by the organization and whose references are available. Hourly rates begin at $30 for one child and additional services include homework help and vacation assistance. Background and reference checks are required of all sitters as well as personal interviews and family ratings. Sitters are booked online with real-time availability so parents know who is available and when.
Photo: Sensible Sitters