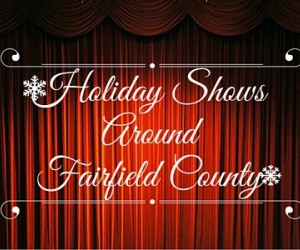 Holiday Shows in Fairfield County
Now that the turkey has been served and the calendar has officially turned to December, it's safe to say the holiday season has arrived in FC. Fairfield County has a rich history in theater, so what better way is there to celebrate the season than to spend an afternoon with your loved ones while getting a little culture.
Thankfully, there are many theaters all over Fairfield County that offer some seasonal stage fun. From the Family Friendly Shows at the Palace Theater in Stamford, to a live performance of A Charlie Brown's Christmas in Danbury, there is something in every corner of the county. Enjoy timeless classics, modern classics, and completely new productions. There is even something on this list for those who are "Christmas-ed out." Also, make you check out this full list of Holiday Shows in Connecticut that Aren't The Nutcracker. From the very young, to the young at heart, there is sure to be something on this list that will have you "fa-la-la-ing" all the way home.
You can jump around with glee while watching a favorite childhood classic come to life on stage, or take a twirl with Cinderella. Both Rudolph and Cinderella feature family friendly afternoon performances that everyone can enjoy. The Palace Theater is offering a wide variety of shows this season. Check out their full listing here.
Palace Theater 61 Atlantic Street Stamford, Ct 06901
Fancy Nancy Splendiferous Christmas
With her love of all things glittery and fancy, Miss Nancy is sure to add a little sparkle to your holiday season. The Westport County Playhouses's production of Fancy Nancy Splendiforous Christmas has three performances, and appeals to kids as young as two years old.
Westport County Playhouse 25 Powers Court Westport, Ct 06880
The French hens are arguing, the geese have retired and moved to Florida, and some one has stolen the five golden rings! Wilton Playshop's actors will surely leave you singing along to this un-traditional telling of the 12 Days of Christmas.
Wilton Playshop 15 Lovers Ln Wilton, Ct 06897
Savion Glover's Dance Holiday Spectacular
There must be some magic in Fairfield this year. The Quick Center for the Arts offers two holiday favorites! With his corncob pipe and button nose, everyone's favorite snowman really does come to life and grace the stage. If dancing is more your thing, then you can get tappy with Savion Glover and his band.
Quick Center for the Arts 1073 North Benson Road Fairfield, Ct 06824
You over Christmas? Then join Percy Jackson as he is about to get kicked out of boarding school. Again.
Ridgefield Playhouse 80 East Ridge Road Ridgefield, Ct 06877
The Downtown Cabaret Theater offers a brand new twist on the timeless tale of Ebeneezer Scrooge and Tiny Tim.
Downtown Cabaret Theatre 263 Golden Hill St #3 Bridgeport, Ct 06604
A Charlie Brown Christmas
If your family loved the latest Peanuts movie, then this show is perfect for you! This year Musicals at Richter will be bringing the classic television special, A Charlie Brown Christmas to life, live on the stage!
Musicals At Richter 100 Aunt Hack Road Danbury Ct, 06811