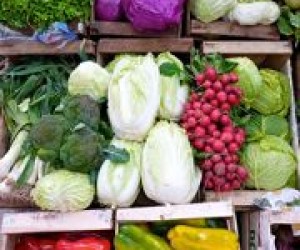 Get Jersey Fresh at One of Hudson County's Farmer's Markets
The days are warmer, the produce is ripening and it's a great time of year to get the kids involved in choosing healthy fresh food ingredients. You may not immediately think of Hudson County as offering many options in that department; we all know it offers close proximity to NYC, museums, fabulous restaurants, but the truth is Hudson County offers 12 fantastic Farmer's Markets, so check out our list of Hudson County Farmer's Markets by city and get Jersey Fresh with your NJ kids and families!
Bayonne:
Bayonne Farmer's Market
Every Tuesday, 2pm – 7pm, May 7th through November 26th
Municipal lot at 23rd and DelMonte Drive (next to mini golf course), Bayonne
This market started out pretty small and now offers more than 15 vendors! Vendors include NJ Farmer's Market favorites including Ort Farms, Lizzmonade and Baker's Bounty. Plus some others like Paolo's Kitchen with all-natural Italian specialties and Green Acres specializing in gourmet cookie and muffin mixes. You can find everything here from fresh fruits and veggies to gourmet wines and pickles!
Hoboken:
Hoboken Uptown Farmer's Market
Every Thursday, 3pm – 7:30pm, through October
13th Street and Hudson Street, Hoboken
Founded in 2009, this market was started by a group of local residents. Whether you're in the market for baked goods, fresh produce or epicurean delights – this market will satisfy. Vendors include Dr. Pickle of Paterson with pickles and olives, Gina's Bakery of Montclair for all your baked-good needs, Jeff's Organic Produce and Hoboken Farms. Market opens in June.
Hoboken Downtown Farmer's Market
Every Tuesday, 3pm – 7pm, through November
Washington Street between Observer Highway and Newark Street, Hoboken
One of the area's first local Farmer's Markets, this market was founded 14 years ago to help small farmers in NJ sell their produce. You can catch customers and vendors chatting about how to grow their produce and the different ingredients used. Vendors include K&S Farms, Union Hill Farms, Mellick's Town Farm, The Bread Company offering fresh-baked breads and Pickle Licious for all your pickle and olive needs. You can see the famously long line for Carlos Bakery from here. Market opens in June.
Hoboken Family Farmer's Market
Every Saturday, 9am – 2pm through October
Garden Street Mews, Garden Street between 14th and 15th Streets, Hoboken
This unique market is located on a private pedestrian street that is one block long in Uptown Hoboken. Stock up on locally grown and organic produce, honey, eggs, fresh-baked breads, pies, pickles, jams, olive oil, soaps, artisan cheeses, plants, lemonade, toffee and so much more. Plus, enjoy music, activities and games for the kids and "On the Flip Side" chef Anthony Pino of Hoboken.
Jersey City:
Hamilton Park Farmer's Market
Every Wednesday, 3pm – 7:30pm, through December
Hamilton Park, Jersey City
This ever-growing little market is a big part of my family's summer. This year they have added more vendors than ever before. Classic vendors include (my favorite) Cocoa Bakery who have the best baked goods in the area, Pizza Vita Mobile Pizza Truck and Stony Hill Gardens providing the largest selection of fruits and veggies at the market. Some new vendors include Amanda Bananas featuring frozen banana treats that taste like ice cream and City Boy Bakes serving gluten-free goodies like cookies and brownies.
Journal Square Farmer's Market
Every Wednesday and Friday, 11am – 7:30pm, through December
Journal Square PATH Plaza, Jersey City
This popular market serves up favorites like Alstede Farms with fruits and veggies, Honey Bakery a delicious Jersey City bake shop located on Bergen Avenue and Ort Farms a local NJ farm. You can also get something for that salt craving at Senor Peanuts and satisfy your sweet tooth with NJ's Baker's Bounty. The market is convenient if you are heading home on the PATH train – you can get fresh groceries twice a week!
Newport Center's Farmer's Market
Every Tuesday, noon – 7pm, through October
Newport Centre Mall, 30 Mall Drive, Jersey City
This is your best option on a rainy day, as the market is located inside the mall. They offer a large variety of fresh fruits and veggies from NJ's most popular farms. Also, stock up on baked-goods, gourmet nuts and fruits. Plus, you can get a little shopping done.
Riverview-Fisk Farmer's Market
Every Sunday, 9am – 2pm, through October
Riverview-Fisk Park, Jersey City
This newly-founded Jersey City Heights market is celebrating its third year in 2013. Besides a great view, they offer vendors like Nature's Own a natural food company, Pickle Licious a specialty store from Teaneck, NJ serving up – you guess it – pickles and Jersey City Veggie Burgers specializing in "delicious, handmade veggie burgers unlike any you've had before."
Historic Downtown Special Improvement District's Farmer's Market
Every Monday and Thursday, 4pm – 8pm, through December
Grove Street PATH Plaza, Jersey City
Yes, it's a mouthful, but this large farmer's market features a great many vendors and event some of the best food trucks NJ has to offer! Along with the usual suspects (Cocoa Bakery, Lizzmonade, Ort Farms), this market also offers up Staten Island Kettle Korn and BBQ at Legal Beans a Jersey City BBQ joint with great pulled pork. A new vendor that joins this year is Jersey City's Honey Bakery featuring dumplings, samosas, salads and desserts. While you are there, do yourself a favor and try the wildly-delicious Taco Truck of Hoboken. This market is a great stop on your way home from the city, plus they are open until 8pm!
Van Vorst Park Farmer's Market
Every Saturday, 8am – 3pm, through December
Van Vorst Park, Jersey City
If the kids are up early and you want to get them out of the house – get your shopping done while they run around the playground at Van Vorst Park! This small, but mighty Farmer's Market includes vendors like Hoboken Farms serving up bread and their famous homemade mozzarella cheese, Aspercolas Farms for fruits and veggies, How Sweet It Is featuring fresh-baked goods and much more. Remember to bring your knives for a sharpening from X-Caliber Knife Sharpeners.
Kearny:
Kearny Farmer's Market
Every Thursday, noon – 6pm, through October
Mandee parking lot on Kearny Avenue, Kearny
Starting this June, enjoy fresh local food from vendors like Alstede Farms, Union Hill, fresh baked goods, pickles and much more. Stock up on farm fresh cheese and artisan bread from local vendors .
Union City:
Union City Farmer's Market
Every other Sunday, 9am – 2pm, through September
Troy Towers, 380 Mountain Road, Union City
This small farmer's market is hosted at Troy Towers in Union City and will begin in June. They offer a variety of fresh fruits, vegetables, fresh-baked goods and much more.
photo credit: Alex E. Proimos via photopin cc