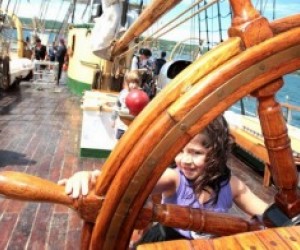 Fun & Free Things to Do with LA Kids this Weekend: Exxopolis, Greek Festival & Brazilian Day, Sept 7 - 8
It happens every year. I whine and moan about the end of summer, and the incomprehensibly early start of school. Finally Labor Day comes and even I have to admit, it's time for Back to School. And then I realize: no one in my house is in school yet. We're still at the pre-school phase. September, Shmeptember, it's all the same to us. Yay, problem solved. But then this year I realized, this is our last year pre school. Our last chance to enjoy weekday activities (free museum days! Kids clubs at the malls!) Time is ticking on free entry to museums and theme parks and the Metro.
It's not just about getting in free, it's also about buying into the magic. Right now, my child truly believes that costumed character in front of her is the same animated friend she loves on TV. And this month alone I can take her to see the Octonauts, Doc McStuffins, the Wiggles, and for the pièce de résistance Jake and the Neverland Pirates and Sofia the First in one show. (Seriously, if you're bucking for Mommy of the Year, get your kids tickets to this one.)
Lucky you, no matter how old your kid is, you can still enter to win awesome back-to-school bootie in our Swagapalooza Giveaway. A few of the drawings have closed already (you snooze, you lose) but there's still plenty of time to enter for a Target gift card, a Motorola MBP26 Baby Monitor and a $250 Sears Optical Gift Certificate, to name a few.
Keep reading for some of our favorite picks for the weekend…
ALL WEEKEND

Architects of Air: Exxopolis - Downtown
Grand Park becomes the temporary home to a luminarium, a massive inflatable sculpture you walk through to experience light, color and sound.

Toshiba Tall Ships Festival - Dana Point
Families can get their sea legs touring tall ships, visiting living history encampments and listening to sea chanteys. Enroll in Cap'n Jack's School for Scallywags and learn to walk, talk, and sing like a pirate. (Hint: start with aaaaaarrrr!)
Los Angeles Greek Festival - Los Angeles
Opa! Get ready for souvlaki, gyros, moussaka and spanakopita, and leave room for bavlaka, the Greeks are setting up shop at Pico & Normandie.

Malibu Surfing Association's MSA Classic - Malibu
Surf's up in Malibu! More than 250 invited athletes representing surfing clubs from around the world compete at First Point, one of surfing's legendary waves.

Planes (PG) - Hollywood
This is your last weekend to catch Planes (and its wildlife preshow) at the El Capitan; next week Ariel is comin' at ya in 3D as The Little Mermaid returns.
Original Lobster Festival - Long Beach
The Crustacean is King at this annual Lobster Festival. Come hungry
Festival of Children Costa Mesa
The fun, free shows at South Coast Plaza this weekend include a back-to-school fashion show, face painting, animal magician John Abrams, and numerous dance performances.

The Wiggles - Thousand Oaks & the Wiltern
Great news: the Wiggles are back, and one of them's female! (Even better news: she's not wearing pink).
Cool at the Zoo - Griffith Park
Hot enough for you? L.A. Zoo shows how its animals (and firefighters) cool down.
SATURDAY SEPTEMBER 7
Drum Downtown - Downtown
Grab a drum and bang along to the last drumming circle of the season: this time set to West African rhythms.
Douglas Park Kids' Clothing Swap - Santa Monica
You know all the bags and boxes you have of clothes your kids have outgrown? Why not trade them out for clothes that will fit them?

Home Depot Kids Workshops - Multiple Locations
The free monthly project at Home Depot is a ring toss game

Pottery Barn Kids: Grandparents Doll Tea Party - Multiple Locations
Kids can share a special tea time with their grandparents at Pottery Barn Kids.

American Red Cross Family Preparedness Day - Pasadena
The American Red Cross, Kidspace and The Pasadena Fire Department partner to teach disaster preparedness to families.

Andrew & Polly Mini-Concert - West LA
Film composer Andrew and sound designer Polly perform a free show at Children's Book World

Silk Road Story Time - Pasadena
Kids can discover tales from Japan at the Pacific Asia Museum

Los Feliz Village Street Fair - Los Feliz
The Los Feliz Village Street Fair promises fun for the whole family, including a carnival and other kid-friendly attractions

Latin American Festival - Long Beach
Long Beach celebrates Latin American culture with a lively festival.

Movies in the Park - Downtown
Roar! Head over to Grand Park for an adventure 65 million years in the marking: Jurassic Park screens on the Performance Lawn

Blue Man Group - Hollywood
The most famous blue guys since the Smurfs take over the Hollywood Bowl for two nights of experimental theatrics.

SUNDAY SEPTEMBER 8

Family Day: Exploring Architecture - Westwood
Hammer Museum's annual free family festival offers a fresh look at architecture, with artist and architect-led activities to introduce young people to scale, material, light, the urban landscape of Los Angeles,

Justin Roberts & The Not Ready for Naptime Players - Topanga
The popular children's performer entertains under the California oaks at Will Geer's Theatricum Botanicum
High Holidays Tashlich Bike Ride - Culver City
Families can join a free Rosh Hashanah bike ride from Temple Akiba in Culver City to the beach.

Family Jam: Hollywood to Bollywood - Westwood
The arts and dance of Bollywood take center stage at this free interactive program at the Fowler Museum.

Zimmer Sunday Family Programs - Mid-Wilshire
Singer-songwriter Clare Means performs at the Zimmer's Second Sunday Concert Series.

Fiestas Patrias - South El Monte
Fiestas Patrias is one of the largest celebrations of Mexican Independence Day in the nation

Free Day at OCMA - Newport Beach
Visitors can celebrate Grandparents Day at the Orange County Museum of Art, with a performance by Leaping Lizards, an interactive family tour and a gift-making craft.

Creepy Crawly Creature Feature - Culver City
It's all about bugs at STAR Eco Station.
4th Annual 4GOOD Book Drive - Sherman Oaks
Donate your gently used books at a book drive at the Sherman Oaks Menchies.
Children's Garden Workshops - Irvine
At this month's free workshop at Orange County Great Park, kids can learn the lesson of Stone Soup: the power of working together.
As always, there are many more activities listed on our daily events calendar. Whatever you choose to do this weekend, we hope you have marvelous time! And to our Jewish readers, Happy New Year!