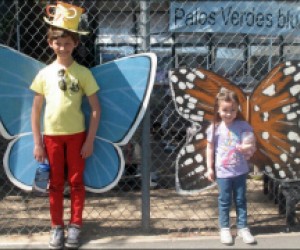 Fun & Free Activities with LA Kids this Weekend: Cherry Blossom, Teaching Zoo, & Bug Fair: March 22 - 23
How'd ya like that cute little wake-up call this week? No biggie. Just a reminder of the trade-off we make for living in Sunny So Cal and ...HOLY CANNOLI! WHAT WAS THAT?! That must have been a big one; it felt like a mess of trucks going by and... Oh. It was a mess of trucks going by? Fancy that. Must be fun for the kids; you know how they love those big rigs.
Okay, so maybe I am feeling a little jumpy. Maybe I still have a creepy, my-skin-is-crawling, like there are bugs everywhere, and LEAPIN' LIZARDS! There are bugs crawling everywhere! Oh, because of Bug Fair, right. Makes sense. (But cricket brownies? Serious. Ugh.)
You know what doesn't make sense? RAMPAGING ANIMALS! Through the streets! Roaring really loud and scaring little children and walking on tightropes and performing funny skits and maybe even riding little bicycles, and - I have to admit that sounds more talented than scary, like America's Teaching Zoo Has Talent talented.
Anyway, I'll be hiding in the doorway with my emergency flashlight until further notice. But for those of you willing to venture out into the wild world this weekend, please keep reading for some of our favorite picks.
ALL WEEKEND

Cherry Blossom Festival- La Cañada Flintridge
The delicate and lovely cherry blossom heralds the arrival of spring. Families can learn more about these beautiful trees on guided walks and get a taste of Japanese culture with numerous activities throughout the weekend.

America's Teaching Zoo Spring Spectacular - Moorpark
Moorpark College Teaching Zoo presents its annual spring spectacular, with animal shows, up close encounters, and a kids zone (and a check mark for number 67 on your list of 100 things to do with LA kids).

White - Beverly Hills
It's the closing weekend for this charming kids' play at the Wallis Center. What are you waiting for?

Muppets Most Wanted (PG) - Hollywood
It's time to light the lights! The Muppets' latest adventure takes them through the capitals of Europe … and all the way to El Capitan Theatre in Hollywood.

Bug Fair at Kidspace - Pasadena
Bugs, bugs, beautiful bugs! Kidspace celebrates the critters with bug hunts, computer bugs, cricket brownies (um, no thanks), and a ladybug release in the garden. While you're there, be sure to pick up your future butterfly at the Caterpillar Adoption Days Kick Off.

Roald Dahl's Willy Wonka - Santa Monica
Morgan-Wixson's adaptation of the Roald Dahl classic features songs from the movie version.

Pinocchio & The Puppetry Faire - West LA
Following the last performances of Pinocchio, kids can take part in a festive, hands-on workshop, learning to make puppets, paint puppets, and do face painting.

Fiddler on the Roof - Valley Village
A fiddler on the roof. Sounds crazy, no? Find out in this production at Adat Ari El.

SATURDAY MARCH 22

Swallows' Day Parade - San Juan Capistrano
The swallows are welcomed back to Capistrano with the nation's largest non-motorized parade.

Thomas Edison & Mark Twain's "Spirit of America" - Carson
Thomas Edison, Mark Twain, Calamity Jane, and even Laura Ingalls Wilder are among the visitors to the International Printing Museum.

Truck Adventures - Aracadia
For kids who have never met a truck they didn't love: Santa Anita Park is filled with more than 50 trucks ready for some up close interaction.

Saturday Family Fun: Shark Sleuths - Long Beach
Kids and parents can learn all about the toothy sea creatures at the Aquarium of the Pacific.

Saturday Morning Concerts at Books and Cookies - Santa Monica
We are so sad to see this neighborhood gem move on! Catch Books and Cookies for one last show at their Main Street location, with local favorite Teacher Davis.

Marathon Kids Finisher Medal Celebration - East LA
Kids can complete their cumulative 26.2 mile run in this last lap at Jesse Owens Stadium at Cal State LA.

Radio Disney Celebrates Muppets Most Wanted - Burbank
The Muppets have a new movie coming out, and Radio Disney celebrates with games, music, and prizes at IKEA Burbank.

FIGat7th Kids Club - Downtown
FIGat7th Plaza helps kids make felt monsters.

SUNDAY MARCH 23

Skirball Playdate: Puppetry - West LA
Little ones can make their own puppets to help them get ready for the Puppetry Festival.

Complete Whalewatch - San Pedro
This whale adventure starts at the Cabrillo Marine Aquarium and ends up on the high seas.

18th Annual Celebration of the Whales Festival - Oxnard
The Pacific grey whales are migrating, and it's time to celebrate!

Lishy Lou and Lucky Too! TV Show Viewing and Live Performance - Hollywood
Lucky Diaz and the Family Jam Band are going to be on TV this fall! Families can watch the pilot and dance to a live performance. But hurry – this is the last weekend of their Hollywood residency.

Family Flicks: Safety Last - Westwood
The Hammer Museum screens the Harold Lloyd silent classic - with live musical accompaniment. Classy!

Nowruz Celebration - Mid-Wilshire
Nowruz, the Iranian New Year, celebrates the arrival of spring. The festivities at LACMA include live performances, music, storytelling and calligraphy for children, and a traditional Nowruz display known as Haft Sîn.

American Girl and Kaya: An Afternoon of Native American Culture and Art at the Autry
- Griffith Park
The Autry partners with American Girl to celebrate Kaya, a doll whose stories explore what it was like to grow up as a Nez Perce girl before America became a country.

Zimmer Sunday Family Programs - Mid-Wilshire
Japanese taiko drum group Kishin Daiko performs at the Zimmer Children's Museum.

Autism Families Night - Long Beach
The Aquarium of the Pacific hosts a special evening exclusively for families with adults or children with autism.

As always, there are more activities listed on our daily events calendar, and if you don't already receive this post as a weekly email, you should totally subscribe. Whatever you choose to do this weekend, it's worth celebrating!