Cartoon Network Hotel to Open in Pennsylvania Dutch Country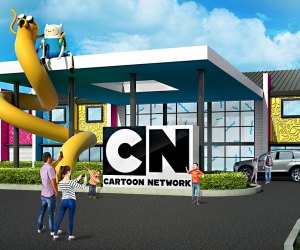 Fans of Cartoon Network's Adventure Time, We Bare Bears, Ben 10, The Powerpuff Girls, and other programs are getting a treat this summer. The TV network and Palace Entertainment are working together to open the Cartoon Network Hotel, a kid-friendly resort steeped in the channel's animated world, for summer 2019.
The nine-acre, 165-room property will be located in central Pennsylvania's Lancaster County along Route 30. It will neighbor Dutch Wonderland Family Amusement Park, which is also owned by Palace Entertainment, so a family could easily enjoy both attractions in one trip. It is the Cartoon Network's first themed hotel.
Seems like there's one more reason to plan a Pennsylvania weekend getaway with the kids.
Don't expect the Cartoon Network Hotel to be just another run-of-the-mill theme resort. Owners are promising an immersive experience. After guests check in, kids can explore the interactive lobby full of surprises. Special hidden "Easter eggs" will be planted around the resort for children to discover.
Expect to see Cartoon Network characters moonlighting as hotel employees. Keep an eye out for We Bare Bears' Ice Bear whipping up drinks behind the coffee bar, and don't be surprised if your breakfast is served up by Adventure Time's Jake the Dog.
Guest rooms and family suites will likewise be a blast. Each room will be customizable based on your family's favorite show, offering plenty of options for each kid's taste.
Other indoor amenities include a game room, swimming pool, kids' play area, wine bar for adults, and Cartoon Network store.
Families can watch cartoon premieres on a giant movie screen in an outdoor amphitheater, too. Kids can pretend they are part of Summer Camp Island by gathering around cozy fire pits and playing lawn games. And who better to watch over them at the resort-style pool and water play zone than Adventure Time's Gunter the Penguin?
Organizers are being tight-lipped about an official opening date and further details at this time, but we'll try to keep you updated! You will have to wait at least until this summer to explore, so take a cue from the network's once logo and "Check it."