Entertainers, Bouncy Castles, and Cake: Tips for Planning a Toddler Birthday Party at Home in Boston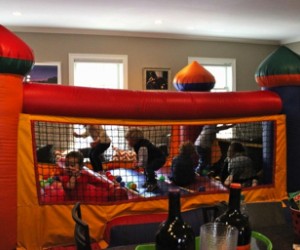 Planning a toddler birthday at your house can be stressful, especially if you are like me, (a bit of a perfectionist) and want everything to be just so. There are two pieces of advice I can give here: (1) expect nothing to go "just so" and (2) hire entertainment. Here's some insight on the latter...
Structured play is key. If you are in your home, hide your toddler's toys. Avoid the inevitable "NO!" when curious little hands come to explore them. From pony rides to character visits, there are so many options to choose from. Check out Parties Over Boston to start your research.
During the planning phase, I was convinced a mini indoor petting zoo was the thing to do. I researched several including Farm Visits and found that almost all of them start at $275 for the hour. I didn't think I could justify that kind of money to look at a goat in a baby diaper. That, coupled with visions of manure in our living room, kept me from going this route.
After a week of surfing the web, I found a company called Busy Bee Jumpers and spoke to an incredibly nice man by the name of Sal who took care of us from drop-off to pick-up. A mini ball pit/bouncy castle combo was $150; a small price to pay to keep toddlers contained, active, and happy. I'll admit it was a ballsy move (pun intended here, folks) to put a blow-up castle in our city townhouse living room, but I knew my two year old would love it. Weeks later, she's still raving about it. Someone even gave me the "coolest mom award" after the party was over.
Tips on renting indoor bouncy castles:
Make sure to measure correctly and be prepared to move furniture.
Blow up castles are loud. It's difficult for adults to have a conversation. Plan on keeping it up for the first hour and giving adult ears a break for the duration of the party.
It must be set up near an electrical plug.
Since the party was two and a half hours and the bouncy castle took up only one of them, I needed something to round out the second half of the party. My daughter goes to (and loves) Baby Wiggle Little Groove classes here in the city, and I read that they do private birthday parties. What's great about them is the expansive age range these classes cover – from infant to 5 years old. The cost is $300 for a private class and you can pick your favorite singer. They bring all of the equipment to your house, including a guitar, microphone, instruments for toddlers, bubbles, scarves, cars, and puppets. You can request your favorite songs; my daughter chose Happy Birthday three times! It was fun for the adults to watch their children dance and sing along to well-known verses from songs like Wheels On The Bus and The Itsy Bitsy Spider. I think I even caught one or two of the adults singing as they left the party. Sara Wheeler owns this company and can be reached at sara@babywiggle.com.
Let them eat cake. Every toddler birthday must end with a delicious cake. (Note: Providing cake at the end is key, as you don't want sugar crash melt-downs halfway through the party.) We chose to go with Sweet Tooth Bakery located in South Boston. Through word of mouth we had heard they have the best flavors and the best designs for any occasion. I met with them in their fabulous showroom (yes, they have a showroom) and explained our theme. They came back with a gorgeous "ladybug in the grass" creation that both kids and parents commented on. Eight inch cakes start at $40. Go with your standard vanilla and chocolate cake or choose from a variety of delicious flavors like almond, marble, spice, red velvet, or lemon. For an extra special treat select the peanut butter cream icing!
A final piece of advice: Smile, relax, and have fun. Your baby only turns (insert number) once!
---