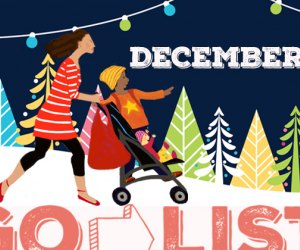 December GoList: The Best Things To Do with Philly Kids This Month
The holiday season has officially arrived. Everywhere you look, folks are decorating their houses, the air is getting colder, hats and mittens have come out of hiding, and the scent of evergreens are in the air! This month is full of holiday shows as well as breakfast, photos, and even train rides with Santa. Our holiday guide will help you plan out a memorable season. So have fun and enjoy a happy and warm holiday season!
Be sure to subscribe to our email newsletter to see our weekly roundups of events as well!
1. Franklin Square Holiday Festival - Philadelphia
Daily, November 14 through December 31, 2019 (closed on Christmas Day)
Historic Philadelphia is ready for the holidays with this annual Philadelphia tradition. Bring the entire family to watch the Electrical Spectacle Holiday Light Show throughout the season.
2. Gingerbread Competition & Display - Lahaska
Daily, November 15 through January 4, 2020 (closed on Christmas Day)
View the delightful and whimsical display of gingerbread houses at Peddler's Village. This Gingerbread Competition and Display offers cash prizes in categories ranging from traditional to authentic reproduction of a significant building.
3. BlueCross RiverRink Winterfest - Philadelphia
Daily through early March 2020
Grab your coat, gloves, and hat and head to the Blue Cross RiverRink's Winterfest as the rink is transformed into a winter wonderland. Guests can expect ice skating, outdoor seating with fire pits, warm cabins, arcade games, and plenty of delicious food and beverages.
4. LumiNature at The Philadelphia Zoo - Philadelphia
Daily, November 20, 2019 through January 5, 2020
Visit the Philadelphia Zoo as it is transformed into an unbelievable winter wonderland. LumiNature allows guests to go on a magical journey where lights, music, and special surprises await each night. LumiNature fills children with a sense of wonder when big cats and peacocks come alive, flamingos flock together on a 25 foot tree, and all four seasons host their very own party, Strolling performers, hot chocolate, and adult beverages can be expected.
5. Caroling Night at Gorgas Park - Roxborough
December 1, 2019
This family-friendly event celebrates the season of winter with holiday songs and hot chocolate.
6. South Street Winter Wonderland - Philadelphia
December 1, 2019
It's the holiday season! South Street Headhouse District presents its annual extravaganza Winter Wonderland with Santa, Rudolph, Frosty, and a Christmas parade.
7. Lucia Fest and Christmas Market- Philadelphia
December 7, 2019
Held at the American Swedish Historical Museum, Lucia Fest is a family friendly festival complete with Lucia processions occurring both at 1 PM and 3:15 PM. In addition, the Christmas market offers holiday deli items, decorations, and gifts. Don't forget to pick up sweet treats at the Swedish Christmas Cafe and the bakery tables.
8. Narberth Dickins Festival - Narberth
December 8, 2019
The quaint town of Narberth is transformed into the 1840's London as Ebeneezer Scrooge, Tiny Tim and the cast of characters from A Christmas Carol wander the streets for the afternoon. Children enjoy the popular scavenger hunt featuring a Dickens theme. Horse-drawn carriage rides, holiday crafts, carolers, period vendors and food, dancers, musicians, ballet performances, puppet shows, magicians, puppeteers, and ice sculptors await families at this annual celebration.
9. Seaport Parade of Lights - Philadelphia
December 7, 2019
The Seaport Parade of Lights is a lighted boat parade on the Delaware River featuring tugboats, working vessels and pleasure boats all ornamented with festive, twinkling holiday lights and decorations. The parade is set to begin at 5:30 PM. The best seats overlooking the Delaware River are from the 2nd floor balcony at the museum. While waiting for the parade to start, visitors to the museum can enjoy holiday festivities and entertainment from 11 AM - 5 PM.
10. Philadelphia Orchestra Christmas Kids' Spectacular - Philadelphia
December 14, 2019
Get into the holiday spirit with a little help from the Philadelphia Orchestra. Audiences can hear the sleigh bells jingle and the trumpets sound as well as listen to classics like Sleigh Ride. Special visitors from the North Pole may make an appearance. Have you been naughty or nice?, and more.
11. Shooting Stars Holiday Spectacular - Drexel Hill
December 20-21, 2019
Held at Upper Darby Performing Arts Center, this 80 minute production fit for kids 4 and older is sure to get everyone in the holiday spirit. Some of the region's most talented young adults perform Broadway-style song and dance numbers to your holiday favorites.
12. Peeps Fest- Bethlehem
December 30-31, 2019
Celebrate your favorite marshmallow treat at Peeps Fest at SteelStacks in Bethlehem. Enjoy live music, arts and crafts, photos with the Peeps chick, and more.
13. New Year's Eve in Kennett Square- Kennett Square
December 31, 2019
Ring in the New Year in Kennett Square with live music, food, and activities until 8 PM, then watch the raising and lighting of the Mushroom!
14. Kids' New Years Eve Countdown - Philadelphia
December 31, 2019
2019 is almost in the history books but only after this exciting celebration! Guests can enjoy music and crafts beginning before the Square Drop from atop SquareBurger at 6 PM and Sugar House New Year's Eve Fireworks on the Waterfront, viewable from the Square. The indoor Franklin Square Pavilion hosts a Kids' Dance Party until 8 PM for the final Electrical Spectacle of 2018.