Best Playgrounds In The Hamptons & North Fork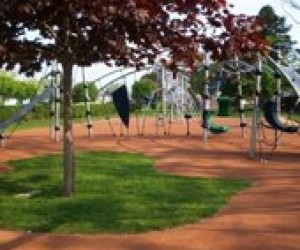 There's nothing better than letting kids run around and burn off some energy on a beautiful day. The Hamptons and North Fork offer great parks and beaches for nature hikes, but sometimes kids just want to climb, seesaw, and swing. Most towns on the East End have a playground tucked away along Main Street's local parks or beaches. Here's a list of some of the best recreational areas in the Hamptons and North Fork.
Agawam Park
Pond Lane and Jobs Lane
Southampton, NY 11968
631-283-0247
Renovated in 2011, the playground features equipment by a company named Kompan. The playground features soft flooring, which makes it safe for kids to run and jump on. The climbing structures have a unique design and there is a sturdy swing set.
Herrick Park
86 Main Street
East Hampton, NY 11937
631-329-4130
Located in the center of East Hampton Village, Herrick Park features a playground, tennis courts, athletic fields, and a gazebo.
Orient Beach State Park
Route 25
Orient, NY 11957
631-323-2440
It's worth the drive to the eastern end of the North Fork for a visit to Orient Beach State Park. In addition to a large, colorful playground with structures for kids of all ages, the park is a waterfront nature preserve filled with wildlife. It is designated as a National Natural Landmark and an Audubon Important Bird Area. The park offers several amenities including outdoor grills, restrooms, showers, and it's fully accessible.
Hank Zebrowski Park (Lion's Field)
South Erie Avenue & Edgemere Street
Montauk, NY 11954
631-324-2417
This recreational area located near the Fort Pond Bay boat launch features softball and soccer fields, along with a playground.
Mashashimuet Park
Jermain Avenue and CR-79
Sag Harbor, NY 11963
631-725-4522
This park boasts lots of open, grassy space and a large, toddler-friendly playground. There are many tennis courts and playing fields, along with permanent chess board tables and a picnic area.
Downs Family Recreational Park
Flying Point Road and Downs Path
Southampton, NY 11968
631-283-4269
The Downs Family farmed on this site for 300 years. The land was given to the Town of Southampton by descendants of Lewis Downs, the mayor of the town from 1933-1937. The Downs Family requested the development of a recreational area on the site to continue the family legacy. The park features baseball diamonds, a playground, and soccer fields. It is a local favorite of the Southampton Little League. The playground is appropriate for kids 2-12 years of age.
Ria Del Bene Playground
Main Street and Mill Road
Westhampton Beach, NY 11978
This small playground is tucked behind the Main Street shops, in the corner of the Village Parking Lot. It is a shady spot with benches for adults, a funky play structure with interesting climbing sections and slides, and sit on animal structures for young kids. The playground surface has wood chips to minimize bumps and bruises.
South Jamesport Beach Park
Peconic Bay Boulevard
Jamesport, NY 11947
631-727-5744
Why not have the best of both worlds - the beach and the playground? South Jamesport Beach boasts tennis and basketball courts, a gazebo, and a playground. The Snack Shack is open during the summer season. Ample parking and restrooms are available.
North Haven Park
335 Ferry Road
Sag Harbor, NY 11963
631-725-1378
The North Haven Park is located behind Village Hall and offers a playground, tennis court, basketball court, hiking trail, and benches. There are public restrooms, which are open when Village Hall is open. Children under 12 years of age must be accompanied by an adult.
Amagansett Youth Park
216 Abraham's Path
East Hampton, NY 11937
631-267-2421
More than just a playground, Amagansett Youth Park features a club house with an indoor play area for young children, along with toddler arts and youth chess. The park features tennis and basketball courts, a track, a skateboarding ring, a roller skating rink, and a playground.
Photo Credit: Town of Southampton