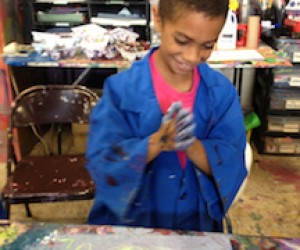 Arts and Crafts Classes for Kids West of Boston
If you live in one of the towns west of Boston and you have a creative kid, you're in luck. In Arlington, Belmont, Watertown, Newton and Concord, I've found a veritable cornucopia of art and craft making classes for kids. Environmental arts? Check. Cartooning? Check. Zentangle? (What's that?) Yep, that one too, along with clay work, animation, drawing, painting, glass fusion, and fashion illustration.
If all this sounds great, but you're looking for classes closer to the city, take a look at my posts highlighting arts and crafts classes in Boston and in Cambridge, Somerville, and Brookline.
---
​Emerson Umbrella Center for the Arts
40 Stow Street, Concord, MA 01742
978-371-0820 or info@emersonumbrella.org
Emerson Umbrella Center for the Arts has some very cool parent-child classes (story-inspired art, fashion accessories, jewelry making), but if you'd rather drop your child off, there are equally cool classes for kids. In addition to ceramics classes, Emerson Umbrella offers Comics and Cartoons, 2D Stop-Motion Animation, Fashion Illustration, and Drawing & Painting. Musketaquid, the environmental arts wing of the Emerson Umbrella Center for the Arts, brings nature and art together through journaling, drawing, observing and collecting.
---
ArtBeat
212A Mass Ave. Arlington, MA 02474
781-646-2200
Kids can join the creative dabblers at Artbeat in Arlington's Capitol Square for unique classes like Zentangle and Sand Mandala. Artbeat has a program for preschoolers, Art for Little Hands, which is great for the little ones while their older siblings are in school. Bonus: You don't have to commit to a multi-week class -- you can just drop in when the class time works for your schedule. Artbeat also offers one-day workshops to celebrate holidays like the Lunar New Year and Valentine's Day.
---
Arlington Center for the Arts
41 Foster Street, Arlington, MA 02474
Arlington Center for the Arts is a hub of creativity. Artsy kids can choose from classes in drawing, painting, clay work, and cartooning. There are also clay work classes for families and inventive workshops during school vacations, as well as fabulous summer programs.
---
Indigo Fire
60 Concord Ave, Belmont MA 02478
Kids ages 8 and up can explore wheelthrowing and glass fusing at Indigo Fire in Belmont. They'll bring home some fabulous projects from the glass fusing classes, like candle holders, dishes, coasters, wind chimes, and mirrors. Kids in wheel throwing classes have studio privileges so they can practice when class is not in session. Indigo Fire also offers vacation week and summer workshops for kids.
---
Miss Leesa's Art Program
Belmont United Methodist Church, 421 Common St., Belmont, MA 02478
Art educator Leesa Kurtz Stolbach (aka Miss Leesa) has taken up residence at the Belmont United Methodist Church in Cushing Square to bring art adventures to kids in preschool through middle school. Parents of our preschooler friends have spoken highly of Miss Leesa and her philosophy of art as a visual language. In her classes, young artists work with a variety of mediums, including fire clay, paper mache, acrylic paint, charcoal, pencil, paper and plaster.
---
Studio Art for Children with Talin Megherian
The Atrium School, 69 Grove St., Watertown, MA 02472
781-718-6607
Parents rave about Talin Megherian's art classes, and from my family's experience with her, I know why. She's like the art whisperer (if there is such a person). Take a look at her Student Work page, and you'll see what I mean. In addition to drawing, painting, and mixed studio classes, Talin sometimes offers classes in fashion illustration, perfect for your little fashionista.
---
Arsenal Center for the Arts
321 Arsenal Street, Watertown, MA 02472
617-923-0100, x8304
Arsenal Center for the Arts has always provided kids with lots of opportunity for artistic exploration, but since the merger with Watertown Children's Theatre, the course offerings are even more robust. Options include ceramics, painting, printmaking, drawing, mosaics, collage, and cartooning, in addition to theater performance classes. You may also want to check out Arsenal's February Vacation week workshops. A word to the wise, kids' classes are popular and tend to fill up quickly, so I recommend registering well in advance of the class start date.
---
New Art Center
61 Washington Park, Newtonville, MA 02460
617-964-3424 or info@newartcenter.org
Whether your child wants to learn painting, drawing, cartooning, woodworking, mask making, wheelthrowing, or hand building with clay, s/he can do it at the New Art Center. There are also classes exploring art around the world, the intersection of art and science, and upcycling art.
---
Originally published January 2014; updated August 2014