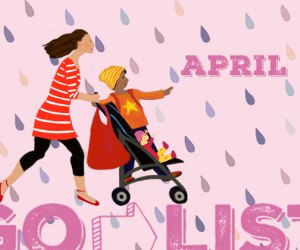 April GoList: Best Things To Do with NJ Kids This Month
April's jam-packed schedule will put some spring in your step, with Easter celebrations, the Essex County Cherry Blossom Festival in Newark, the Earth Day celebration in Jersey City, Daffodil Day at Reeves-Reed Arboretum, and many more spring festivals and fairs.
Other signs of spring include the season openings of amusement parks, including Morey's Piers and Six Flags Great Adventure & Safari, plus outdoor concerts and ball games.
If April showers are in the forecast, head indoors to see a performance! Tons of favorite characters and shows are taking the stage this month throughout NJ, including Pinkalicious, Jungle Book, and Sesame Street Live.
Read on for our top picks for April. To stay up to date on all the latest happenings, be sure to sign up for our newsletters and check out our Event Calendar, with new activities added daily. And for even more seasonal fun, don't miss our Spring Fun Guide for NJ Kids. Happy spring!
Easter Events – Various locations
Throughout April, 2019
Head out in your Easter Sunday best to take part in egg hunts and Easter Bunny visits, including events at Storybook Land, Cape May Zoo, and Seaside Heights.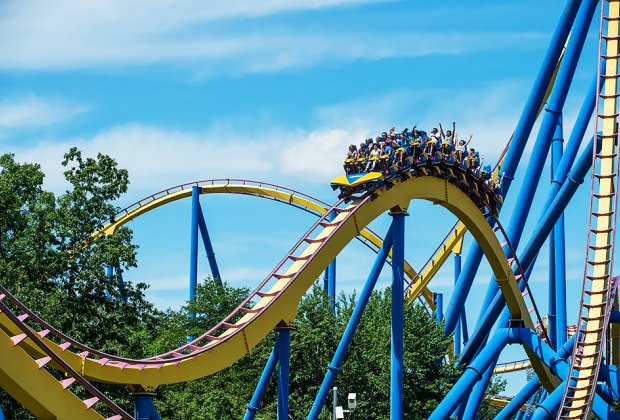 Spend a thrill-filled spring break day at Six Flags Great Adventure & Safari. Photo courtesy of the park
Six Flags' Season Opening – Jackson
Saturday, April 6, 2019
Six Flags opens just in time for spring break!
RELATED: Must-See Cherry Blossom's in New Jersey's Branch Brook Park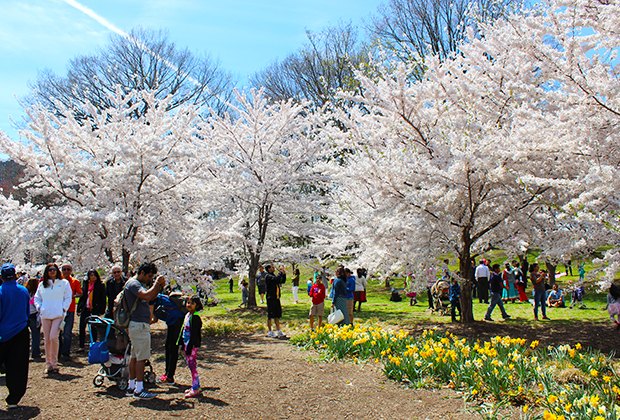 Don't miss the gorgeous cherry blossoms at Branch Brook Park. Photo by Shinya Suzuki via Flickr
Essex County Cherry Blossom Festival – Newark
Weekends April 6-14, 2019
Take in the gorgeous blossoms during this festival, which includes a family fun-run, bike races, and more. A festival highlight is Essex County Family Day on Sunday, April 14, with games, paddle boating, face painting, crafts, a fishing derby, live entertainment, and food vendors. FREE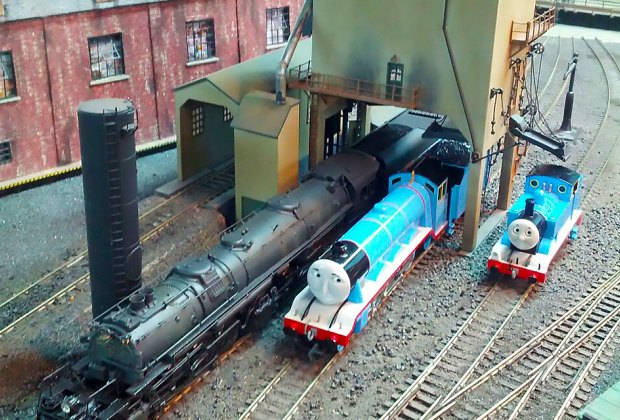 The Spring Model Railroad Show chuffs into North Haledon this month. Photo courtesy of the Garden State Model Railway Club
8th Annual Spring Model Railroad Show – North Haledon
Saturday and Sunday, April 6-7, 2019
It only comes around twice a year—so grab your little train lover and check out this intricate display, which features hand-painted backdrops, steam and diesel locomotives, working signals, and, of course, Thomas and Friends.
Easter and Springtime Family Festival – Chester
Saturday, April 6 – Monday, April 22, 2019
Alstede Farms embodies everything we love about spring, from Easter fun to farm animals and pony rides.
Jungle Book at SOPAC – South Orange
Sunday, April 7, 2019
Rudyard Kipling's classic adventure comes to life onstage as a musical at SOPAC.
Pinkalicious, the Musical – Union
Sunday, April 7, 2019
Everything's coming up pink in this musical version of the popular book series. Find out what happens with Pinkalicious overindulges in pink cupcakes.
Free Cone Day – Various locations
Tuesday, April 9, 2019
Free ice cream? Yes, please! Stop by Ben & Jerry's to get yours.
Fishing Derby at Echo Lake – Mountainside
Saturday, April 13 – Saturday, May 4, 2019
This annual event for kids 16 and under runs for three weeks. All registered kids will receive a gift bag, and grand prizes will be awarded in June.
RELATED: 50+ Things We Can't Wait To Do with NJ Kids This Spring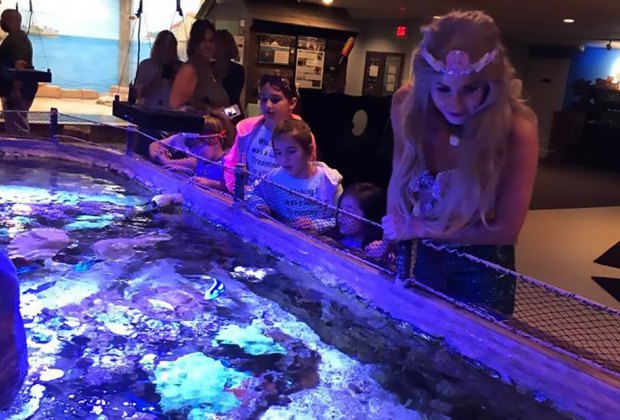 Jenkinson's Aquarium hosts a mermaid tea party this month. Photo courtesy of the aquarium
Mermaid Tea Party – Point Pleasant
Saturday, April 13, 2019
Put on your prettiest fins, and head over to Jenkinson's Aquarium for tea and crafts with an aquatic twist.
Somerset Patriots Fan Fest – Bridgewater
Saturday, April 13, 2019
Have a ball at this celebration in honor of the upcoming baseball season. The players will be signing autographs. FREE
Opening Day at Morey's Piers – Wildwood
Saturday, April 13, 2019
It's like summer in April when Morey's Piers opens for the season, with the special reopening of Mariner's Pier.
RELATED: Best Spring 2019 Events for NJ Toddlers and Preschoolers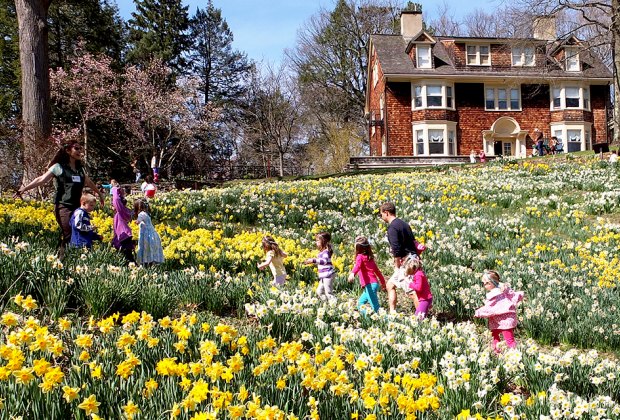 Roam through fields of spring flowers at Daffodil Day at Reeves-Reed Arboretum. Photo courtesy of the arborteum
Daffodil Day at Reeves-Reed Arboretum – Summit
Sunday, April 14, 2019
Spring is in bloom at Reeves-Reed Arboretum, which features one of the largest daffodil collections in New Jersey. There will be live performances, a petting zoo, games and crafts, an outdoor market, and more.
Mary Poppins in Concert Live to Film – New Brunswick
Sunday, April 14, 2019
Have a supercalifragilisticexpialidocious time at State Theatre's showing of Mary Poppins on the big screen with a live musical score by NJSO.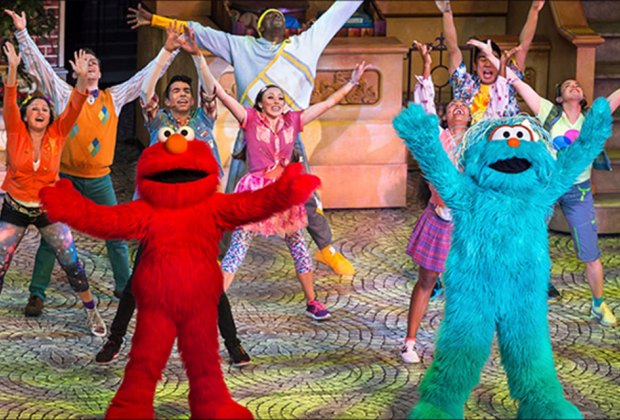 Jump to the beat with your friends from Sesame Street in New Brunswick. Photo courtesy of the production

Sesame Street Live: Make Your Magic – New Brunswick
Friday–Sunday, April 26-28, 2019
The Sesame gang takes over State Theatre with a live show all about magic.
Jersey City Earth Day Celebration – Jersey City
Saturday, April 27, 2019
Celebrate our home planet with food and fun at Liberty State Park. A 5k walk/run kicks off the festivities, which include a family-friendly fair featuring a kids' obstacle course, arts & crafts, free rides, and more. FREE
Dino Day at the Morris Museum – Morristown
Saturday, April 27, 2019
Travel back to a time when dinosaurs roamed New Jersey. In this program geared toward ages 3–9, kids can touch real fossils, meet a dinosaur expert, take part in a dig, and make dinosaur crafts in the museum's gallery.
RELATED: 40+ Spring Festivals for NJ Kids and Families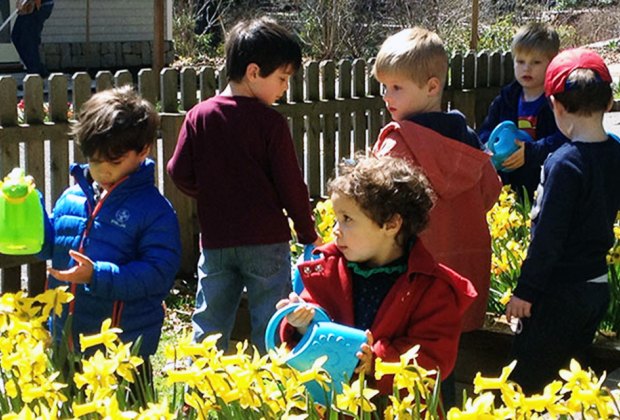 Reeves-Reed Arboretum will be awash in color on Daffodil Day. Photo courtesy of the arboretum
Rutgers Day – New Brunswick, Newark, Camden
Saturday, April 27, 2019
This popular event will take place at all three of the university's campuses, where attendees can enjoy free performances, science demonstrations, and hands-on learning activities in the sciences, arts, and humanities. FREE
The Velveteen Rabbit at Paper Mill Playhouse – Millburn
Saturday, April 27, 2019
Hop over to Paper Mill Playhouse for a live musical version of the classic tale.
Superhero Day – Union
Saturday, April 27, 2019
Bring your cute caped crusaders to Liberty Hall for an afternoon of super-duper activities, including crafts, treats, and superhero appearances.
Rockin' for Autism – Fanwood
Sunday, April 28, 2019
Rock out for a good cause at this 4th annual free concert. The fun includes live local bands, refreshments, kids' activities, and a quiet Chill Zone. FREE