A Visit to Lutz Children's Museum in Manchester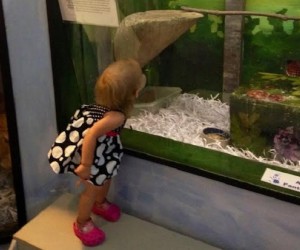 The Lutz Children's Museum, located about 10 miles east of Hartford, is one of those cozy little places perfect for spending a few hours engaged in play and hands-on learning. Given its close proximity to Wickham Park (only a 10-minute ride), if you're visiting between April and December, you can easily turn a visit here into a day trip to Manchester.
The Lutz is a small one-level museum ideal for ages 5 and younger. The animal exhibits, however, can be appreciated by all, and its educational programs welcome participants up to age 10. The museum offers special classes and events throughout the year, such as the upcoming Valentine's Day Party (two celebrations catering to ages 2-5 and 4-10) so be sure to check the Mommy Poppins Events Calendar for the latest fun. Your child can take many classes here - always free to members, and free for anyone else after paid admission. The upcoming All About Animals, Young Scientists, and The Art of South America classes are definitely worth checking out.
Within the museum's play areas children will enjoy exploring attractions like a pretend post office (they can stuff boxes into a mailbox), a 1940s decorated schoolhouse, puzzles, blocks, dress-up clothes, a large train with a bell to ring, a vegetable stand, a life-sized cow with udders to "milk" (my daughter could have squeezed out water into a bucket all morning long), and more. Though most of the action happens on the ground, don;t forget to look up: along the perimeter of the ceiling, runs a track where a train continuously moves around the museum.
The museum is a large open room without dividers, making it easy for parents to let kids explore each section on their own, all while being able to keep a watchful eye at all times. Behind the main area is a live animal exhibit filled with turtles, bunnies, fish, snakes, chinchilla, birds, and more. Periodically, the staff will take out some of the animals for the children to pet and they welcome questions.
Out back, overlooking the pond is a picnic area featuring a small climbing net wall, so if it's a nice day you can enjoy some time outdoors for lunch. If not, plenty of delicious cuisine awaits nearby. Upon leaving the museum, take a right onto Main Street and follow it to the town center where the street is lined with antique shops, various stores, and restaurants to please any palate (such as pizza, Indian, Chinese, and the popular burger joint Corey's Catsup and Mustard).
Admission to the Lutz is $7 per person (children under 1 are free). As a member of the Association of Children's Museums (ACM) and the Association of Science and Technology Centers (ASTC), it offers free or reduced admission to participating members. They also offer buy one get one free admission for AAA or Big Y members. Hours of operation are Tuesday through Friday 9 a.m. - 5 p.m., and Saturday and Sunday 12-5 p.m.
If the kids end up having a good time at the Lutz, consider planning a trip to the New Britain Youth Museum. It is comparable in size and sure to please littles ones.
Originally published March 13, 2013.