A Family Visit to the Gilson Cafe & Cinema in Winsted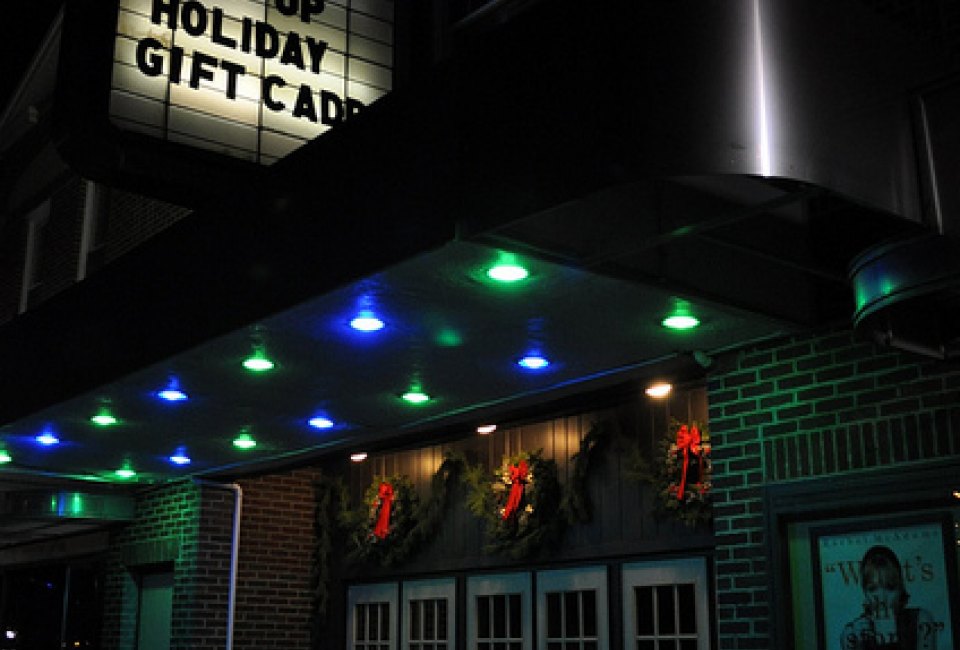 7/13/14
- By
Sherry Pardy
Tucked away in Winsted, Connecticut, sits perhaps one of the best kept secrets in Litchfield County. My first experience at the Gilson Theatre was during a vacation from college, and some friends and I drove in a massive snow storm, up Route 8, for what seemed like forever, to Main Street in Winsted to check out the burlesque theatre turned dinner and a movie spot. Back then, the crowds were small and the movies were oldish. Times have certainly changed at the Gilson, but it's just as fabulous a spot as it's ever been and well worth the trip!
First, something to get out of the way first. The Gilson has a pretty strict policy about kids at the theatre. In a nutshell, no one under the age of 21 is allowed in the venue on Fridays and Saturdays. No exceptions. The other days it's open, the Gilson welcomes kids aged 12 and over, as long as they're accompanied by a parent. Since my kiddos are barely 9, and unfortunately too young to experience The Gilson yet, I borrowed my sister's kids, (16 and 14) for a fun evening out with my favorite teenagers.
The Gilson boasts two theatres, one upstairs that's smaller and more intimate than the theatre downstairs. Doors open about an hour before the movies begin, which allows plenty of time to sit, get comfortable, and order some food! The idea of dining and watching movies seems tremendously under utilized, in my opinion, and The Gilson gets it right in that department. The menu is simple, but tasty. The "Double Feature" sandwich, (ham, turkey, and horseradish dressing) was delicious! Dinner service ends when the movie starts, but you may still order dessert and drinks for the remainder of the evening.
If you're interested in a date night, and want to visit the Gilson on the weekend, although reservations are suggested, we spoke to a few staff members who strongly recommended reserving a table, as spots get snatched up quickly. Also, parking in and around the Gilson on the weekends can prove tricky, so allow yourself extra time to park and walk to the theatre.
All in all, The Gilson is a super fun concept and a blast for older kids, a date night, or even a girls night out. Just be sure to make a reservation on the weekends!
Closed Mondays. Doors open at 6pm, reservations strongly suggested Fridays/Saturday. No one under 21 admitted on Friday/Saturday. 12 and older admitted with a parent/adult.
The Gilson Cafe & Cinema
354 Main Street
Winsted, CT 06098
860.379.5108
Places featured in this article:

Sign up for our free
newsletters.
Mommy Poppins is a family activity website that helps people find things to do with kids.
©
2023
MommyPoppins. All Rights Reserved.
mp-prod4-v4.32.99
We use cookies and other data collection technologies to provide the best experience for our customers.
Learn More
Sign up for the Mommy Poppins Newsletter today!