7 Family-Friendly Resorts with Lush Spas for Winter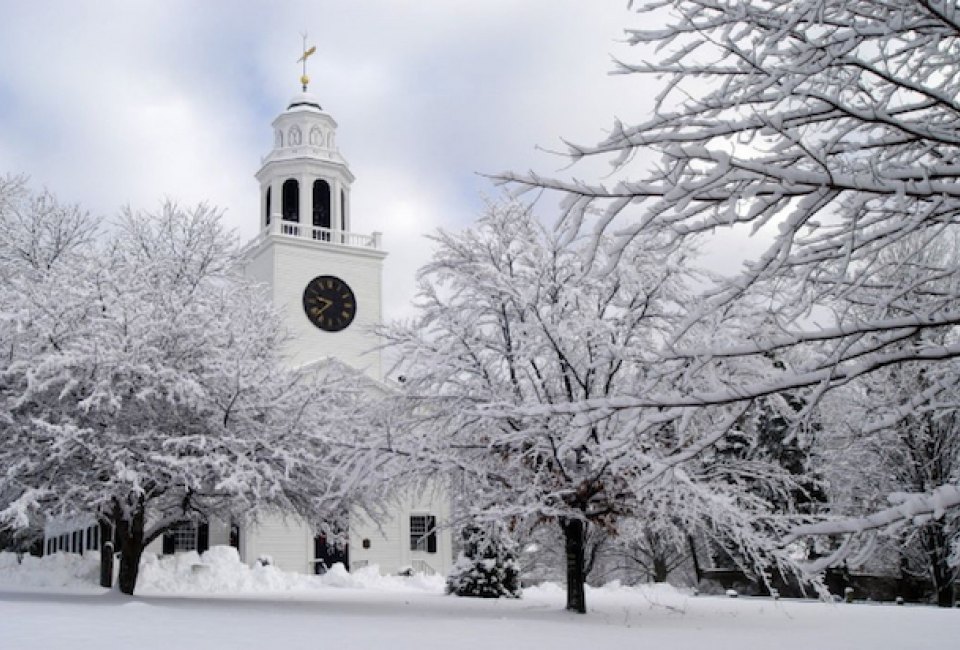 12/6/15
- By
Allison Tibaldi
As much as we all love family getaways, the packing, planning and even the 24/7 togetherness can be a tad stressful. The action-packed holiday season only adds to that stress for many of us. Take time to unwind and spoil your family (and yourself!) on your next winter weekend vacation from New York City at one of these family-friendly resorts that feature top-notch spas.
We focused on Northeast resorts that are far enough away from the city to feel like you've actually "gotten away," but not so far that the length of travel makes your getaway feel like a chore. Read on for our picks that make shedding tension effortless while offering plenty of distractions for kids, too.
Cranwell Resort
Where: Lenox, MA
Why: One hundred thirteen rooms are spread over the rambling grounds. The food scene in the Berkshires is all about freshness, and the property's restaurants are examples of fine Berkshire dining. Cross-country ski or snowshoe on 10 kilometers of trails. Don't forget the bathing suits, as the large indoor swimming pool is tempting. Ski Butternut is nearby for easy downhill skiing and tubing. The town of Lenox is a cultural hotbed so plan on exploring. The town is less than a 3-hour drive away from Midtown.
The Spa: The Spa at Cranwell is one of the largest in the Northeast, with an enticing menu of restorative treatments. The signature treatment is the Grand Mosaïk. You'll float in weightless bliss as your body is cocooned in emollient products before a fabulous massage. Hotel guests have complimentary use of the steam, sauna and whirlpool so you can rejuvenate even if you don't book a service.
RELATED: Family Day Trips and Weekend Getaways Guide for NYC Families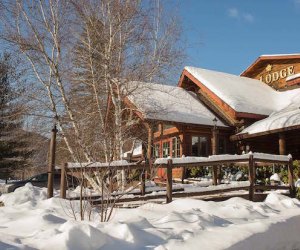 This Catskills resort offers movie night and other kid activities while mom and dad relax in the hot tub or indulge in an Ayurvedic body treatment. Photo courtesy Emerson Resort and Spa.
Emerson Resort and Spa
Where: Mt. Tremper, New York
Why: New York City dwellers have considered the Catskill Mountains their playground for centuries. Nestled in these majestic mountains is the Emerson Resort and Spa. If your family likes to be outdoors in winter, miles of groomed cross-country ski trails and ice skating are available on site. For downhill skiers, Bellayre Mountain is just a few miles away. At the Emerson, organized children's activities are low-key affairs, like the Saturday night movie screened in the cozy Bean Bag Theater, complete with popcorn. The hotel is home to the world's largest kaleidoscope whose brilliant burst of colors is a wholesome throwback to the laser rock shows of my youth. Just two hours away.
The Spa: A variety of bliss-inducing treatments, including body scrubs, wraps and facials are available in one of the 10 treatment rooms. There's Asian inspiration here, so consider the Indian head massage or an Ayurvedic body treatment. Check out the hot tub's view.
The Gideon Putnam Resort and Spa
Where: Saratoga Springs, New York
Why:The Gideon Putnam is a Grande Dame hotel located within the grounds of bucolic Saratoga Spa State Park with hiking trails, tennis courts and two swimming pools (in summer only) literally at your doorstep. In winter, these trails look like the inside of a snow globe and are made for snowshoeing and cross-country skiing. The park is home to several natural springs, so bring an empty bottle and fill up. Saratoga Springs is a charming town with great dining, cool shops and North Country Books, with its fabulous children's section. Take Amtrak to this upstate haven or expect a 3-hour drive.
The Spa: The Roosevelt Baths & Spa's no-nonsense aesthetic wouldn't look out of place in the former Soviet Union, so don't expect fancy. Try the budget-friendly mineral bath and you'll soak in naturally effervescent spring water that feels like you're floating in Champagne. Follow it up with a tension-taming massage for an extra dose of rapture. Teens 16 and older can book treatments.
Hotel Viking
Where: Newport, Rhode Island
Why: The Hotel Viking is located in the heart of historic Newport. You can walk to nearly all of this quaint town's seaside attractions. Kids 12 and younger receive a bag filled with toys and games upon check-in, as well as complimentary breakfast when dining with their parents. Special kid's activities, an indoor pool and pop-up game room open until March ensure an entertaining stay. Hop a 1-hour flight to Providence or hit 95 North for 3-hour drive to this pretty New England town.
The Spa: This full-service spa offers international healing treatments, with an eye toward the traditions of Bali and Thailand. Try the Balinese massage or a bamboo ginseng scrub. Kids have their very own menu of spa services.
The Hotel Hershey
Where: Hershey, PA
Why: This amenity-laden hotel is synonymous with chocolate. The indoor pool complex is the perfect place to diffuse the sugar rush, and the elegant indoor space is made for curious kids to explore. The town of Hershey is known as the "Sweetest Place on Earth" and chocolate accents are everywhere. Though the amusement park is closed for part of the winter, you still can visit interactive Chocolate World and learn about the chocolate-making process. Create a customized candy bar and sample the sweet treats. It's a three-hour drive from NYC, or for a car-free holiday consider taking Amtrak to Harrisburg and arranging a pick-up with the hotel.
The Spa: Treatments feature the hotel's signature ingredient, chocolate. Consider a chocolate bean polish or a whipped cocoa bath and get acquainted with the healing properties of this dark and delish treat.
RELATED: 7 Picture-Perfect Holiday Day Trips Near NYC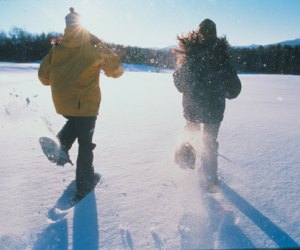 Indulge in the sauna or a Vermont maple sugar body polish at Stoweflake Mountain Resort while the kids enjoy the miles of nearby trails. Photo courtesy of GoStowe.
Stoweflake Mountain Resort
Where: Stowe, Vermont
Why: Stowe Mountain reigns supreme for downhill skiing and snowboarding in the Northeast. Plenty of diverse terrain and an excellent ski school should satisfy experts as well as novices. The Stowe Recreation Trail cuts through the property, with miles of trails for winter hiking and snowshoeing. Whether your family is sporty or sedentary, the Alpine scenery is postcard-pretty. Stoweflake is a family owned hotel. Little touches, like home-baked cookies served each afternoon and a helpful concierge, go a long way. The low-key ambiance makes it attractive to families, so it is often loaded with kids. The outdoor pool is open in winter. From 3 to 7pm, have a dip in the steamy water even when the air temperature is tundra-like. The indoor pool is an alternative in case behaving like polar bears isn't your style. Fly into Burlington from NYC in about an hour.
The Spa: For a special treat, enjoy the top-rated spa as a family. Children older than 7 can select from their own Kid's Spa Menu that includes a massage sampler and a rose bud wrap. A parent must be present during the treatment. Adult spa treatments feature local ingredients like Vermont maple sugar. The sauna has an indoor window with a breathtaking view of the mountains.
And one a little further south

Warm up on Hilton Head. Families can bike along the bike and catch a glimpse of dolphins if they're lucky. Photo courtesy of Hilton Head Chamber of Commerce.
Sonesta Resort Hilton Head Island
Where: Hilton Head, South Carolina
Why: This resort combines Southern hospitality with scenic seascapes and unspoiled nature. Personable service, lush subtropical gardens and fantastic food options make this hotel a real winner. The décor brings the outdoors inside, with soothing accents of sea glass and shells gracing the guest rooms and common spaces. Coastal South Carolina is usually graced with pleasant temperatures all winter. Enjoy the heated outdoor pool, tennis and golf. The island is applauded as one of the country's best cycling spots. Borrow a bike from the hotel and pedal along the miles of flat, designated trails or bike directly on the hard-packed sand as you watch the waves. Hilton Head is a refuge from urban life so rent a kayak or zip-line or go on a hike. An abundance of wildlife means you may see dolphins, great blue heron and loggerhead sea turtles. Hilton Head-Savannah Airport is a 90-minute flight from NYC.
The Spa: You'll be pampered from head to toe at the Sonesta's Arum Spa. Each service begins with a glass of Champagne and ends with a relaxing foot soak. In between, choose from an array of massages that use Tahitian oils. Facials, scrubs and body wraps complete the offerings.
Top photo: Fine dining, cross-country skiing, snowshoeing, tubing and indoor swimming makes the Cranwell Resort in Massachusetts a good bet for families. Photo courtesy of the hotel.
Click Here to Sign Up!
i