6 Brunch Places in the Hamptons and North Fork for LI Families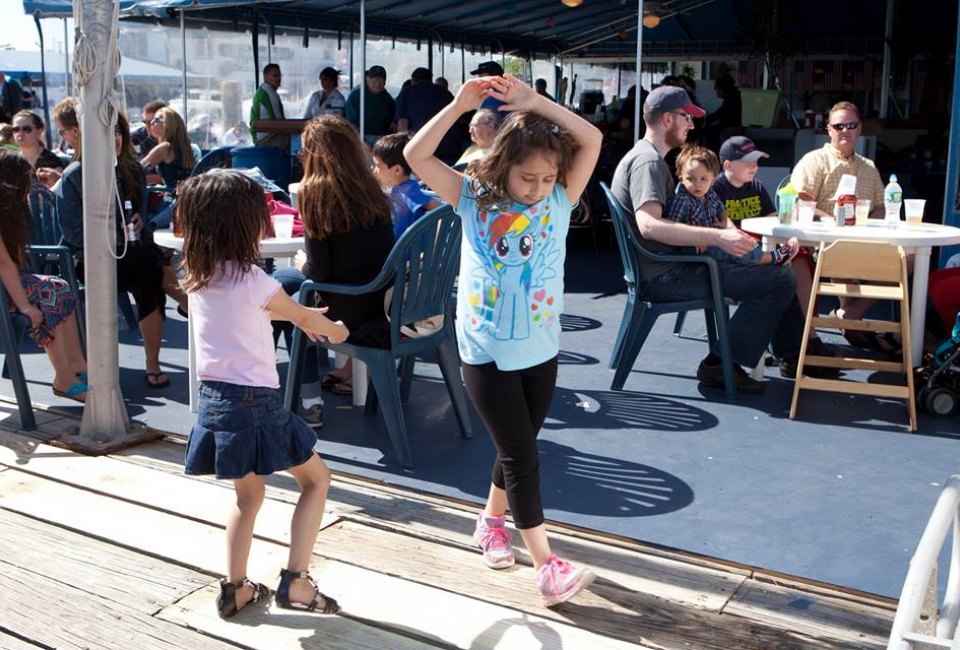 8/3/15
- By
James Smith
At the end of a fun-filled summer weekend in the Hamptons, what could be better than a family brunch? In fact, for many families returning to the city after a few days of sun and surf, it's the final ritual before boarding the Long Island Rail Road or challenging the Long Island Expressway.
Scores of restaurants on the East End offer a brunch menu, particularly on Sundays and holidays, but not all are suitable for children. So we've rounded up six of our favorites that offer a combination of location, ambiance and selection that make them ideal choices for parents eager to share a final weekend meal with the family.
For more on what's going on in the area, take a look at our Hamptons and North Fork Family Guide.
Restaurants That Serve Brunch on the North Fork
Crabby Jerry's
111 Main St., Greenport
631-477-8252
Part of the Claudio's restaurant chain that dominates downtown Greenport, Crabby Jerry's caters to families eager to enjoy the harbor view without the commotion that accompanies Claudio's Clam Bar. In fact, the waterside view is worth the price of the meal alone, as young ones will be mesmerized by the comings and goings of the Shelter Island ferry, the boaters on Peconic Bay, the nearby carousel and more. The food is simple, self-ordered and abundant, especially for kids with a taste for seafood.
Long Island Aquarium
431 E. Main St., Riverhead
631-208-9200
The popular marine center offers brunch on holidays only, including Easter and Mother's Day, and brunch purchases include admission to the aquarium. Start your visit with traditional buffet service in the Sea Star Ballroom, then enjoy holiday-themed fun (penguin egg hunts, Easter bunny visits). Few places on Long Island, or anywhere for that matter, offer the aquarium's combination of good food at reasonable prices and activities sure to entertain the young ones.
Love Lane Kitchen
240 Love Lane, Mattituck
631-298-8989
Upscale comfort food is made to order at this quaint cafe on Mattituck's signature street. The restaurant's private outdoor garden table is ideal for large families (10 maximum; reservation required). Freshly squeezed juices from local vendors start brunch (served until 2pm) with a decidedly North Fork flavor, and menu choices include eggs, meats, potatoes, pancakes and its esteemed pastrami hash and eggs. A la carte options range from $4 to $10, making it affordable for just about any North Fork vacationer. Love Lane is home to an old-fashioned candy store, cheese shop, hardware store and more for those looking to introduce their kids to North Fork charm.
Restaurants That Serve Brunch in the Hamptons
The Hampton Maid
259 E. Montauk Highway, Hampton Bays
631-728-4166
Set on five acres overlooking Shinnecock Bay, the charming seasonal inn's windmill-shaped main building beckons travelers along Montauk Highway. Brunch is served on a covered patio near the main building and families do not need to be inn guests to enjoy it. Fresh fruit and biscuits will get the young ones off to a fine start, but don't overlook the pancakes and omelets. The restaurant offers a price fixed brunch menu on holidays (as of August 2015, $21.50 adults, $9.50 kids 12 and younger) that is served until 1pm.
LT Burger
62 Main St., Sag Harbor
631-899-4646
More children's restaurant than brunch destination, LT's is nevertheless one of the few dining stops in Sag Harbor where kids come first. Come with the family and grab a large-size booth, then marvel at the old-time malt shop feel complete with gum ball machines, games and coloring books. As for food, well, LT's is all about burgers, milk shakes and ice cream, and what could be better for kids? Other brunch options include burritos, eggs and an assortment of coffees and teas for adults. Meatless families will enjoy LT's veggie burger.
Restaurants That Serve Brunch in Montauk
Inlet Seafood Restaurant
541 East Lake Dr., Montauk
631-668-4272
About as far east as a family can go on Long Island, Inlet Seafood offers stunning views of Block Island Sound and Lake Montauk. But in a community where seafood is king, families will be surprised to find quite a bit of diversity on the Inlet brunch menu. Eggs Benedict, omelets and burritos are offered a reasonable prices. Brunch is served between noon and 4pm, leaving families plenty of time to tour the nearby lighthouse or visit the beach one final time before beginning the journey back.
Photo: Crabby Jerry's
Sign up for the Mommy Poppins Newsletter today!