5 Family Camps in New England: Sleepaway Summer Camp for the Whole Family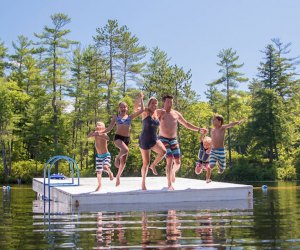 If your kids are too young for sleepaway camp, or you simply want to experience the fun of summer camp together, family camp may be for you. Luckily, we have several great options right here in New England. Read on and start planning your family's summer adventure or just fuel your daydreams about s'mores over the campfire and splashing in a lake with your favorite people in the world.
Note that summer camp information for the 2020 season is changing daily. Please click the links to the individual camps below to see which ones are offering programs this year.
1. Mass Audubon's Wildwood Camp—Rindge, NH
A Mass Audubon program, Camp Wildwood's Family Camp is for families and adults who want to experience summer camp again (or for the first time). Cost includes all meals and snacks, housing, and activities for the family. Activities allow for groups to stay together or split up according to individual interests, and may include hiking in the forest, canoeing around the pond, making art out of recycled materials, learning about the night sky, or trying a ropes course (high and low). If you're feeling a little anti-social one day, no worries – all activities are optional.
2. Girl Scouts of Eastern Mass—New Hampshire and Massachusetts
Girl Scouts of Eastern Mass gives you and your children the perfect introduction to camp with family fun and short stays (from one night to a week). When you think of summer camp, do activities like hiking, canoeing, creating an art projects, and listening to stories around the campfire come to mind? Well, that's exactly the kind of thing they do at the Girls Scouts Family Camp. For lodging, you can choose from a platform tent, yurt, or cabin, and meals are served family style in the dining halls. There are family camps in the beginning of the summer and at the end, in two locations in New Hampshire and one on Cape Cod (we vote for the latter!). In addition to family camps, Girl Scouts of Eastern Mass offers a couple of Mom/Daughter and Dad/Daughter weekends – the perfect bonding experience!
3. Purity Spring Resort—East Madison, NH
Join the many families who return every year to Family Camp at Purity Spring Resort. They come for traditional camp activities like archery, softball, riflery, tennis and watersports. The real draw, however, is social time, when kids and parents make fast friends with (formerly) perfect strangers. These programs include nightly family games, social hours on the lodge porch, and a dance on the tennis court. My family's favorite Purity Spring events are the breakfast cookout and the lobster and steak cookout, which always wraps up with everyone stuffing their faces with s'mores. If you want the summer camp experience without really roughing it, you have the choice of staying in one of their economy lodges, which have private bathrooms. If you're looking for more of an authentic camp experience, try the cabins, which are a lot more rustic!
4. Tyler Place Family Resort—Highgate Springs, VT
While not technically a camp, tons of New England families treat Tyler Place as such, going for a summertime week to hike, swim, bike and make friends together. All-inclusive packages feature a stay in a cottage, studio, or family suite, full use of facilities, access to all programs, and meals (including picnic baskets for family adventure hikes).
5. Family Adventure Camps—New Hampshire and Maine
AMC's Family Adventure Camps are all-inclusive –five days of guided activities, meals, and lodging – so you don't have to do any planning and you know exactly how much you're spending up front. The Family adventure Camps, located in Maine and New Hampshire, are for families with kids ages five to 12. Activities include hikes, paddling, fly-fishing, hands-on nature studies, and evening programs. Families learn about outdoor safety, ecology, and stewardship of wild areas while exploring the mountains and lakes in the Northeast. If your kids are younger, AMC offers a sort of junior version of the adventure camps, Wee Wanderers. Geared toward families with kids ages three to five, the programs are shorter (three days) and encourage families to explore the outdoors and connect with each other. Kids are introduced to the animals of the Lakes region during pond discovery, nature trail exploration, and a visit to the nearby Squam Lakes Science Center. Walks are less than a mile, and the AMC Guides get that little ones need down time – indoor activities like crafts and story time are also scheduled.
Looking for a different type of camp? Check out our Summer and Vacation Camps Guide.
Originally published March 2012