10 Tips for Taking Kids to a Red Sox Game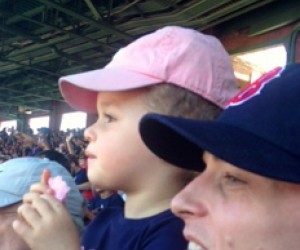 My husband grew up in Boston and, like the rest of the state population, is a die-hard Red Sox fan. Our son was born right before last year's World Series win and my husband called him sport-spoiled. After all, my husband had to wait 26 years for his first World Series Red Sox ring! The obsession has already been handed down to our 3 year old daughter. I think she may know the names of the Red Sox players better than her numbers.
For Father's Day, I decided to go for "Wife Of The Year" and score us tickets to a game. Here are my top 10 tips to help make the game a success for you and your family (and last at least to the 7th inning stretch.)
10. Snack.Eat.Repeat.
It's all about the food and Fenway park offers a lot of it, mostly of the "treat" variety. Take off your healthy eating police uniform off for a couple of hours and let the kids have at it. Just don't make our mistake and hit the cotton candy first. Leading with that "snack" right off the bat (get it?) was an aggressive move. Opt for the popcorn - it takes longer to eat and you're left with a cool hat souvenir instead of a sugar crash.
9. Bring Cash.
Most of the concessions were cash-only in our seating area. You don't want to waste valuable game time walking up and down stairs with a little one looking for an ATM.
8. Go undercover.
Do some research in advance and try to get seats in a shaded section. This was key in keeping our toddler happy. We went on a very hot day but felt cool under the overhang, which ultimately extended our stay.
7. Bring an activity.
It's a lot to ask a preschooler (and me) to sit for an entire baseball game. We explained as much of the game as we could and she stayed truly engaged for four innings. We broke out the coloring book in the fifth. Get some baseball-related "road trip" activities to take with you to the game. Luckily, my daughter's favorite part of the game was when everyone stood and clapped, so that tended to draw her back in quickly.
6. Go find Wally.
(You can even have it arranged to have him visit you.) Don't forget the camera!
5. Don't sweat the small stuff.
There are family restrooms with changing facilities (although expect to wait in line amongst shifting parents holding busy babies and diapering kits.) I brought our travel potty just in case. I was paranoid about the lines with my recently potty trained child, but it was a non issue for a 1:30 pm Sunday game.
4. Get there early.
There are a lot of fun activities for kids and cheaper places to buy shirts, hats, and other gear right on Yawkey Way. It's worth getting there a little early to enjoy this circus-like atmosphere.
3. Hold hands.
The park is crowded with a lot of big people. Not only can that be overwhelming to the 4 feet and under crowd, it also makes it easy to misplace them. Find a meeting spot before you sit down in case anyone gets lost and don't let go of little hands when you are walking around. Tuck a card in their pocket with your phone number on it.
2. Take a cab.
Parking is a bit of a nightmare and taking a cab was just part of the fun!
1. Did you know?
Children age 2 and under don't need a ticket. (They didn't even check our 3 year old's ticket.) And strollers and diaper bags are welcome as long as they fold up and fit under your seat. PLAY BALL!
---
Bonus Tip: Know someone! Thank you to Chris Thoman of Bushari Real Estate for hooking us up with great tickets. It was a really fun way to spend a Sunday afternoon together and the first step in our little Boston girl's die-hard sports fan training.