10 Steps to Planning Unforgettable Family Vacations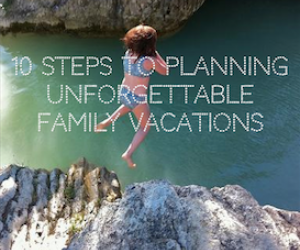 Great travel is the holy grail of family time: To see the world, expand our horizons, and experience unforgettable adventures together is everything we want our family time to be, all wrapped into one. That's the dream anyway. The reality is that planning a big trip can be so daunting you want to throw up your hands and just stay at home. It's no wonder all-inclusive resorts are so popular, just show up and your hardest decisions concern the buffet.
But there's no substitute for amazing travel with your kids. If you're like me you want to pack lots of stuff into your days, but not at the expense of having crabby, exhausted kids. There's no reason to give up hope of doing the things you want or just sticking to vacations at Disneyland. Finding the perfect balance and knowing a few tricks to planning itineraries that optimize your days will help you have better, more adventurous vacations.
It's taken me years of practice to figure out how to plan itineraries that keep everyone happy, expose us to new experiences, and still feel enough like a vacation that I don't need another one once we get home. The heart of my travel planning comes down to knowing how to balance cultural experiences with kid-friendly fun, while making the logistics as seamless as possible. I've boiled my technique down to 10 simple steps that anyone can do to have amazing vacations. If I can turn my grumpy kids into world travelers, you can too.
I have dozens of pictures of my grumpy kids in some the nicest spots on Earth.
1. Minimize Logistics. They say getting there is half the fun, but, when traveling with kids, it's where there's the most possibility for vacation-ruining problems. I try to make the actual travel part of our trips as easy as possible. I happily pay extra for a direct flight and downgrade our accommodations if needed, for instance. I also pick our destinations based on how easy they are to get to and, on longer trips, limit the number of places we go to reduce the times we have to uproot. Settling into a home base and exploring nearby destinations works better for families than hopping from place to place. It also lets you get to know your destination on a deeper level.
2. One Pick. I start any trip planning by looking up all the possible destinations near where we are visiting. Then, as a family, we discuss which places sound coolest. From the short list, everyone gets one pick. We'll do lots more, but the one pick is guaranteed. Not only does this ensure everyone has one place they really want to see, I've found it really helps with keeping a positive attitude for places that kids aren't enjoying, as they have something to look forward to.
3. The CoCo Chanel Rule. One of the famous lady of style's tips was to put on the perfect outfit and then take one thing off so as not to overdo it. Likewise, that's what you want to do when traveling with kids. Plan what you think is reasonable to do and then remove one thing per day (and be prepared not to do more.) With kids you will always do less than you think you will. While some days work out great, there are many days where itinerary goals have to get dropped. I count a day a success if we get one thing in. Keeping expectations low and being flexible means fewer big disappointments.
Saying yes to a reading break on a day of long walks kept it from becoming a fight.
4. Balance Culture and Play. I follow this rule on a macro and a micro level. For instance, on a longer trip we might spend some time in the city doing museums and culture and then head to the countryside or the beach. Likewise, we make sure that each day has some cultural activity as well as some fun. In France we found that most of the little towns we visited had free public swimming holes. We were able to do castles, markets and cute towns all morning, break for a nice lunch and swim all afternoon. In cities, look for parks near museums or fun snack breaks.
5. Do the culture first. Start your day with a museum or other cultural thing while you all have energy and crowds are down. It helps kids get through the activities they don't want to do if they know the fun stuff will be a reward afterward.
6. Always be Packin'. Snacks that is. Yes, stopping for gelato or the local treat is always a nice way to rest, but it's not always convenient to stop right at the moment of an impending breakdown. A snack in your pocket could give you that extra 15 minutes to get to see the Mona Lisa.
7. Vacation like a local. If you are going abroad, don't just do the cities, find out how locals vacation and add some relaxing time at the vacation destinations locals do. I'd never heard of canal boating, but it's a popular way for the British to vacation. So we enjoyed some relaxing vacation while also experiencing something different and cultural.
Eating snails in Paris for the win.
8. Stay like a local. Staying in a hotel can be convenient and easy for short stays, but if you are staying in one place for more than a few days, try to stay in a home. I like house swaps which are affordable, give us the space and amenities for comfort, and an inside scoop from our local family. If you don't want strangers in your home, you can rent an apartment often for the same price as a hotel.
9. Water, water, everywhere. How do you choose from all the possible places to stay? Start by picking ones with access to a pool. A swim can salvage any day. We've had days when someone got sick or we were just too tired to do anything and we simply spent the day at the pool. Hey, if you were at a resort that would be considered a good day, so why not give yourself a break on your travels too?
10. It's OK not to like everything. If you take away one tip from this article, let it be this: Everybody doesn't have to enjoy everything and it's important for kids to know that. They don't need to like your museum, but they can't ruin it for you, and the stuff they like will come later. Teaching your kids this early will pave the way to becoming good travelers as they grow. And, hey, they may even learn to like something they didn't expect. When kids learn to accept activities that they don't want to, you are on your way to family travel nirvana.
Day 23 of our whirlwind tour of England and everyone is still happy and into it.

These tips suppose you have already picked your general destination and are ready to pare it down and plan your itinerary. If you need inspiration for where to go you can check our travel guides to the United States, Caribbean and Mexico, and Europe to read up on different places our writers have traveled with our kids. Whether you decide to explore the next state or go somewhere across the globe, I hope it helps you have many incredible adventures with your family.