Splashway Waterpark: Beat the Heat this Summer with a Daytrip From Houston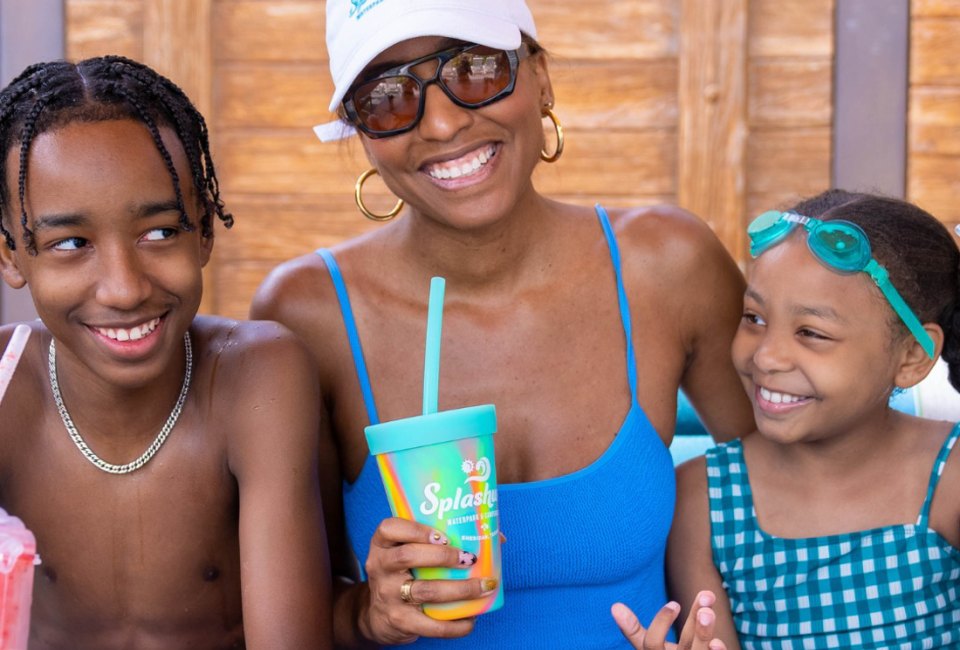 8/4/23
- By
Nan Ross
A trip to Splashway Waterpark is meant for those Houston weekends when it's so hot that you aren't 100% sure if you're still wet from your shower or if you're already sweating again. That usually means it's time to eat indoors, pivot from regular coffee to iced coffee, and let your kids spend lots of time in swimming pools or yard sprinklers.
But if your kids want to take swimming to a different level, or if they're (like mine) looking for a little thrill in their lives, it's time to consider adventuring to a waterpark.
We decided to try a new-to-us waterpark this summer, and after researching options, planned a day trip to Splashway Waterpark and Campground in Sheridan, Texas. It's about an hour and a half drive from Houston, but upon arriving we quickly realized it was well worth the drive.
I think your family will too, but before changing into your swimsuits, read on to learn what to expect and how to maximize your visit. Also, don't forget your goggles, and don't forget to check out our Houston Water Parks and Theme Parks Guide for more theme park adventures.
Splashway Waterpark: Rides and Attractions


This water park near Houston has something for all ages.
Splashway caters to families, and they have options for all ages, including swimming pools, toddler areas, youth areas, and slides. There is something for everyone, although it is important to note that some slides and activities have height requirements and have different levels of "thrill" factor to keep everyone safe and comfortable.
Pools at Splashway
My kid's favorite pool was the Wavepool, which has big waves just like being at the beach. It's rated thrill-level 'High,' so if you want calmer waters you can try the lagoon, which is a large pool surrounded by palm trees and lounge chairs, or relax and float in the lazy river - the tubes are provided!
Try toddler areas and kid areas at Splashway.
Toddler Areas
Splashway has not one, but two areas dedicated to its smallest visitors. Toddler Bay and Minnow Pond are exclusively for children 36" and under and are filled with scaled-down slides, spray areas, and shallow waters.
Youth Areas
Being a family theme park, Splashway includes areas just for kids. The Costa Del Ray section is for kids 48" and under, including slides, dump buckets, and floating characters. And for kids 55" and under, Kiddie Cove is filled with more adventurous slides and a central play area.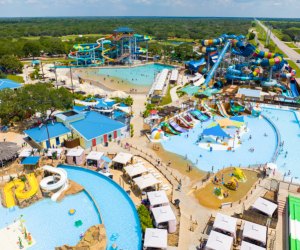 A view of the 15 different slides at Splashway.
Slides at Splashway Waterpark
There's no shortage of exhilarating rides at Splashway, which boasts 15 different slides with a thrill-level from Medium to High. With twists, turns, and unexpected drops, these rides are for older kids and adults, and most have height requirements of 42 or 48 inches. Our personal favorite was Ray's Racers, which is actually the tallest "mat racer" in Texas. Sliding side by side, we raced each other to the bottom.
Some tubes allow more than one rider.
Most rides are for single riders, but several are designed for two to four individuals to ride together. All the slides are marked at the entrances with height requirements, thrill level, and number of riders.
We visited on a weekday, and although there were lines, they moved quickly and we were able to try every single slide that we wanted. Even though the park is large, the layout made it easy to get from one attraction to the next.
Food and Refreshments
Splashway has many eateries, with food ranging from pizza to tacos to scratch-made funnel cakes. We ate at Ray's Cafe on our visit, and all the food was great. My son recommends the corndogs, apparently the best he's ever eaten.
If you'd prefer to bring your own food, Splashway welcomes guests to bring a medium-sized cooler, snacks, and beverages on the premises. They even have stationary grills available for use.
Campgrounds
If one day isn't enough, you may want to make a weekend out of your visit. Splashway offers a campground adjacent to the water park. Cabins, cottages, and spots for RV hook-up are available to rent. Note that camp pricing is separate from waterpark admission.
The wave pool at Splashway is always a favorite.
Tickets, Parking, and other Logistics
Parking, inner tubes, and life vests are all free at Splashway.
Lockers with unlimited access are available to rent for your belongings while you are at the park. Private Cabanas are available to rent, but there are also covered tables available on a first-come, first-serve basis.
The park is outdoors, so make sure to bring plenty of sunscreen and towels.
Tickets can be purchased online at Splashway's website, and start at $45.99 for guests over 42" tall, and $39.99 for guests under 42" tall. Children under two are free with proof of a swim diaper. Ticket prices increase if purchased at the door and on peak days such as the weekend. Season passes are also available for $139.99.
From what we observed the park was well-staffed with attentive lifeguards, and all the employees were helpful and accommodating. The park was clean and well-kept, and we enjoyed the tropical vibes.
All photos are courtesy of Splashway Waterpark.
Places featured in this article:
---
Splashway Waterpark & Campground