Help Us Choose Our Houston Besties: Vote for Your Favorite Spots and Win!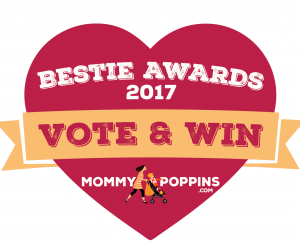 Thanks so much to all who participated in the first-ever Houston Bestie Awards. This contest closed on November 26th, 2017. For a full list of winners visit the Houston Bestie Guide.
---
How do we love Houston? Help us count the ways! We know that Houston is one of the best places to raise kids, but even the best has its best. So we're counting on you, our Mommy Poppins readers and the savviest parents we know, to cast your votes and help us pick our Houston BESTIES.
The best play spaces? Houston's got 'em. Family restaurants? We've got those, too. Cool kids' classes? Yep. Over-the-top party places? Absolutely! And we've got some of the greatest museums, camps, toy stores—heck, even our dentists are the best.
VOTE now and show some love for your favorite Houston businesses in all these categories and more. Let us know who deserves that coveted prize: A Mommy Poppins Bestie Award.
Of course, we know you're busy parents, so we're sharing the love with you too. How would you and your kids like a one-year subscription to StemBox, the STEM activity box for girls? Or perhaps you'd prefer 4 tickets to see PAW Patrol Live! "Race to the Rescue" at the Hobby Center in November? Or maybe a Family Portrait Session from Sweet Pecks Photography would really make this year's holiday cards sparkle. And if that doesn't strike your fancy, how about a two-night getaway for four to the Marriott Marquis Houston courtesy of Sublime Travel? Give us 5 minutes and your expert opinions and you'll be automatically entered to win one of these fabulous prizes—it's a win-win for everyone!
Share on Facebook and help us spread the word. Voting closes at midnight on November 12th.