2017 Houston Bestie Guide
Houston families, we asked you to tell us your favorite businesses around the city, and you've been heard. Our inaugural Houston Besties sought to find the best family businesses and resources in categories that range from best restaurants, parties, activities, and more. With all the great family fun experiences and resources around Houston, it was hard to choose just 24, but you were up to the task. Each winner was selected from a competitive crop of 10 nominees in each category.
Before we announce our winners, we'd like to thank our Bestie Sponsors, including Sublime Travel and Sweet Pecks Photography. And congratulations to the lucky voters who were picked at random to enjoy some amazing prizes!
The votes are finally in, and we couldn't be more excited about our winners. We've grouped them into three winning categories: Parenting Resources, Enrichment Programs, and Family Fun.
Without further ado, here is your guide to the best of family-friendly Houston, the 2017 Houston Besties!
Best Parenting Resources Winners | Best Family Fun Winners | Best Enrichment Programs Winners
Best Parenting Resources
Best Place to Shop for Kids' Clothes and Baby Gear: Thread
Thread is an upscale resale shop located in The Heights. It opened in March 2011 and helps parents find stylish and quality clothes for the kids at an affordable price and sells a variety of brands from Kissy Kissy, Baby Gap, to Zutano.
Favorite Place to Throw a Party: Children's Museum of Houston
The Children's Museum of Houston is a must-see for any local family because it's simply awesome, but it turns out our readers also love it as a party hot spot. Party packages include time for the kids to run around all the museum has to offer, from the miniature shops to hands-on learning activities.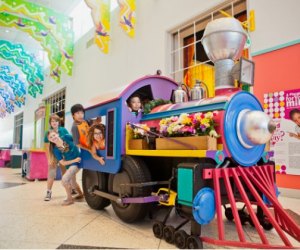 Playing at the Children's Museum of Houston/Photo courtesy of the Children's Museum of Houston
Best Way to Learn How to Swim: Houston Swim Club
Houston Swim Club has five locations around Houston - Sharpstown, Cypress, Katy, Pearland, and Sugar Land - and provides year-round swimming lessons for kids beginning as early as 4-months-old. Classes are short at 30 minutes long and have a ratio of four to one (and six to one for parent-child classes).
Best Birthday Party Entertainment: Face Paint by Stormy
This isn't your run-of-the-mill face painter. Stormy creates fun and tasteful designs for both children and adults, from "Frozen" to "Star Wars," and uses non-toxic, water-based paints. Services are provided to families around the Houston area, but prices are less expensive for Memorial-area families where Stormy is based.
Best Local Kids' Dentist or Group: Bellaire Pediatric Dentistry
Doctors Joel J. Vela and Claudia Stephanos call Bellaire Dentistry home and have decades of experience under their belts. In their inviting and kid-friendly office, the doctors offer gingivitis therapy, early orthodontic treatment, sedation dentistry, as well as basic dentistry exams.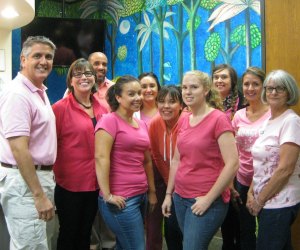 The smiling team at Bellaire Pediatric Dentistry/Photo courtesy of Bellaire Pediatric Dentistry
Best Place to Shop for Books and Toys: Big Blue Whale Toys and Curiosities
The Big Blue Whale Toys and Curiosities is one of our favorite toy stores around Houston not only because it's locally owned, but because of its selection and simply adorable aesthetic. The owner is a local Heights resident of more than 20 years and handpicks toys for the perfect inventory.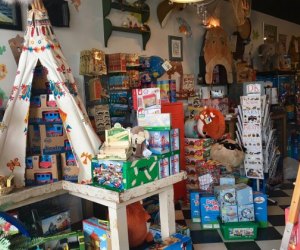 A wide selection of toys at the Big Blue Whale/Photo by Shary Peck
Favorite Baby & Me Class: Parent/Child at The Little Gym
Parent/child classes are just one of many offerings at The Little Gym, which has multiple locations around Houston. For babies ages 4-months-old to 3-year-old, these indoor classes incorporate a variety of activities for a fun bonding experience.
Best Local Pediatrician or Group: Texas Children's Pediatrics
Regardless of where you live in Houston, chances are there is a Texas Children's Pediatrics office near you. We routinely hear of good things from numerous locations, and we love that they are open and available after hours on the weekends (certain locations, so double check your nearest spot).
Best Bakery for Kids' Cakes: Three Brothers Bakery of Houston
There are three locations within the Beltway 8 loop of this beloved Houston bakery, and all three sell delicious cakes, cupcakes, and other treats. You can order custom cakes here as well as party trays, cheesecakes, bagels, pastries, pies, and so much more. Yum.
Best Parenting Resources Winners | Best Family Fun Winners | Best Enrichment Programs Winners