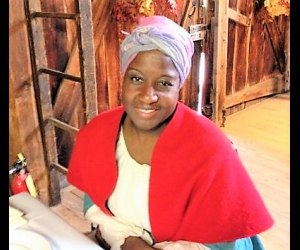 Celebrate Black History Month in Connecticut
Black History Month, held in February, is a time for recognizing the central role of African Americans in U.S. history. Made an official month-long event in 1976, events are held annually to honor and educate. Check out some of the inspirational events going on in Connecticut this month!
Windsor Historical Society - Windsor
Wednesday, February 1
Take a short walk into history with Nancy Toney, a significant figure in Windsor history and a slave who was owned by three families in her 83 years. Come and learn about Nancy's life and legacy. February 1.
Windsor Historical Society, 96 Palisado Ave, Windsor, CT 06095 (860) 688-3813
African American Traditions Storytelling - Norwich
Saturday, February 4
Professor Michelle Dunlap will present tales from her childhood and discuss the importance of storytelling in African-American cultural traditions. This program will be offered at the Otis Library in Norwich.
Otis Library, 261 Main Street, Norwich, CT 06360 860-889-2365
Peterson Concert Series: Bernard "Pretty" Perdie - Greenwich
Sunday, February 5
Come and listen to Bernard "Pretty" Perdie, famous drummer, play with his quartet as a part of the Peterson Concert Series
.
Purdie has played on countless recording sessions with artists such as Aretha Franklin, Donny Hathaway, Steely Dan, Miles Davis, Michael Bolton and B.B. King. The concert will begin at 3:30 pm in the Cole Auditorium.
101 West Putnam Avenue, Greenwich, CT 06830 (203) 622-7900
Young Frederick Douglass, the Slave Who Learned to Read - Danbury
Monday, February 6
Kids ages 8 and up are invited to hear the story, Young Frederick Douglass, The Slave Who Learned to Read, by Linda Walvoord Girard as part of African American History Month. Despite the fact that it was against the law to teach slaves how to read, Frederick Douglass found his way to freedom and learned to read and write despite all odds.
Danbury Public Library, 170 Main Street, Danbury, CT 06810 203-797-4505
African Heritage Storytime - Darien
Tuesday, February 7
As part of Darien Library's multicultural series join Miss Krishna as we explore the African culture from the Caribbean, to Ghana, to America. Learn how to count in Swahili and dance to the rhythms of Africa. Drop in.
Darien Public Library, 1441 Post Road, Darien, CT 06820 (203) 655-1234
Historical Re-Enactment: Clo Pratt by Tammy Denease - Bristol
Saturday, February 11
Educator and performer, Tammy Denease, will speak about Clo Pratt's path to freedom during the Colonial period in American history. Preceded by a short presentation by the Bristol NAACP.
Bristol Public Library, 5 High Street, Bristol, CT 06010 (860) 584-7787
African Dance and Drum - Norwich
Saturday, February 11
Artist LaShawn Cunningham will teach students dance and drum beats that reflect African-American heritage. For ages 5 & up. Sponsored by Attorney Bart Sayet and Ms. Lori Lindfors. Pre-registration required.
Otis Library, 261 Main Street, Norwich, CT 06360 860-889-2365
Head-Wrap Class - Norwich
Saturday, February 11
Celebrate African-American Heritage Month by attending this fabulous program! Learn about the history of head wrap as an African-American style. Program will take place in the Young Adult Department. Pre-registration required.
Otis Library, 261 Main Street, Norwich, CT 06360 860-889-2365
Windsor Historical Society - Windsor
Wednesday, February 16
"Museums and the Journey of Racial Understanding" is a one hour program which will be held in February. Adults, college students, and teenagers who are passionate about civil rights and the history of the southern-plantation slaves will enjoy this talk.
Windsor Historical Society, 96 Palisado Ave, Windsor, CT 06095 (860) 688-3813
Open Mic: "Let Your Voices be Heard" - Waterbury
Friday, February 18
Silas Bronson Public Library is seeking youth singers, poets and other artists to perform at the "Let Your Voices Be Heard" event. Get up on the stage to share your thoughts and your talents!
Silas Bronson Public Library, 267 Grand St, Waterbury, CT 06702, (203) 574-8206
Urban Bush Woman: Walking with 'Trane - Middletown
Friday, March 3
Inspired by jazz musician John Coltrane, Urban Bush women will be performing at Wesleyan University on March 3. This dance troop brings together dance and substance. They have an off-stage leadership program which is designed to create leaders through dance. Their style is energetic, contemporary and explosive. Performance to be held March 3.
Wesleyan Center for the Arts, 45 Wyllys Avenue, Middletown, CT 06459 860-685-2000
Harriet Tubman and the Underground Railroad - Hartford/New London
Thursday, March 9 and Monday March, 20
This one-hour production for children centers around the American heroine, Harriet Tubman, and her friend Sarah Bradford. In the play, we will learn about Harriet's early years and her escape to freedom as well as her years in the Underground Railroad.
The Bushnell, 166 Capitol Avenue, Hartford, CT 06106 860.987.5900
The Garde Arts Center, 325 State Street, New London, CT 06320 860-444-7373
The Amistad Center at Wadsworth Atheneum - Hartford
Take some time to experience the arts, books, photographs, and artifacts housed at the Center.
Wadsworth Atheneum, 600 Main Street Hartford CT, 06103 (860) 278-2670
Amistad Memorial - New Haven
Stop by the Amistad Memorial in New Haven. Dedicated in 1992, the statue pays tribute to Joseph Cinque and other Africans. In three reliefs, the statue shows Cinques journey from his home in Africa , to his courtroom trial to his freedom.
165 Church Street, New Haven, CT 06510
Harriet Beecher Stowe Center - Hartford
Learn about Harriet Beecher Stowe, an African American author who published 30 books. She is most famous for her anti-slavery novel called Uncle Tom's Cabin. At the Center, you can see the home she lived in for 33 years as well as stroll through the Visitor's Center and gardens.
77 Forest Street | Hartford, CT 06105 860-522-9258
Waterbury Celebrates Black History Month - Waterbury, multiple locations throughout townAn entire month of events including movies, "Black Mayor for the Day" Ceremony and the 14th Annual Black History Celebration. Check their site for several events kids can participate in throughout the city of Waterbury.
Photo Credit: Tammy Denease