The Adventures of Tortoise & Hare The Next Generation
The Sheen Center

The Very Hungry Caterpillar Show
DR2 Theatre

NYC Easter Brunch Cruise 2023
Event Cruises NYC
Sign up for our free newsletters.
No-candy Halloween: Non-edible Treats to Hand Out on October 31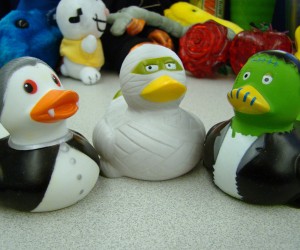 9/13/15
- By
Raven Snook
What's the first thing my family does to prepare for Halloween season? No, not make costumes or crafts or plan out our calendar. Our very first activity is to throw out all the stale candy my daughter has been hanging on to since last October 31.

Whatever you do with your child's Halloween haul—donate, repurpose, hoard or eat—there's no question that trick-or-treaters collect way too much candy. And while I'm glad my kid doesn't actually ingest it all, many children do, and the health implications of that are pretty scary.

So this year I'm not going to be part of the candy craze. Instead, I plan to give out small, fun, non-edible treats, like the kinds of tchotchkes you might find in a birthday goody bag. (So if you have any of those lying around the house, start gathering them up now.) Yes, I realize these things may end up sitting around as long as last year's candy, but since they don't go bad I can always hand them out again next Halloween.

Here are some cool things to hand out on Halloween besides candy that won't get you egged.
For Little Kids
While candy is good for all, non-edible treats definitely have age limits. Don't even dare to give these items out to children over 7. You can buy most of these on the cheap in bulk at Oriental Trading or hit your local 99-cent store.
Small Halloween-themed toys like fang whistles, monster finger puppets, etc.
Plastic jewelry—glow-in-the-dark preferred. Since they're only supposed to last a day or two you don't feel bad when you chuck them.
Halloween-themed temporary tattoos or stickers
Bubbles, chalk or small containers of Play-Doh
For Tweens and Up
Once they're old enough to actually trick (or more likely, sass) you, you have to put a little more thought into it. We asked parents of tweens and teens what non-edible treats their kids actually appreciated.
"Two words: glass (or maybe they were plastic?) eyeballs. It was my son's favorite."–Amanda
"Whoopee cushions or other novelty stuff. I've also done nail art."–Salina
"We have a neighbor who gives out $1 bills, which I thought was awful, but my kids think it's the top prize from the whole haul."–Sarah
"Little things of slime!"–Alina
"My husband gives out comic books. He has a huge collection—we have some kids that always come by eager for the next set of issues."–Jessica
Of course, there are lots of other options, though we recommend you stay away from school supplies (no matter how cute—they're still school supplies!), socks (yes, I've seen it happen), toothbrushes, apples, raisins and pennies. We're all for promoting a healthy Halloween but treats are supposed to be, you know, fun.

Got a great idea about what you'll be giving out to trick-or-treaters this year? Tell us in the comments below.
Sign up for our FREE newsletters to get posts like this delivered to your inbox.
This post originally published in October 2009.
Photo credit: Flikr, Joshua Smith.