Fun Day Trips In and Around CT: Part 3 of a Series - Farmington River Tubing & The Submarine Force Library & Museum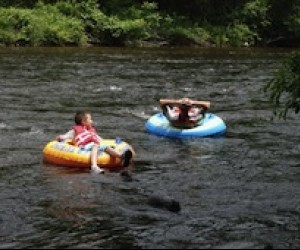 By Sheila Hageman
Farmington River Tubing
92 Main Street
New Hartford CT 06057
860-693-6465
This was one of my favorite special summer activities my father used to take my sister and our friends to. You load into specially designed river tubes for a 2.5 mile ride down the scenic Farmington River. You travel over three sets of rapids and splash through the very cold white water. At the end of the ride, you board a bus for a drive back up to your car. This is definitely a great activity for a hot day with kids at least ten years old.
Be prepared that the river can get pretty rough, which is what makes it so fun, but your kids need to be able to swim. The river ride is unattended, except for an assistant at the 2nd rapid. Be sure to call on the day you plan to go tubing for current river conditions and times of operations. Days and hours of operation may change due to weather or river conditions.
Weekends and holidays, $20.00 per person. Weekdays, $18.00 per person. This includes the rental of a specially designed river tube, a life jacket, a shuttle bus ride from the take-out point to the starting point, and all the sun and fun you can pack into your ride. You can tube again the same day for an additional $10.00.
Cash Only.
The Submarine Force Library & Museum: Home of the USS Nautilus
One Crystal Lake Road
Groton, Connecticut 06340
(800) 343-0079
If your children love everything submarines, then be sure to plan a trip to the Submarine Force Museum, located on the Thames River in Groton, Connecticut, which maintains a collection of submarine artifacts. It is the only submarine museum operated by the United States Navy, and has artifacts, documents and photographs relating to U.S. Submarine Force history.
The museum's collections include more than 33,000 artifacts, 20,000 significant documents and 30,000 photographs. With so many holdings, the displays change frequently and a return visit will be a new experience. The 6,000 volume reference and research library is a world-renowned collection relative to the history of U.S. submarines and is open to anyone looking for information on submarines or submarine history. You can do a self-guided tour of the submarine USS Nautilus, but there is no stroller access.
There's a small restaurant called 90 North Café at the north end of the parking lot, which is open for food seasonally Memorial Day through Labor Day. You can also bring your own picnic lunch and enjoy it in the picnic area on the scenic Thames River. No food or drink are allowed in the museum. A big bonus about a visit here—it's free!