Sensory City: LIC Play Space for Kids of All Abilities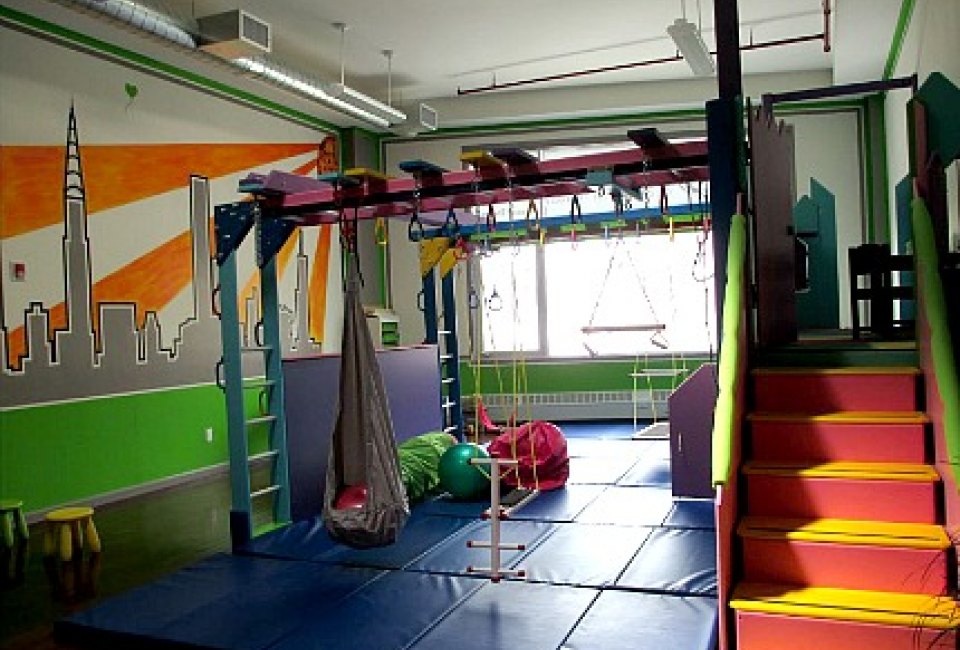 5/6/13
- By
Kelly O
An amazing state-of-the-art play space has opened up in Long Island City, but it's no run-of-the-mill kiddie gym. Sensory City is a sensory gym and pediatric occupational therapy practice where kids can enjoy a wide variety of stimulating stations including a swing, a ball pit, a play castle and even a zip line.
While Sensory City was specifically designed to help visitors work on their sensory, fine motor, gross motor and communication skills, children of all abilities are welcome and can benefit from the experiences the gym has to offer. My family and I recently dropped by for an open play session, and my kids had a blast. After all, who doesn't love to romp in a ball pit?
UPDATE: New owners took over this space in the summer of 2017. It is now called Theraplay.
Children's imaginations (and bodies) can run wild at Sensory City. The gym is 1033-square feet and the equipment is super-creative. There's a 12-foot rock climbing wall with rope pulls and a ball pit beneath to dive into, plus multiple rotary and linear attachments with different swings, monkey bars, zip lines, tunnels, trapeze bars and rings, ladders with varied rungs and a scooter ramp.

My daughters particularly loved the two-story play castle with doors and windows to open, and places to play and hide. A laser kaleidoscope on the castle's lower level ceiling provided plenty of visual stimulation and when they needed some quiet time, they climbed up to the second level to draw and write at a kid-size table before swooshing down the slide to continue playing. There are lots of educational toys, too. A huge picture window lets in lots of light. You can even catch a glimpse of the Empire State Building, which is also depicted in the hand-painted city skyline wall mural.

A visit to Sensory City will stimulate a slew of senses. There's a tactile table with buckets full of items with varied textures to play with; the rock wall, ball pit and zip line allow kids to use their muscles in different combinations; the swings, slide and monkey bars encourage balance, strength and posture; the laser kaleidoscope, which reflects tiny stars in varying patterns, hones focus; and aural skill get a work out since there's plenty of noise—especially during open play, when all the kids are laughing and chatting.

Sensory City also offers structured programs for families: Parent and Me classes for children ages 4 months to 3 years feature movement, music, sensory exploration and brain development exercises. In handwriting skills, children ages 3 to 8 practice posture, balance, movement control and fine motor skills. Children ages 5 to 8 can improve their social skills by interacting with peers, making friends and learning to self-regulate. Traditional occupational therapy is also available. All programs are overseen by founder Nicole L. Abate-Gioino, a licensed occupational therapist with extensive experience with children of all ages and numerous diagnoses. When we visited, Nicole and her family were super-sweet and very hands-on with the kids. We couldn't have asked for a better experience.

Open play at Sensory City is $30 per hour session with siblings paying half-price. A 10-pack costs $250. A maximum of 10 children are allowed per session so advance reservations are required. You must also call for the schedule.

Sensory City is located at 11-11 44th Road between 11th and 21st Streets, Suite 402, in Long Island City, Queens. Call 718-433-4434 or email info@sensorycityot.com to make an open play reservation or to inquire about other programs.

Find out about other great sensory gyms in Manhattan and Brooklyn, or read about all of our favorite places to play indoors.
Places featured in this article:

Sign up for our free
newsletters.
Mommy Poppins is a family activity website that helps people find things to do with kids.
©
2023
MommyPoppins. All Rights Reserved.
mp-prod4-v4.32.99
We use cookies and other data collection technologies to provide the best experience for our customers.
Learn More