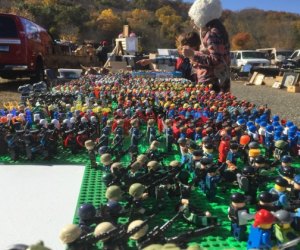 A Day at The Elephant's Trunk Flea Market in New Milford, Connecticut
Where can you find a vintage guitar, the jaw of a shark, and just about every action figure ever made? Elephant's Trunk Country Flea Market in New Milford of course! Tucked in the northwest corner of Connecticut, New Milford is just about as quintessentially New England as it gets, from the town green to the sprawling farmland. Since 1976, they have been the home of Elephant's Trunk Country Flea Market which runs from April to December. What started out small has grown and grown and these days every Sunday is a festival. Before you load up the family and head out, read on for some tips to make your day at Elephant's Trunk the best it can be with little ones in tow.
I'll cut to the chase, the first thing you need to know about Elephant's Trunk if you are taking kiddos along is that there are port-o-potties. That's it. There are plenty of them, positioned throughout the venue, but know before you go to expect them and plan accordingly.
Now that we have that out of the way, let's dive right in because there's a lot to see! We went to Elephant's Trunk on a beautiful October day and the autumn drive through the Litchfield County countryside was spectacular. We arrived in the early afternoon and the place was packed. Gates to the parking lot open at 4:15 am (yes, you read that correctly) and the gates to the field open at 4:30, so by the time we showed up the market had been hopping for hours. We managed to find a spot on the far end of the parking lot which wasn't really that far. There are staggered admission times with varied prices aimed at different levels of flea market buyers.
Once on the field, no matter where you look, you are bound to see something unusual. From furniture to forks, Star Wars to Civil War, you really never know what will be around the next corner. My son, six-year-old bon vivant that he is, was immediately drawn to a table full of sparkling colored glass. He bee-lined for it at light speed. Hot on his heels, I reached him just in time to gently take his hands before he picked up a glittering, cut crystal vase. The vendor and I exchanged knowing looks before I crouched down and gave both my kids a crash course in flea market etiquette. Elephant's Trunk is full of spectacular, antique, and often fragile odds and ends. It is a veritable minefield for tiny hands if you aren't prepared. If your kids are old enough to understand the "look with your eyes and not your hands" rule, great! Just be vigilant and ready to remind them in the event of sudden memory lapses. If you have little ones who aren't quite there yet, a stroller, a shoulder ride, a cozy coup, or a secure hand hold are your very best allies in the battle against breakage. After all, who could blame any kid for wanting to climb all over an overstuffed, tomato red Victorian settee or test the weight of a painted Cloisonne egg?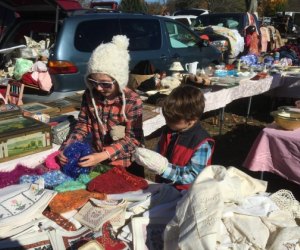 Beyond the antique glass and period furniture, there is a universe of toys. Antique, vintage, nostalgic, and brand spanking new, there are just so many toys. It wasn't long before our travels through the grounds became a constant chorus of "Wow!" "Cool!" "Can I have this?!" In order to preserve my sanity, and my wallet, we followed a one treasure rule for the day. Whether you choose to do it this way or do like a friend of mine does and hand out money that's gone when it's gone, having a pre-agreed upon spending strategy can mean the difference between a good day at Elephant's Trunk and all out mutiny.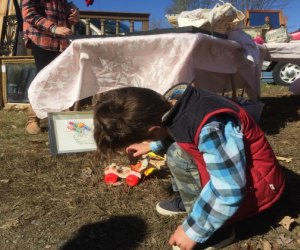 Once your troops have shopped til they drop, there are plenty of good eats to be had at Elephant's Trunk. Food trucks and stalls sling everything from meals to mini donuts. There are farm tables packed with pretty produce, as well as bakers and butchers on hand. If you don't find anything to tempt your palate on the grounds, New Milford has a selection of restaurants nearby. There are a handful of diners, Italian fare, and some of the old standards. If BBQ is your thing, allow me to recommend The Cookhouse. They have an impressive menu of classic BBQ, a kids menu, and they hand out big cups of "the good crayons" according to my discerning critics. We settled into a booth for some out of this world pulled pork and prime rib.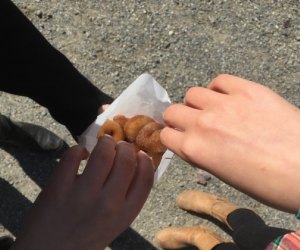 The old adage about one man's trash being another's treasure is alive and well at Elephant's Trunk. My team walked away with items that pretty much nailed their unique personalities. A day at the Elephant's Trunk will never be the same experience twice, that's part of the charm of flea markets. But with a little preparation, you can make sure that no matter what wonders you meet with there, you will spend the day creating happy memories with the whole family.