Indoor Rock Climbing Gyms in Hartford Area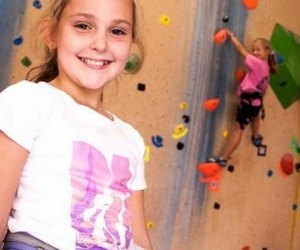 Two little monkeys jumping on the bed, one fell off and the other ran to mommy scared. Wait -- that's not a segment from the beloved books series. It sounds more like a page from a parent's life, and increasingly hotter days do not seem to deplete most children's energy levels. Instead of baking on a playground bench while watching kids have all the fun, or deeply sighing as they pounce from living room couch to armchair, parents in the Hartford area have an amicable option: indoor rock climbing gyms.
Whether you're trying to escape the heat, the cold, or a rainy day, indoor rock climbing is sure to keep children entertained while strengthening them physically. Inspired by Spider-Man, they might consider themselves ready to scale skyscrapers, but for their safety and your peace of mind, beginning at an indoor rock gym is a good idea. Below are four options in Hartford County. Check out also our suggestions for indoor climbing in Fairfield and New Haven counties.
Wheeler Regional YMCA, Plainville
This YMCA has six open climb sessions a week and no membership is required to climb its indoor wall. Children as young as 4 can participate, with supervision, of course. All children younger than 12 must be accompanied by an adult at all times. The Y provides all necessary equipment, except climbing shoes or closed-toe athletic shoes, which must be worn. Sessions are divided by age, so whether they are preschoolers, teenagers, or adults, all climbers can have fun. If your kids are interested in rock climbing classes, they are offered for ages 4-6, grades 1-4, and grades 5-8. For more information, call 860-793-9631.

149 Farmington Avenue, Plainville
Central Rock Gym, Glastonbury
The walls here reach 40 feet in height and CRG offers daily beginner classes that introduce climbers to basic technique and cover topics such as proper use of holds, correct footwork, and effective warm-ups. The cost is $15 per participant, in addition to the price of a day pass or membership, and registration is not required. The cost for an adult day pass is $18 and $14 for a child. The rental gear bundle, including harness, shoes, chalk, and a belay device, is $8 for non-members. The facility offers a variety of programs and classes for member and non-member kids, including team climbing and camps that emphasize problem-solving and team-building initiatives. Camps run July through August. For more information, call 860-659-8260.

295 Eastern Boulevard, Glastonbury
Stone Age Rock Gym, Manchester
The gym offers three first-visit orientations every day. A climbing day pass costs $15.25 per adult, $10 for children 10 and under, and $5 for ages 5 and younger. Full gear rental is $7 per climber. Children ages 6-17 can join the Climbing Club and build strength, skill, and endurance while playing fun climbing games. Weekly rock climbing camps for ages 6-18 begin in June and sessions run until the end of August. For more information, call 860-645-0015.

195 Adams Street, Manchester
Nomads Adventure Quest, South Windsor
Priding itself on being New England's largest indoor recreation facility, Nomads provides plenty of opportunity for entertainment. Here, you won't be climbing just a wall, but ancient ruins (alright...it's just a wall that looks like ancient ruins, but what kid won't enjoy that?!). Climbers must weigh at least 50 pounds and wear closed-toe shoes. The cost is $3.75 per person for three opportunities to climb. If you have more than one child, and others in the group are not willing to climb, there's plenty to do here, including bounce house, bumper cars, arcade games, or blacklight mini golf. For more information, call 860-290-1177.

100 Bidwell Road, South Windsor ​
In addition to the rock climbing gyms mentioned, check out our Indoor Play Guide for those days when neither the beach nor the mountains will do.
Photo Courtesy of Central Rock Gym.