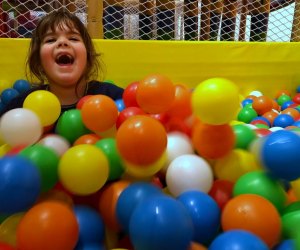 Bounce, Jump, and Slide into Kids Klub at the Trumbull Mall
Trumbull Mall was one of my first outings as a new mom, I remember finding the Family Lounge and feeling like Indiana Jones when he found the Lost Temple. This is one of the most family friendly malls I have ever been to - they have tons of kid-friendly dining options, family parking, and a playspace (not to mention a carousel!). So you can imagine my delight when I stumbled across the newly opened Kidz Club in Trumbull.
Somewhere right around Christmas, Trumbull Mall gifted Connecticut parents the "Indoor Play Palace" Kids Klub. All I have to say is this: if my gym was this much fun, you wouldn't have to pry me out of bed kicking and screaming every morning. My six-year old daughter hit the floor of this 11,000 sq ft play space running - and didn't stop until I bribed her with the promise of a lollipop. She bounced, climbed, colored, ran, crawled, swung, and slid her way to exhaustion - there is just so much to do here!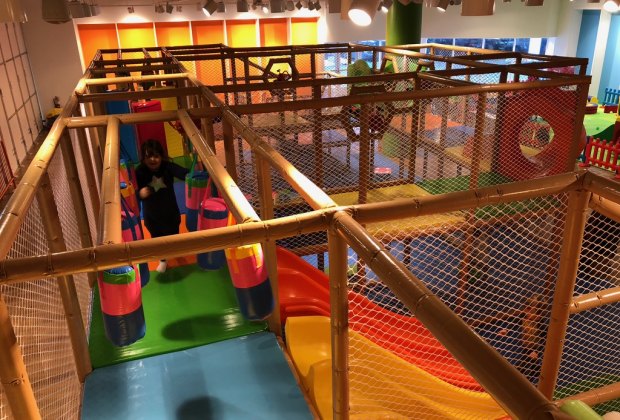 The space is broken into two main areas: Mini Club for the under 42" kids and Mega Klub for the big kids. I remember those pre-walking days well, and having a safe space for the toddling crew is definitely a bonus. The ballistics arena was not open when we were there - but it looks like a lot of fun. It features an upper level of cannons that allow little ones to engage in a little friendly ball battles. This adult-sized human was also able to run through all the obstacles without getting stuck or breaking anything.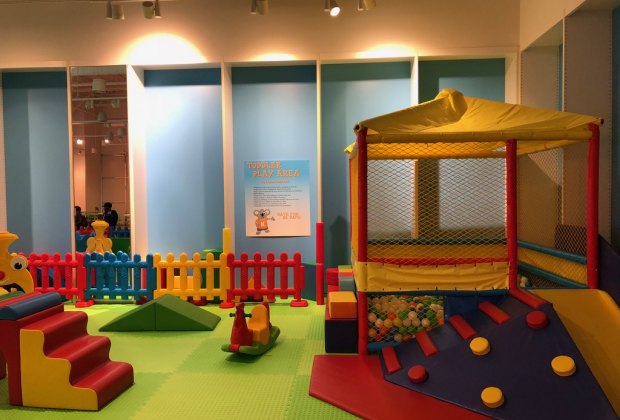 Since my daughter is six, we spent all of our time at the Mega Klub. This structure is just bursting with fun! There is a trampoline to bounce on, a ball pit to slide into, and lots of different obstacles and tunnels to climb through. The pure look of delight on her face as she explored this new space was priceless. There are also easels set up to color in the arts and crafts area, and a few tables with puzzles and games.
I immediately noticed how clean this place is. The entire play structure is made out of washable vinyl. I saw several employees cleaning up while I was there - as a former teacher, germ management is definitely something I can appreciate.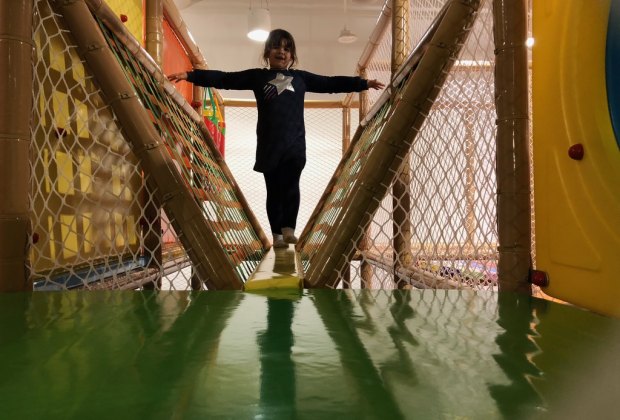 Kidz Klub is purposefully designed to be a place where families can come together and PLAY! No electronics! No flashing screens! No video games! Just good simple wholesome fun. During our time there, i noticed some parents actively playing with their children and some enjoying a little personal downtime at the tables. This is the perfect place to blow off a little steam when outdoor weather conditions aren't ideal. Make sure to check out our full list of Indoor Playspaces for more indoor fun!