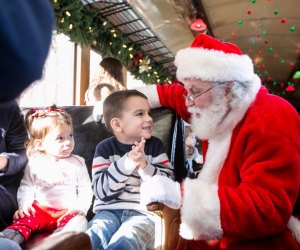 North Pole Express and Christmas Train Rides with Santa in Connecticut
Santa may be known for his sleigh, but when he's here in Connecticut, the big guy is all about trains. Starting in November, he can be found on several Polar Express and other Christmas-themed trains in Connecticut, including the ever-popular North Pole Express and Santa Special Train Ride in Essex. In between munching on cookies, sipping on cocoa, and chatting with Santa, there is nothing like watching the steam roll and waft in front of the train's headlights—it's a magical holiday experience for kids and parents alike!
But act fast: Tickets for some of these trains become available in the early fall and sell out even before Halloween. But even if a certain train is sold out, there's likely an available one around the bend, so read on—it's a special holiday experience worth waiting for!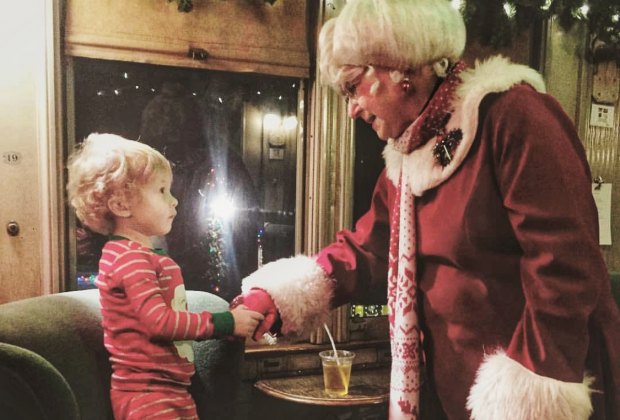 There is nothing like the magic of Mrs. Claus. Image courtesy of kmorris704 via Instagram
North Pole Express and Santa Special Train Ride—Essex
These railroad offerings courtesy of the Essex Steam Train are perhaps, the cream of the crop. Tickets go on sale in September for the North Pole Express and early October for the Santa Special; if you're reading this in December, it might be game over, unless you have luck finding tickets on Craigslist. Even if the nighttime North Pole Express is sold out, you may still be able to catch a ride on the daytime Santa Special. Follow their Facebook page so you know when to get on the horn!
Santa's Trolley Winter Wonderland—East Haven
Visit the Shoreline Trolley Museum weekends to visit with Santa and enjoy some holiday cheer. Cookies and cocoa are included, as well as plenty of photo ops! Evening rides become a festive wonderland with beautiful holiday lights. Best yet - there is no need for reservations.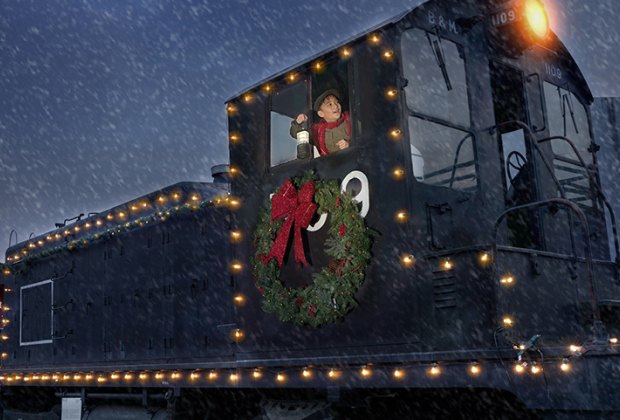 A snow squall only adds to the magic on Northern Lights Limited. Photo courtesy of the CT Office of Tourism
Santa Express & Northern Lights Limited—Thomaston
At the Naugatuck Railroad Museum you have both day and nighttime options. Ride the Santa Express Saturdays and Sundays and enjoy the train ride along the river while watching your children visit with Santa and Mrs.Claus aboard the train. You can also opt to get the kids in their footie pajamas and hop on board the Northern Lights Limited! Both rides offer two price points. Extras, such as hot cocoa and plus seating depend on what package you purchase. These trains sell out, reservations are highly recommended.
Holiday Lights at Lake Compounce—Bristol
Lake Compounce has A LOT more than a train ride at their annual holiday event. Gaze in wonder at the hundreds of thousands of glimmering lights that cover the park. One of the featured attractions is the North Pole Express- a train ride that will take you around the park.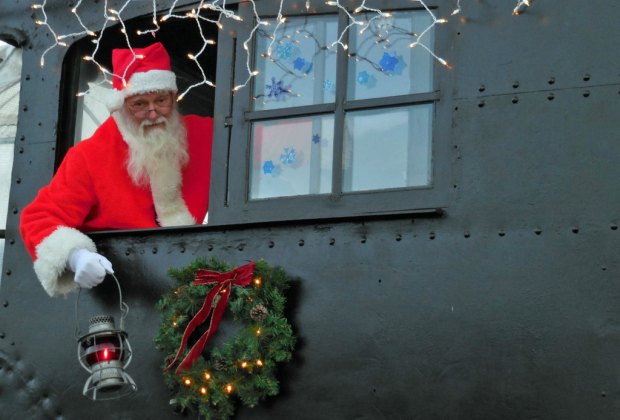 All aboard Santa's Railyard at the Danbury Railway Museum. Image courtesy of the Danbury Railway Museum
Santa's Railyard—Danbury
A ticket at the Danbury Railway Museum includes a train ride, a visit with Santa in Toyland, and a small gift (for children). Additionally, there is a coloring station, temporary tattoos, and more festive delights that are aimed to please those who believe.
Winterfest and the Tunnel of Lights—East Windsor
Start your family tradition at the Connecticut Trolley Museum where you can ride in a closed or open (brrrrrr . . .) "electric sleigh" singing Christmas carols while cruising through the tunnel of lights. Hot chocolate will be available for purchase.
Originally published on December 18, 2012.