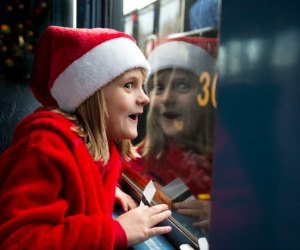 North Pole Express and the Santa Special
By the time you read this, most of the good dates for the North Pole Express will be sold out. The good news is, this speaks volumes about the world-class holiday event in our very own backyard. The bad news, of course, is that unless you're willing to trek up on a random Tuesday night or wait until after Christmas (there are trains running until December 29) you might want to hold off until next year. But again, it's likely that even at this late date (and yes, the end of October/early November is very late when it comes to North Pole Express tickets) you will still be able to book in for a school night here and there. On the other hand, if you would rather take your little ones aboard the Santa train during daylight hours, the Santa Special is just the thing for you. And the best part is, it doesn't sell out nearly as fast.
Let's start with the showstopper. The main event. The reason that families from all over the state (and beyond) flock to Essex every year. The North Pole Express. For anyone who has read and loved The Polar Express by Chris Van Allsburg, this train ride is like a storybook come to life. No detail is left untended. Cheerful crowds of kids in pajamas climb aboard a cozy old steam train on a cold night to enjoy a musical performance of The Night Before Christmas, snack on hot chocolate and sugar cookies, and, of course, meet the man in the red suit. Every kid on board receives a small gift from Santa. This 90-minute experience is sure to be a memory the whole family treasures for years to come. And it just might become a holiday tradition.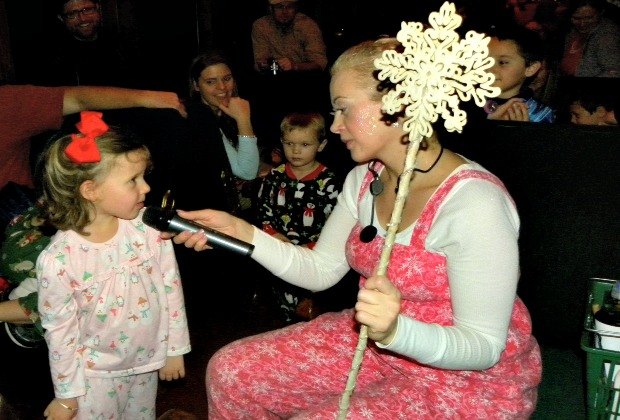 Photo credit: Jenn Record
If you go, make it an event. Give yourself plenty of time to get to Essex. The venue suggests arriving a full 30 minutes before your train is scheduled to depart. Much like the tides, North Pole Express trains wait for no man--or family--so be on time or be left out in the cold. If you want to grab some dinner before the train ride, Pizzaworks in Old Saybrook is the perfect spot for your pre-adventure sustenance. The restaurant is built in an old train station and there are model train sets on display. What better way to get in the locomotive zone before heading up the tracks to the North Pole?
The Santa Special is great for those with tinier tots who need to be in bed by the time the North Pole Express departs the station. Meet Rudolph and Pablo the Penguin on board, and of course visit with Santa. There are lots of daytime slots available and after September 21, tickets are available exclusively online.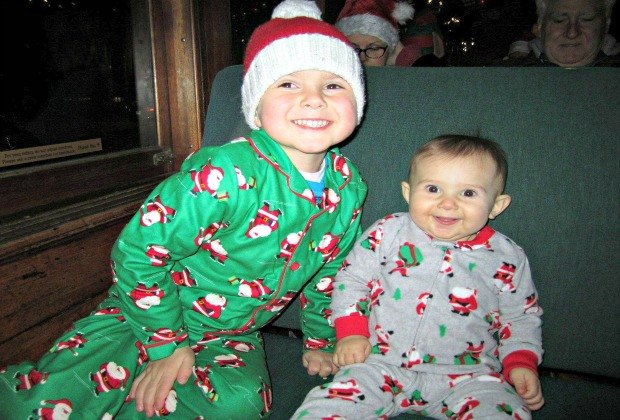 Photo credit: Mel Kostopoulos
For both excursions, there are a few ticketing options. Coach class tickets get you on the train in cars with padded bench seating. First Class tickets buy you individual upholstered chairs and a few other amenities. Check Essex Steam Train's website for more details about what each package includes. If you want to go all out, you can book an entire car. Often, groups of friends and family will pool resources and go this route, maxing out one person's credit card then pooling resources to cover all the tickets. This is a good way to make sure all the BFFs, cousins, aunts, uncles, grandparents, etc. are situated in one spot instead of scattered throughout the train on your special trip.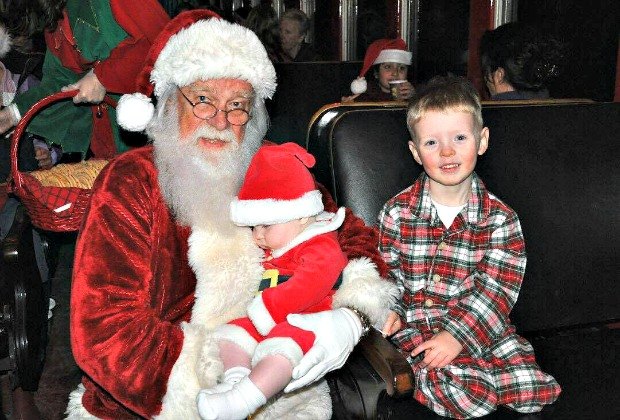 Photo credit: Meghan Casey Daly
No matter which car you ride, and no matter what time of day you go, there is no way this won't be a special event. It's the magic of Christmas served up warm and cozy, and it's sure to put even the grinchiest in the holiday spirit. Now stop what you're doing and get to that website before every last ticket is gone!
Merry Christmas!
Cover photo credit: Kerry Long