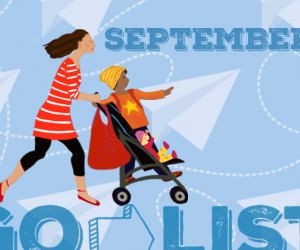 September GoList: Best Things To Do with Connecticut Kids this Month
September brings with it apple picking, fall festivals, hayrides, and many more excuses to get the kids outside to enjoy the gorgeous early fall weather in Connecticut. Our event calendar is a wonderful resource full of ideas for outings, many of which are free or inexpensive. Some September highlights include the Blues &Views Festival in Westport, and for seafood lovers, the Annual Oyster Festival in Norwalk.
Here you'll find our very top picks of fun things to do with kids in Connecticut this September. Click through to the full listing so that you can add your favorites to your calendar. Be sure to sign up for our FREE newsletters so you can get all our CT picks delivered to your inbox. Have a fun September!
Woodstock Fair
August 30-September 2—Woodstock
Held at the Woodstock Fairgrounds, the Woodstock Fair offers agricultural exhibits (including a birthing center where you can view a cow birth a calf right before your eyes!), animal and farm equipment competitions, entertainment, music, food, and carnival rides including the biggest Ferris wheel around!
Lyman Orchards' Corn Maze
September 1-November 3—Middlefield
Take the checkered flag at Lyman Orchards' corn maze with this year's theme of NASCAR champ Joey Lagano and his #22 car. Remember - This corn maze is not just left turns!
Cooking With You - A Meal Sharing Book Club
September 12—Branford
Blackstone Library is starting a cookbook club for families. Each month stop by the Youth Services Department and pick up a copy of the cookbook. Test a few of the recipes, then prepare your favorite to share at the meeting.
Tent Tales for Tykes - Storytime with L.L.Bean
September 3—Danbury
Gather in the L.L.Bean Tent for storytime at your local L.L.Bean store! During each session, different nature or outdoor theme will be explored, followed by related activities, games or crafts.
See diving dogs in Hebron. Photo courtesy of the fair
Hebron Harvest Fair
September 5-September 8—Hebron
The Hebron Harvest Fair is a country agricultural fair featuring animal displays, various food, animal pulls, truck pulls, country music, and a carnival midway.
North Haven Fair
September 5-September 8—North Haven
Join the fun at the Annual North Haven Fair. Enjoy a variety of exhibits, many animals - such as baby chicks, horse pulls, racing pigs and a petting zoo - great rides, scrumptious food, and live music.
Simsbury's Septemberfest
September 6-September 8—Simsbury
Enjoy this packed, three-day agenda of children's activities, live musical entertainment, great food selection, Business Expo retailers, the Simsbury Chamber Home Improvement Show and so much more. And much of the event is FREE!
Norwalk Seaport Association Annual Oyster Festival
September 6-September 8—Norwalk
The annual Norwalk Seaport Association Oyster Festival is a weekend chock full of activities and entertainment of all kinds for the whole family. Live music from dozens of bands on multiple stages as well as other entertainment, and of course a smorgasburg of food!
Hartbeat Music Festival
September 7— Hartford
A free, day-long celebration of the Hartbeat's local & regional music, with three stages, 20+ bands, hands-on music, and other family-friendly activities, local food, beer and more.
Harvest Music Festival
September 7—Middlefield
Enjoy the music and corn maze at this free festival. Plenty of activities for the whole family including pony rides, face painting, and fruit picking in the orchard!
Concert and River Fire
September 7—Putnam
At dusk, the fire pots will be lit in the Quinebaug River with the mood setting music of "The East Woodstock Cornet Band," a family friendly crowd pleaser.
St. Peter's Apple Festival
September 7-September 8—Monroe
Craft vendors from all over the Northeast set up tents on the historical Monroe Green to sell everything from doll clothes to jewelry to woodcrafts. There are games for kids, tons of great food and baked goods, and apples, apples, apples!
Connecticut Maritime Heritage Festival
September 12- September 15—New London
Festival will welcome up to 20 sturdy, sleek and fast vessels, first into Mystic Seaport where exciting, hands-on educational activities will take place.
Four Town Fair
September 12-September 15—Somers
Featuring various agricultural contests, livestock competitions, music, jugglers, a midway, and more. Music, entertainment and fun for the whole family at the annual Four Town Fair.
RCA Ladrigan Swim Races and Family Fun Day
September 14—Rowayton
The Lighthouse Race (a one-mile swim from Green's Ledge Lighthouse to shore) starts at 10:30am sharp. Following the Lighthouse Race is the Buoy Race (a swim from the buoy to the shore). Last are the Children's Swim Races, which are grouped by age and run parallel to the beach. After the awards ceremony, all are invited to join in the traditional beach games, which include a tug-of-war, a pie-eating contest, and an egg toss.
Talk Like a Pirate JAM
September 14—Norwalk
Shiver me timbers! Summer is over but don't be a landlubber. Enjoy a morning of pirate crafts, storytelling, pirate booty and black juice. Pirate costumes encouraged.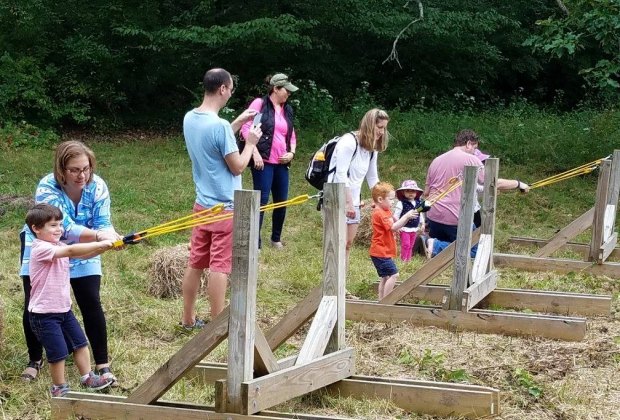 Apple slingshots at Cider Saturday. Photo courtesy of New Canaan Nature Center
Cider Saturday
September 14—New Canaan
There will be cider press demonstrations, old fashioned games, a pumpkin scavenger hunt, seasonal harvest crafts for kids, and even bake your own apple filled with sweet goodies.
Fall Festival and Hawk Watch Weekend
September 15—Greenwich
Enjoy this family-friendly nature festival where you can see live raptor shows, climb a climbing wall, take a hayride, go on a hike, and play fun games.
Bristol Mum Festival
September 19-September 22—Bristol
This year's festival theme is "Home is Where the Heart Is" and events include live music, a carnival midway, food trucks, a car show, children's programming, and plenty more.
Wethersfield Cornfest
September 21—Wethersfield
For the young and young-at-heart there will be inflatable rides, a pumpkin patch, pony rides, hay rides and kids activities including a photo booth and dunk tank. Witness Wethersfield's up-and-coming musical acts and dancers, cheer on the WHS Band, and enjoy a great day of entertainment.
Newington Waterfall
Festival September 21—Newington
Featuring food vendors, artists & crafters, children's activities, live entertainment and a Farmers Market. There's something for everyone at this fun-filled celebration. The day's highlight features the creation and judging of the "Artist's Chalk Walk." Watch as Market Square's pavement magically transforms into a colorful art gallery by artists young and old. Let your creativity flow! Two divisions are judged and awarded fabulous prizes.
Lisbon Fall Festival
September 27-September 28—Lisbon
After a 3.5 mile road race at the Lisbon Town Hall there will be activities for kids of all ages, including "Touch a Truck," "Knocker Ball," a dodgeball tournament, and traditional games such as three-legged races, sack races, and bobbing for apples.
Star Party
September 27—Litchfield
Come and enjoy an evening of stargazing at the WMCC. Meet at the Observatory in the Sawmill Field behind the conservation center (the yellow building). All are welcome. Children under 16 must be accompanied by an adult.
RetroWorld Gaming Expo
September 28—Hartford
Head over to the largest gaming convention in the state. All encompassing gaming expo featuring video games, cosplay, tournaments, kids freeplay area, live music, game shows, arcade and more.