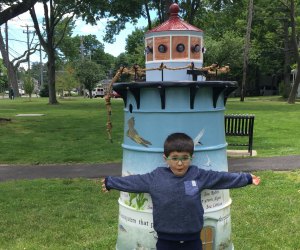 "Light the Way" Lighthouse Art Exhibit Street Stroll
My kids love art (and walking) so what could be better than a stroll this summer down Main Street in Stratford to check out the 20 lighthouse sculptures in the "Stratford Light the Way" art exhibit? This is Stratford's second street art exhibit, following on its popular "Share a Chair" art benches in 2015. This summer, Main Street in Stratford is dotted with six foot tall fiberglass lighthouses, designed and painted by local artists. Those who love art, lighthouses, and strolling down Main Street will be pleased!
Where to Start
The lighthouses dot Main Street along a 1.5 mile stretch from Paradise Green to the town's library (and back!). You can park at either end. If you decide to walk the whole way and back, plan for two hours, with stops. Be sure to swing into a "Lighthouse Stamping Station" to pick up the Lighthouse Passport and a copy of the exhibit program. If you start at the library, drop by their reference desk for your copy. If you start on the Paradise Green end, you can get copies of the booklet (and the world's best donut!) at Icing on the Cake.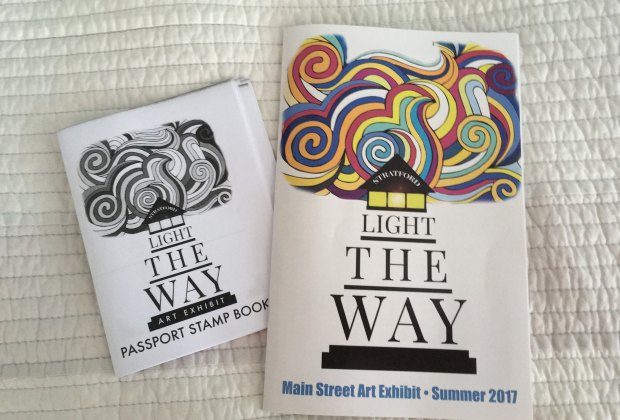 photo by the author
We recommend you walk along on one side of the road all the way down (Main Street is pretty busy!). Kids will want to stop and get a good look at the art, take photos, and sketch in their passport booklet. If you take photos, feel free to share them on the event's Facebook page. You can also pre-print the passport before you go, if that's your thing!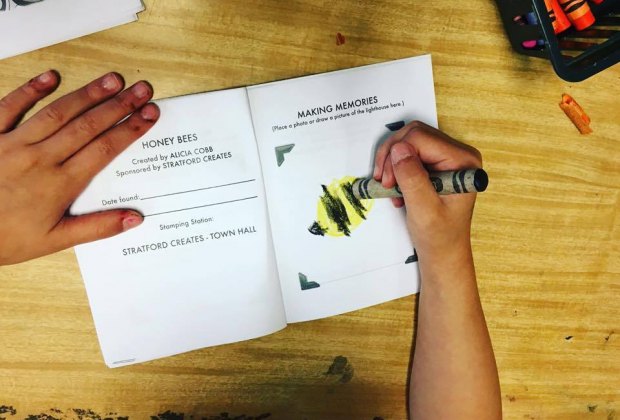 photo courtesy of Michelle Genuario
What to See
Before walking on, be sure to download the Otocast app and find "Stratford Light the Way." The app offers explanations of each piece of work by their artists!
The exhibit program marks all of the lighthouses on the map and includes artists' bios and information about the art. Can you find the lighthouse created by Stratford 12-year-old Peyton Hikade and her family called "Night Light"? Can you find MY personal favorite, "Pop of Color" by Stratford art teacher Dan Romaniello? (Hint: If you love comic books, you will love it!)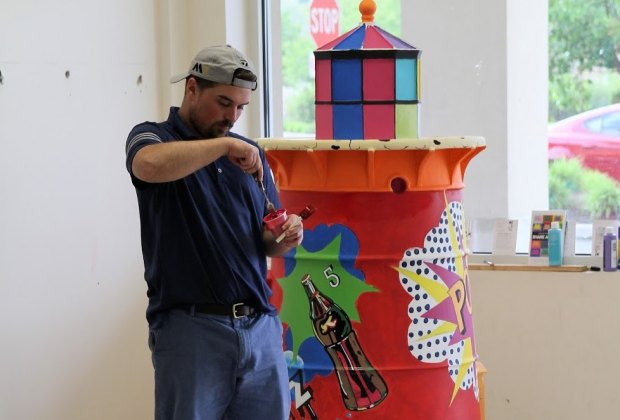 Artist Dan Romaniello working on his lighthouse "Pop of Color." Photo courtesy Gwen Cook.
More student art can be spotted on the way to Sterling House, created by 8th grade Flood Middle school students' Ashley and Haley Ivanko and Emily Csuka. The design is both colorful and meaningful: "Love Comes in Many Colors."
From afar Alicia Cobb's "Honey Bees" is subtle. But you will want to take a closer look to appreciate this amazing rendering of a hive and its fuzzy friends.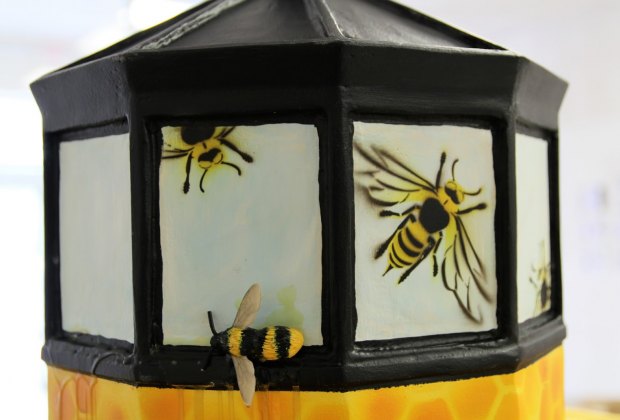 Artist Alicia Cobb's "Honey Bees." photo courtesy of Gwen Cook.
Over 80 artists submitted designs for the exhibit. Each lighthouse was sponsored by a local business and supported by the Stratford Arts Commission. If you fall in love with a lighthouse, lucky you! In October, all of the lighthouses will be auctioned off with proceeds going to art scholarships at the local high school and the Lighthouse Preservation Society.
What Else to Do and See in Stratford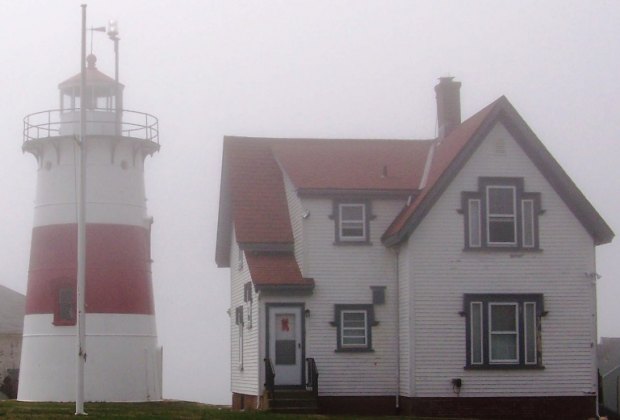 Stratford's lighthouse. photo courtesy of the Town of Stratford.
The exhibit -- orchestrated by town art teachers Aubrey Booska and Michelle Genuario -- honors the legacy of Stratford's own lighthouse, located south of town center at Lordship's Stratford Point. A lighthouse has stood at the point since 1821. The current lighthouse sits on private land but can be photographed when you visit the area. The owners offer a open house annually. Watch the webpage or local calendars for date and time.
Along the route, some ideal places to visit while in Stratford:
Paradise Pizza, a beloved local restaurant, for lunch.
Paradice Cream, for a cool treat.
Open Door Tea, for tea (or coffee!) and insanely delicious quiche.
Stationhouse Square, for a quick sandwich at Roly Poly, or sit down burger at the divine (but more pricey) The Lazy Dog.
Acapulcos, a long-established local Mexican joint.
The Stratford Library, to cool off, read a story, check out a book.
Off the route but definitely worth a stop, today or another day:
Short Beach, to dip your toes in the Sound and just chill.
Boothe Park, to roll down the grassy slope, visit the chickens, and play on the playground.
BONUS!
If you visit Stratford on a Monday afternoon, after your walk you can cool your heels in the shade of Paradise Green during the weekly Stratford Farmer's Market. Be sure to bring a backpack to carry those impulse buys!
--
main image courtesy of Andrea Corcoran