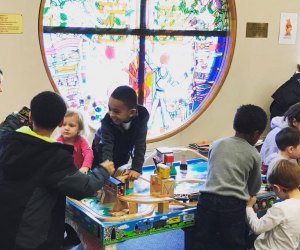 6 Fairfield County Libraries You Don't Want to Miss
Did you know: With your hometown library card and form of ID, Connecticut residents can check out books from public libraries statewide? And libraries are MUCH more than books these days! My kids basically think librarians are superheroes: they can put together a midnight Harry Potter book launch in a single bound! And another bonus, don't forget: libraries are FREE. So what else do you need as a perfect excuse to pile the kids in the car and set the GPS for a library destination less known? We've rounded up some of our favorite libraries that stand out from the pack (though really, we love ALL libraries!) While you are out and about, make a stop at some of our other recommended free and inexpensive destinations in Fairfield County.
Danbury Public Library
I sometimes think librarians are competing to see who can come up with the newest most awesome amenity for their town. At Danbury, the library has a recording studio! That's on top of the iPads available for checkout, robotics camp, face painting, author book events, book castle building, and more. Some workshops are even offered en espanol.
Darien Public Library
This place is cool. The expansive building is a modern standard of design. It is Gold LEED certified with geothermal heating and cooling, was built with natural and local materials, and has its own garden. It even has an automatic book sorter! Teens have their own lounge. The children's librarians host a storytime for all ages at 10 a.m. on Mondays, and a Lego Club on Saturdays at 2 p.m. There's even a café!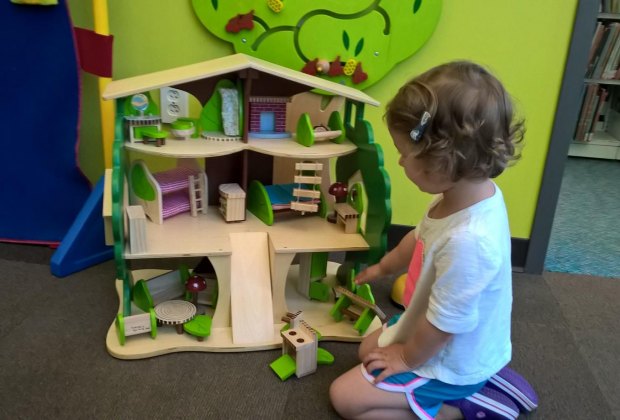 photo courtesy of Fairfield Public Library
Fairfield Public Library – Main Branch & Fairfield Woods Branch
If you can't find something to do at the Fairfield Library, child, you are dead. The staff continuously offers amazing events and programs for all ages. Learn to Play Chess, Lego Build, Garden Storytime, and more. Teens get their own room for "studying" and parents can enjoy some peace in the gloriously quiet periodical room. If you are using the events calendar, be sure to double-check which branch the events takes place at before you head out.
Milford Public Library
Not technically in Fairfield County, but close enough! Milford Library is beloved by locals, with super helpful staff and tons of programming for all ages: toddler story time, Chess Club, creative writing for tweens, summer movie days, brain station events, to name a few. They even offer collaborative programs with Milford Photo and the Milford Garden Club. Local teens who want to affect change can join library's Teen Advisory Group (TAG) which allows teens to volunteer and take part in program planning.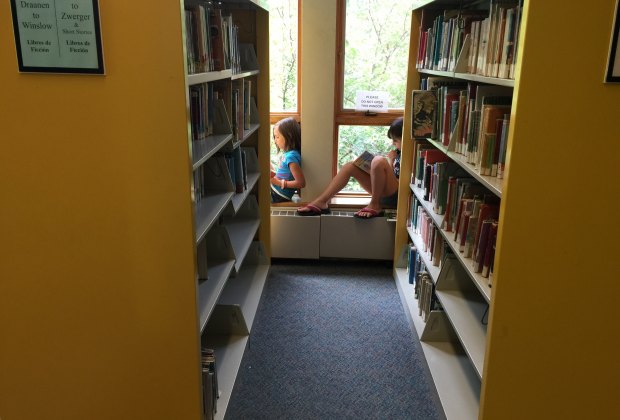 Stratford Library Children's Department - Photo by E. Howard
Stratford Public Library
Stratford kids grow up on the second floor of this beautiful old building, making friends in the play area, reading to therapy dogs, browsing themed books on the entryway and attending the dozens of weekly free activities. They graduate to the first level: a dedicated teen area where librarians host movie and game nights. The latest addition to the library is the high-tech UCreate studio with a 3D printer. Don't miss the packed summer programming each year.
Westport Public Library
Browse books with the kiddos on the third floor with a stunning view of the Saugatuck River. Kids can enjoy two imaginative play areas with trains, dollhouses and shelves of games to share and even toys to check out. Plenty of comfy seating for parents and a café and museum store for everyone's convenience. Going on a trip? These librarians will put together custom travel kits for your kids based on their ages and your destination.
Also, don't forget: many libraries allow you to "check out" free or reduced prices passes to area museums. And DVDs, audiobooks and ebooks won't cost you a cent. So, if you haven't been to your local library -- or tried a new one -- lately, check it out! (Heh heh... Get it?)
--
Main image courtesy of Stratford Public Library