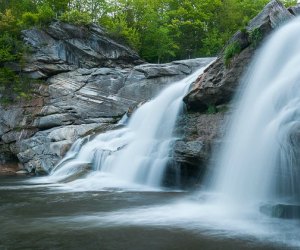 This (Sort of) Secret Waterfall will Blow Your Mind!
Great Falls, a waterfall tucked in the Falls Village section of Canaan, Connecticut far up in the northwest corner of Connecticut, is a sight to behold. Though variable depending on the rains, when it's on, it's on. The falls have long been a popular sight for day trippers looking for a little escape. With hiking, views, and the chance for a little bit of floating and swimming (depending on skill level and currents, of course) it's little wonder that this hidden gem is getting pretty popular.
One of the most important things to know if you decide to take a trip to the falls is which road brings you in on the side you need to be on. Follow Housatonic River Road to find the parking lot for the falls. It's not a huge lot so if you don't go early, be prepared to park along the road and carry in any supplies (coolers, sun block, etc.) in other words, pack light. A trail leads from the parking lot down to an observation area at the top of the falls. While some people like to scramble along the rocks up top, be aware that the water can rush at a pretty good clip up there and the rocks tend to be slippery so unless you've got seasoned climbers on your hands you may want to discourage top of the falls exploration.
The wooded trail continues downward and gets pretty gnarly for a bit. It's doable and there are always plenty of kids of all ages heading up and down, but wear decent shoes and avoid flip-flops at all cost. Best bet is a pair of sturdy hiking sandals or water shoes which will come in handy if you venture into the river below.
If there have been heavy rains for a decent stretch, the high falls can be pretty spectacular. At the foot, you'll find the river flowing by and a pool below the falls themselves. The current along the river can run swift so it's best to keep little feet out of the water. Not to worry though, there are often lots of little pools and tributaries along the banks with friendly rocks to perch on for a picnic.
Swimming is prohibited at the falls--although a lot of people do it so be prepared to enforce the rules even if others aren't. Even so, there are plenty of opportunities to dabble and splash or just sit by the water and listen to the sound of the falls crashing from the rocks above. When you've had your fill of nature for one day, The Lockup Restaurant or White Hart Inn, both in Salisbury, are good spots for the whole family. Also, check out Mountainside Cafe right in Falls Village, or Salisbury's Sweet William's Bakery.