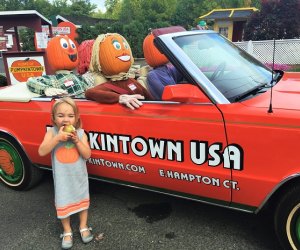 Pumpkintown U.S.A.: The Best Destination for Pumpkins of All Ages
If you're looking for a destination that celebrates autumn, grants pumpkins celebrity status, and leaves out the scary stuff, set your GPS location to Pumpkintown U.S.A., located less than 30 minutes southeast of Hartford. Here you can sit and chat with Barack and Michelle Gourdama, watch Arnold Squashernager flex his muscles, or crash the wedding of Tanya Turnip and Willie Joe Beet. They are but a few of the adorable pumpkinheads that will welcome thousands of visitors from now until the end of October. If you have children under age 10, Pumpkintown is a "must see" this fall, and be sure to browse our Connecticut Fall Guide for more fun ideas.
Pumpkintown, a delightfully imaginative village, is home to dozens of orange-faced families, a kids' hay maze that little visitors love to race through, a post office, a fire station, a country store, and a saloon (the only slightly scary attraction, it features a plastic Frankenstein and creepy noises). Children will delight in running from one end of the village to the other, peeking into windows, riding in the wagon pulled by Mr. Chili Pepper and his llama, or pretend-driving a tractor. Oh, and given all the excitement, you'll probably even end up in jail.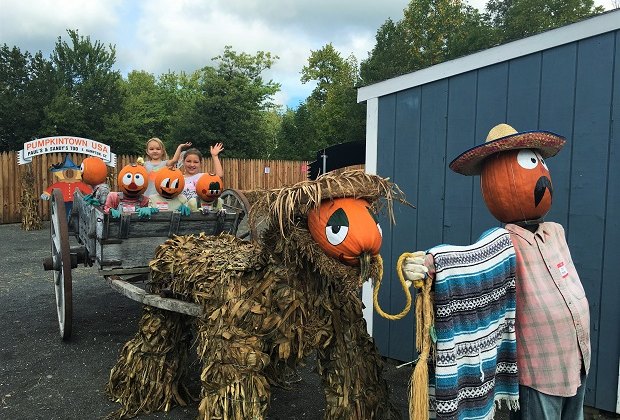 There's plenty to do in Pumpkintown, including hitching a ride in Mr. Chili Pepper's wagon.
Located in East Hampton, Pumpkintown was incorporated in 1993. Before entering the village, you will walk through the harvest shop (admission tickets available here) brimming with locally grown fresh produce, snacks, gifts, and, of course, fresh apple cider and plenty of pumpkin-related items. And there's more!
Across the street, a mile-long ride (it lasts approximately 20 minutes) in a tractor-pulled hay wagon offers glimpses into the woodland settings of more than 30 other pumpkinheads living in Pumpkintown Forest. Visitors of all ages will delight in the whimsical scenes depicting a camping adventure, a school day, panning for gold, a ski trip, and more.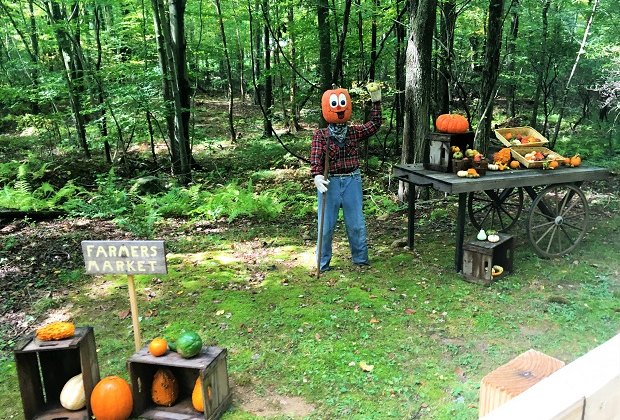 A non-scary hay ride through the forest draws ahhhh's and giggles from visitors.
The lovable residents of Pumpkintown are hand-painted, stylishly-dressed, and make for great photo opportunities. Weather-permitting, they welcome visitors seven days a week, from 10 a.m. to 5 p.m., and have been named one of the top five fall destinations in New England by Yankee Magazine. For the 2017 season, the attraction opens on September 17 and continues through Halloween.
Pumpkintown is easily accessible from Route 66 and offers plenty of onsite parking. Admission to the village is $2 per person on weekdays and $6 per person during weekends and holidays. The ride through the forest costs $7 per person and children under 2 are always free. On weekends and holidays, you can purchase a village & ride package for $12 per person.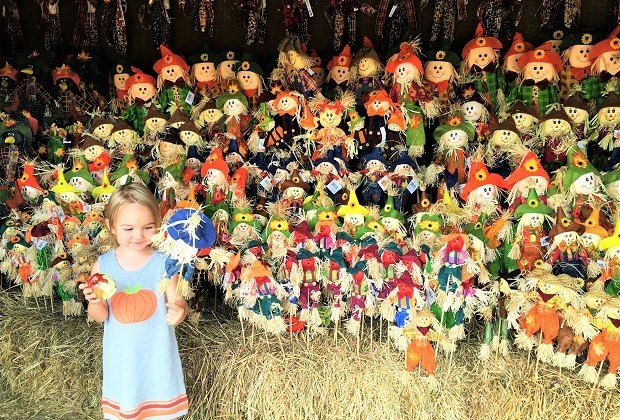 Don't leave Pumpkintown without a little souvenir.
You will probably spend up to two hours in Pumpkintown, but if you have more time to explore the area, check out Gillette Castle State Park in East Haddam, located about 20 minutes away. The castle closes for the 2017 season after Labor Day, but the grounds are open year round and feature hiking trails and beautiful views of the Connecticut River, especially in the fall.
Originally published 9/20/16.
Photo Credit: all photos are courtesy of the author.
Pumpkintown U.S.A.
93 East High Street
East Hampton, CT 06424
Gillette Castle State Park
67 River Road
East Haddam, CT 06423