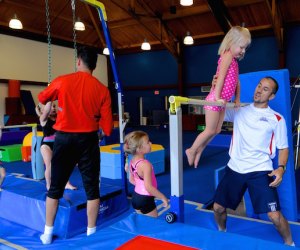 Where to Take Gymnastics Classes in Fairfield County
Who among us was not inspired by the Final Five (or, for the parental set, by the age-defying Oksana Chusovitina) in Rio? My daughter hung up her leotard long ago, but I couldn't help but smile when I saw her walking on the curb as if it were a balance beam and flashing her best Simone Biles-like grin.
Happily, there are many programs in Fairfield County that offer gymnastics at all levels, from elite competitive teams to Mommy and Me recreational classes for children as young as 12 months. Be sure to check out our complete guide to classes in Fairfield County, CT.
Gymnastics Revolution—Danbury
Whether you're interested in Mommy and Me classes or team programs that compete in the USA Gymnastic's Junior Olympic programs, Gymnastics Revolution has something for you. The facility includes a separate room that can be used for birthday parties, as well as great space for viewing your gymnast at work, and (bless them) a Parent Lounge.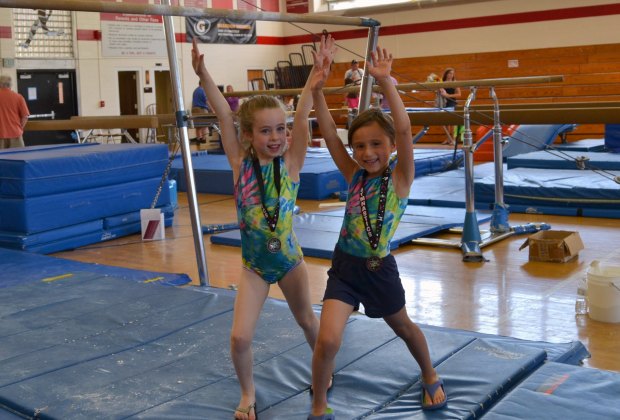 End of the year show for Polly's Gymnastics. Image by author.
Polly's School of Gymnastics — Stratford
A Stratford institution, Polly's has been run by the same family since 1971. Classes are available for girls and boys from toddlers to high school. For the little ones, start with Mom and Me (Dads and nannies also welcome). Summer camps and classes are also available.
Darien YMCA — Darien
The Darien YMCA has a long history and reputation for producing some of the most talented gymnasts in the region. Beginning with parent-child Tumblebees classes that start at 12 months to progressive classes for elementary school aged children to a development program that leads to elite competitive teams, the Y has something for every age and ability level.
Just Tumble — Shelton
The facility in Shelton offers both cheer, tumbling and gymnastics classes on non-spring mats. Summer camps and clinics are offered for all levels, including high school cheer.
Gymnastics and Cheerleading Academy - Fairfield
At this amazing facility which is part of the Sportsplex complex, you can take not only gymnastics classes, but also cheerleading, Parkour, and tumbling. There's even a drop in playspace that the littles will love.
The Westport/Weston YMCA's Gymnastics Center— Norwalk
This facility opened in 2014, and its award winning gymnastics program includes classes and activities for all ages and abilities, from toddlers through high school.
Lakewood-Trumbull YMCA - Trumbull
The gymnastics at the Trumbull YMCA is for kids kindergarten on up, including a team. And if parents get the bug, they even offer an adult gymnastics class. Classes are weekday afternoons and weekend mornings.
Arena Gymnastics — Stamford
Arena offers classes for children as young as 18 months, as well as competitive gymnastics teams, a separate boys program, and cheer tumbling. Multi-sibling discounts are available.
Chelsea Piers — Stamford
The Chelsea Piers facility offers a myriad of gymnastics options. Developmental programs are offered for gymnasts of all ages. Chelsea Piers also offers a competitive team, where gymnasts will strive to compete in state, regional and national meets.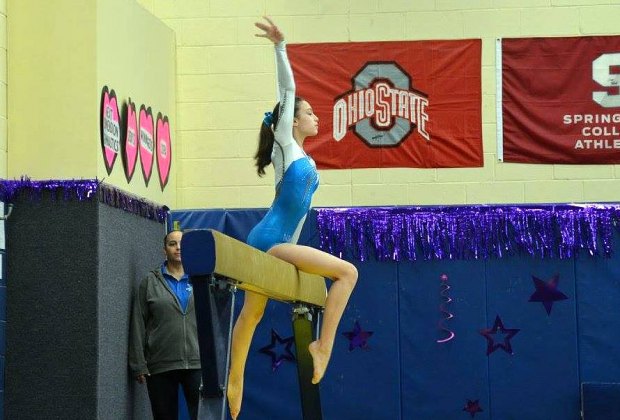 photo courtesy of Next Dimensions
Next Dimension Gymnastics—Trumbull
With developmental classes, teams, Olympic equipment and a 15,000 square foot facility, Next Dimensions has lots to offer every type of gymnast. They offer separate classes for boys and even interested adults..
Originally published 7/1/2013.
Photo courtesy of the Darien YMCA.