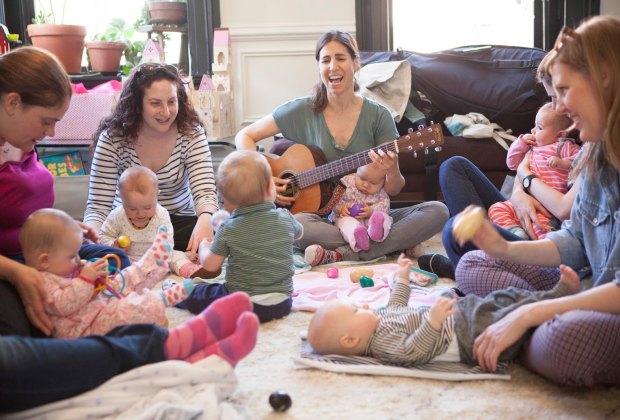 Boost Baby's Brain Power in One of These Fairfield County Classes
If you have a baby, you know: Just getting out of the house can feel like an accomplishment. Like seriously. Now let's talk classes. Does your baby really need to take classes? Yes. And so do you. Trust us.
Taking a Mommy and me—or Dad and me, or Grandparent and me, or nanny and me—class can boost your babe's brain power, help develop social skills and foster creativity. (Bonus: you can make some new mommy friends!) Classes also offer the perfect excuse to let your guard down and groove to your favorite kid tunes, make a glittery sticky mess, and just remember how to be silly. Here are some classes for you and your babe in Fairfield County. For more, check out our Connecticut Class Guide.
Music Together, Fairfield, Monroe/Newtown, Danbury Area
Offered at more than 3,000 locations and 40 countries, Music Together is one of the most well known and Mom trusted music programs worldwide. Each week in Music Together classrooms around the world, babies, toddlers, preschoolers, big kids—and the grownups who love them—gather to make music as a community.
Connecticut Dance Center, Stamford
This recently expanded studio welcomes students of all ages and abilities beginning with mommy-and-me. So throw on your tutu and get ready to boogy!
Maryann Hall, Westport
A longtime highly respected music program, Maryann Hall offers a multi-sensory, age-appropriate curriculum that will have your children reading music with their eyes, ears, and whole bodies. Each class artfully tells a story through song, dance, drama, rhythm, and rhyme. Live guitar, banjo, and piano every week with hundreds of instruments to play.
Polly's School of Gymnastics, Stratford
A Stratford institution, Polly's has been run by the same family since 1971. For the little ones, start with their Mom and Me (Dads and nannies also welcome).
Giggling Pig, Shelton, Bethel
Weekly Mommy & Me classes offer families a chance to get messy with themed creative projects. Giggling Pig also offers free play areas for kids with puzzles, sensory bins, and shaving cream fun.
Yogabilitation, Fairfield
Fairfield's Yogabilitation offers kid's yoga classes as a component of their comprehensive physical therapy offerings. Classes available include infant massage and parent and baby yoga.
Kindermusik, Norwalk
For three generations, Kindermusik has helped millions of children around the world build a strong foundation for a lifetime of learning. Kids are welcomed into a playful and nurturing environment to sing, move, play instruments, and hear stories—all while developing social skills, problem-solving skills, pre-math skills, and a foundation for reading.
​Kidville, Westport
Kidville's signature music program, Rockin' Railroad, introduces a new instrument to kids each week and is available from newborns through age 5. Two-year-olds are playfully introduced to the basic positions and movements of ballet using music, games, creative imagery, and stories in the fun-filled Ballet Tea Party.
Great Play, Stamford
Great Play's Introductory Motor Skills Program called Great Start is the perfect first step for infants. It gives children a broad foundation of essential introductory motor skills, including a full range of locomotor, stability, and manipulative skills. Players, with parent's support, enjoy physical exploration and play, and develop a broad base of age-appropriate motor skills in the process.
Children of the Sound, Norwalk
Boasting the title of "the largest swim school in Fairfield County," Children of the Sound offers private, semi-private, and parent-tot classes for children 6 months – 3 years. The classes focuses on water safety and comfort, and are offered most weekday and weekend mornings.
Cover photo courtesy of Baby in Tune.