Aerial Adventures Await at Soarin' Indoors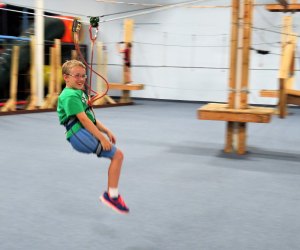 When it opened a few years ago in what was once a Manchester warehouse, Soarin' Indoors became New England's first indoor aerial adventure park, and today, this Hartford-area attraction continues to provide young thrill-seekers with opportunities to overcome their fears and defy physical limitations, while having a fantastic time. If your children have outgrown bouncy houses and inflatable slides, or just need a break from them, head to Soarin', one of Connecticut's many Indoor Playspaces and Fun Zones. The experience will engage their agility, balance, strength, and endurance, and most of all, leave them with beaming smiles ignited by personal accomplishment.
First, the basics: you walk in, sign a participation waver, and pay admission. A staff member will harness your child and provide safety instruction and guidelines. Make sure your child is comfortable latching and unlatching before you proceed, since maneuvering the heavy duty clips could be a bit challenging at first for tiny hands.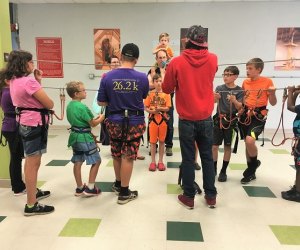 Safety first! Before embarking on their aerial adventure, participants are harnessed and taught how to move along the course.
And now the fun part: Soarin' Indoors is geared for adventurers ages 6 and up or those who stand at least 60 inches tall; but not to worry: younger siblings will enjoy the enclosed playscape, which features a ball pit, a slide, and climbing obstacles. For those who meet the age requirement, some 12,000 square feet of excitement await, including tight ropes, cargo nets, wobbly rope and wood beam bridges, and three zip lines that vary in size.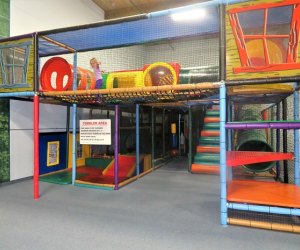 While older siblings walk across tightropes, those under age 6 will find plenty to entertain them in the playscape.
The lower level is only 2.5 feet off the ground, so even those afraid of heights can find it manageable. The upper level is more challenging than it looks, but children are optimistic and resilient. Though frustration and hesitation are sometimes evident, so are problem-solving skills and determination. In the end, however, the physical accomplishment is great and leaves participants feeling proud of themselves.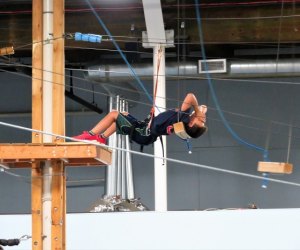 The upper level obstacles require extra effort, but as this young man proves, when feet are once more planted on firm ground, the victory is sweet.
If a child gets stuck at any point, or too scared to proceed, a staff member comes to the rescue, even providing a ladder if needed. If a child should slip and fall (and it happens because some of the obstacles are wobbly), the harness ensures that he or she drops no more than a few inches, and in most cases, children are able to get back on the obstacle on their own.
Though this adventure ropes course is not as colorful and elaborate as others, what is especially nice about it is the absence of time restraints. Participants are allowed to unhook and rest, as long as they do not remove their harness (when that comes off, the game is over). We spent 3 hours here before the children in our playgroup got tired, and we all appreciated the no-pressure environment that allowed them to challenge themselves at their own pace.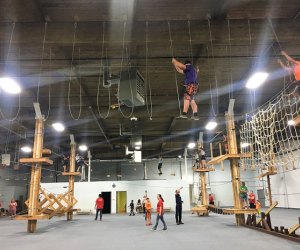 The open floor plan allows for adventurers to be in view of guardians and staff at all times.
Food services are not available onsite, however Soarin' is conveniently located in close proximity to many restaurants and the Promenade Shops at Evergreen Walk (think Ben & Jerry's ice cream!).
While here, consider driving around the block and taking children to Time Machine, a place kids of all ages will definitely enjoy. This hobby and toy shop features countless items that will delight: planes, Legos, doll houses, trains, science kits, stuffed animals, Breyer horses and barns, and much more. It is worth a stop just to see the displays, but note that it is closed Monday and Tuesday.
Things To Know Before You Go:
Soarin' is not just for kids. If you're willing and able, join the fun and make it a bonding experience.
Tickets are $13.95 for children and $18.95 for those ages 13 and up.
A water fountain is located near the restrooms and beverages are also sold here, but you may also bring your own.
Consider wearing long sleeves, long pants, and athletic shoes (no sandals, flip flops, etc). It will make scaling cargo nets more comfortable.
A few pairs of work gloves were laying around, but it's best to bring yours if you think it's necessary. Horse riding gloves work well, though most children went bare-handed.
A variety of ice cream bars are sold on site, but no other snacks.
The venue is available for parties. You must bring your own food/dessert, but a private room is available for dining.
Open 7 days a week, starting at 11 a.m. Sunday, and 10 a.m. on all other days.

Photos Credit: All Photos Courtesy of the Author