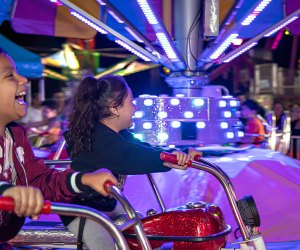 Things to Do in Chicago This Weekend: Block Parties, Art Fests, Food Fairs, Zoo Run
It's the first full weekend of September, and there's So. Much. To. Do. in Chicagoland, most of it FREE. Banish the back-to-school blues with this weekend's packed lineup of festivals, art fairs, and neighborhood block parties.
The 79th Street Renaissance Festival is a beloved back-to-school tradition in Chicago—no doublets or jousting here, but plenty of live music, food, and South Side love. And that's just one of the big block parties this weekend: You'll also find kid-friendly fun at Elmhurst's Rock the Block Party, Barrie Fest in Oak Park, the Prairie District Festival, and the awesomely old-school Winfield Good Old Days festival.
Family-friendly art fairs this weekend include the Downers Grove Fine Arts Festival with a kids' booth hosted by the YMCA, the West End Arts Festival in LaGrange with jazz, local food, and art activities, the huge Renegade Craft Fair in Wicker Park, and Frida Fest on Sunday at the College of DuPage, celebrating the famous painter's life and works.
Cultural celebrations also take to Chicago's streets this weekend with the Ukrainian Village Festival on Saturday, the Fiesta Latina in Berwyn, and the Eid Al-Adha Fest all weekend at the DuPage County Fairgrounds. And Oktoberfest season kicks off this weekend with oompah-and-bratwurst-fueled fun in Tinley Park and Oak Park.
If you still have room after all that schnitzel, the Forest Park Ribfest promises to be a belly-buster, and Oak Park's Great Food Truck Rally is a tasty change of pace from cooking at home. Active kids will love running off the extra treats at the Brookfield Zoo Run Run or the BBQ Bolt in Downers Grove, or digging in to help plant trees on Grandparents' Day Sunday in Glen Ellyn.
And that's just the tip of the iceberg—there's also trucks, a circus, birdhouses, and Moana, among other assorted activities. See below for even more weekend picks, and keep an eye on our bursting-at-the-seams event calendar.