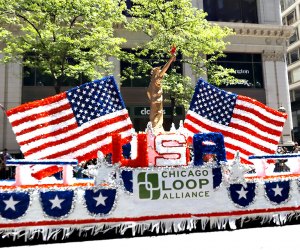 Memorial Day Weekend Fun for Chicago Kids: Parades, Bike Rides, Street Fairs
Memorial Day weekend is here, so the summer can go ahead and kick off already plskthx. Public beaches open this weekend, and Memorial Day observances include the annual parade and wreath-laying ceremony in the Chicago Loop on Saturday, with more local parades on Monday in the suburbs. At Cantigny Park, families can enjoy a day filled with patriotic performances (and helicopters!) followed by an afternoon big band concert.
This Saturday night also marks the first summer fireworks show at Navy Pier. (And if you're going to blow the kids' bedtime anyway, check out the Art on the Mart display after sundown.) Summer festival season launches this weekend too, with the Festival Mole de Mayo on Saturday and Sunday in Pilsen, and the Belmont-Sheffield Music Festival in Lakeview.
If you're just looking to enjoy a little natural summer splendor, Bike the Drive is ready to oblige with an all-ages bike ride along our city's lovely lakeshore. Or catch (not literally) Butterflies and Blooms at the Chicago Botanic Garden.
Looking for more fun ways to spend the long weekend? Our event calendar is packed with ideas. Have a wonderful holiday!