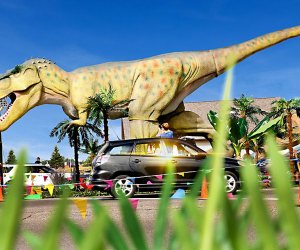 Best Things To Do in Chicago in September With Kids: Dinos, Outdoor Movies, Festivals
September is a great month to enjoy some street festivals, movies in the park, or other outdoor events in Chicago as we finally get a slight dip in temperatures. It's also the season for back-to-school, apple picking, and taking a hike with the kids.
We've rounded up the top things to do in Chicago this weekend, as well as more upcoming September events. If you've got a dinosaur fan on your hands, consider a jaunt to the western suburbs where prehistoric reptile fans can enjoy some animatronic fun at the Brookfield Zoo or DuPage County Fairgrounds. There are also outdoor movies, fall festivals, and mini trains to see in September.
Chicago families can always find more fun things to do with kids on our Event Calendar, which is coming back from the brink of near coronavirus-induced extinction. Still looking for fall classes for kids? Head over to our online Back to School Fair, or check out these virtual options.