Swimming Spots to Host a Pool Party for Your Chicago Kid
6/25/23
- By
Lauren LaRoche
A swimming party is the ultimate perk of being a summer birthday kid. For the parents, these outdoor pool and water park birthday party rentals means there's no mess or chaos at your home and no need to hire additional entertainment. The kids get 2 hours of private pool play with their closest friends and family.
In addition to the pools on this list, many of the splash pads featured in this guide also offer private rentals for the younger kiddos.
For more summer fun, check out our guides for the Best Outdoor Water Parks near Chicago and the Best Outdoor Pools in Chicago. And don't forget to check out our Kids' Birthday Party Places in Chicago Guide for more ideas.
Pools and Water Parks for Birthday Parties in Chicago


Whealan Pool Aquatic Center offers party packages with 2-hour time slots. Photo courtesy of the Whealan Pool Aquatic Center
Host a pool party at Whealan Pool Aquatic Center in Norwood Park. Party packages are available in 2-hour time slots. Packages start at $250 and include admission for 20 guests. You can bring your own cake and food catering is available on-site. Additional guests are $7 each and the maximum capacity is 30 guests. You'll have a private picnic area reserved for your guests which includes a 12x12 tent for shade and 2 picnic tables.
Splash Country in Aurora has birthday party packages for residents as well as non-residents. For $220/$250 you'll have all-day water park admission for up to 18 guests. You'll also have a private party rental space for 2.5 hours to use for only your party. You can also reserve Splash Country after hours on weekends, Friday-Sunday evenings. Pricing and availability are available through email.
Coral Cove in Carol Stream is great for large parties. You can rent the entire water park after hours for up to 500 guests. The rental is $999 for residents and $1,199 for non-residents. You'll have private access to the entire water park plus a canopy area for eating for 2 hours. For smaller parties of 40 people or less, it's $50 for residents and $70 for non-residents per hour. More options and party packages are available on their website.
White Water Canyon Water Park is the ultimate pool party destination. There are a variety of different pool party packages for residents and non-residents ranging from $240-$450. Guests receive admission to the water park and ice cream for all guests. For little ones under five, you can also rent the splash pad park for a private party.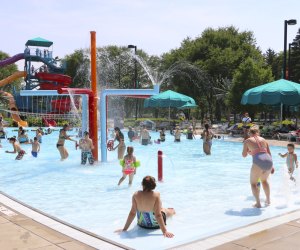 Rent the whole Paradise Bay Waterpark after hours or have a party deck during the day. Photo courtesy of the Lombard Park District
The Lombard Park District offers after-hours private party rentals from 7:00-9:00 pm on weekends from Friday-Sunday evening. You can also host a party during business hours with a designated party area reserved just for your group. The private party deck is available for groups of 40. Pricing and availability are available through email.
In Niles, you can rent the Oasis Fun Center, which is a year-round indoor party room. This is adjacent to the pool and great as a rain backup space if needed. Your rental is available for up to 6 hours for $5 per person with a $200 rental fee. For an additional $5 per person, you'll have access to the Oasis Water Park.


Pelican Harbor also has a sand playground. Photo courtesy of the Bolingbrook Park District
Pelican Harbor Aquatic Park in Bolingbrook offers a wide variety of packages. After hours, you can rent the main pool, the sand playground, the Oasis play area, the water slides, and the lazy river. You can choose to rent them all or just a portion of the pool and water park depending on your preference and party size.
You can rent East End and Smalley Pool in Elmhurst for your next birthday party. Both pools are available after hours only and include a lifeguard. East End pool is available between 8:30-10:30 pm for the big kids. Rentals are $687 for non-residents and $550 for residents. Smalley Pool is open for rentals from 6:30-8:30 pm. The rental fee is $562 for non-residents and $450 for residents.
Both the Northbrook Sports Center and Meadowhill Aquatic Center in Northbrook are available to rent. Prices range from $600-$700 for residents and non-residents depending on the size of your group. The facilities are available after hours from 6:15-10:15 depending on the facility and day of the week. At Meadowhill Aquatic Center, you can also rent the children's play area for an additional $125 for members or $150 for non-members. You'll have the entire facility for your private party including space to eat and cut the birthday cake.
Best Indoor Pool and Water Park Party Rentals
In addition to the outdoor pool and water park, Pelican Harbor Aquatic Park also has an indoor pool that is available to rent after hours. This is great for winter months or in case of a rainy day. The cost of an indoor pool rental for non-residents is $395 for up to 50 guests and $6 per person over 50. For residents, it is $329 for 50 guests and $4 for each additional guest.



Water Works is indoors and has several swimming areas for rent. Photo courtesy of the Schaumburg Park District
The Water Works in Schaumburg is an awesome indoor pool facility. You can rent the pool after hours on Saturday and Sunday from 6:00-8:00. The price for one pool starts at $300. Additional pool areas are also available at an additional cost.
For little ones, you can also rent the Splashway area. For groups of 15, the cost is $350 for residents and $400 for non-residents. Additional guests can be added for $10 per person. This includes 2-hours of swim time during public swim and 1 hour in a party room with a party host.
Splash Island is an indoor pool and splash pad at the Oak Brook Park District Recreation Center. They offer a wide variety of rental packages which include just the splash pad for little ones or the entire indoor pool facility for older kids. Rental costs range from $330-$560 for residents and non-residents depending on the package and time of year.
Click Here to Sign Up!
i