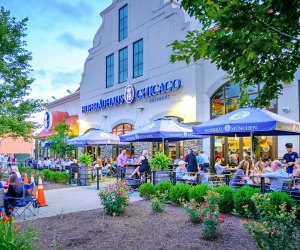 Top 10 Chicago-Area Outdoor Restaurants for Families
Deep dish pizza season has ended and grilling season has begun across the Chicago area, just in time for the opening of outdoor restaurants. As part of Illinois' Phase 3 reopening, restaurants with outdoor seating are allowed to serve food to groups of 6 or fewer—which includes most families! To meet the requirement of keeping tables 6 feet apart, some neighborhoods are closing streets to vehicles to allow for more outdoor seating, but many other outdoor restaurants around Chicago already have ample sidewalk areas, patios, or gardens.
Sure, many kid-friendly foods are available from Chicago restaurants serving takeout, but it's nice to have a break from eating out of paper bags and boxes. Here are 10 of our favorite Chicago-Area outdoor restaurants where families can enjoy a delicious meal outside their own four walls. Go strawberry picking before or after and make a day trip of it!

Roebuck is a great place for a family meal.
These sister restaurants are teaming up to serve diners in the Broadway area of East Lakeview. This is the first street in Chicago to shut down to vehicle traffic to accommodate additional seating. Kids may enjoy the thrill of sitting near the street while adults can take in house-brewed beers, bar snacks and burgers.
2. Crosby's Kitchen - Lakeview/Southport Corridor (North Side)
Kids eat free from 4pm to 6pm at this Southport Corridor Midwestern-style restaurant. The eatery has been serving takeout lemonade since early in the pandemic, but now diners can enjoy Chicago favorites like Paulina Market sausages and barbecued baby back ribs on its large patio.
3. Chop Shop - Bucktown (North West Side)
This 100-year-old building used to be an auto body shop, but now it houses a butcher, deli, restaurant, and bar, with a beautiful rooftop patio open for dining. Families can enjoy burgers, deli sandwiches, steak frites and salads, with a view that stretches all the way to the Willis Tower.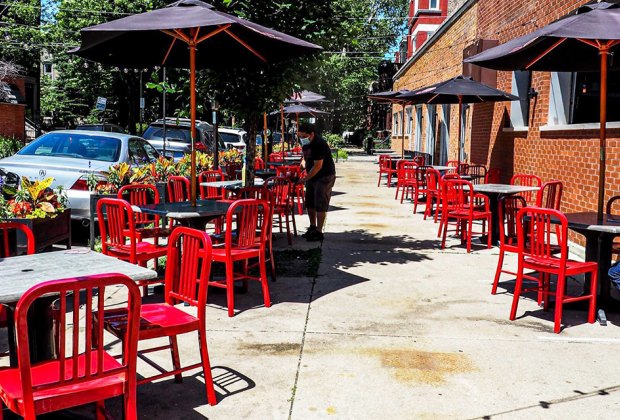 Grab a pie and enjoy the fresh air at Roots Pizza.
4. Roots Pizza - West Town and Lincoln Square (Northwest Side)
This Quad Cities transplant has two of its locations open for patio seating (the Second City location is still takeout and delivery only). Families can choose traditional favorites, like sausage or garden pizzas, or go a little more adventurous with chef collaboration options like Korean fried chicken or chili cheese curd pies. Reservations are available on the Roots website.
5. The Duck Inn - Bridgeport (South Side)
Both kids and a adults can indulge on hot dogs made with duck fat at this South Side hot spot. Other favorites include Italian beef sandwiches, burgers, and duck wings served with Japanese barbecue sauce. Families with more adventurous palates can order a whole rotisserie duck complete with potatoes, baby kale, strawberries, and green garlic. Duck Inn's garden features both high-top and low seating.
The large biergarten at Hofbrauhuas may not quite serve Chicago-style hot dogs, but its German fare includes a unique kids menu along with plenty of options for adults. Kids can save room for apple strudel while adults can partake in lagers, hefeweizen, and German mules.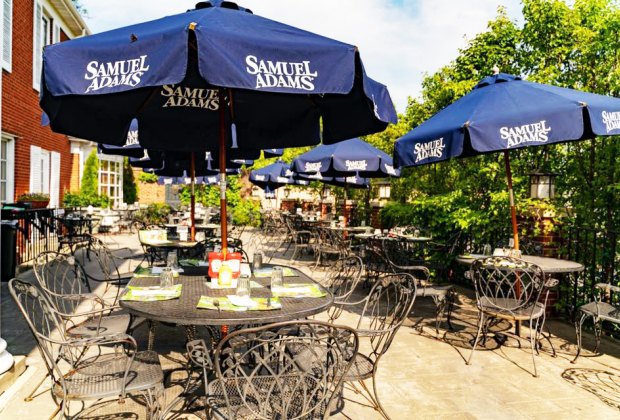 Enjoy a family meal under a shady umbrella at Hackney's.
7. Hackney's - Glenview (North Suburbs)
Famous for its Hackney Burger on dark rye bread and original French-fried onions, this classic north suburban restaurant has plenty of space on its outdoor patio. Open since the 1930's, this family friendly eatery offers something for everyone, from burger sliders to a full bar.
8. Fuller House - Hinsdale (West Suburbs)
As downtown Hinsdale finalizes plans to shut down parts of First Street to accommodate restaurant seating, this rustic-chic bar (which is not related to the Netflix show of the same name) has plenty of patio seating. The restaurant is hosting a pig roast for Father's Day and will serve small plates, burgers, sandwiches, pizzas, tacos, and entrees to west suburban families looking for an alternative to cooking at home.
After weeks of drive-through pig roasts during Phase 2, this four-acre backyard restaurant is open not only for eating, but also for live entertainment, volleyball, basketball, and lawn games. Daily drink specials may appeal to adults while the whole family can enjoy ribs, fish fry, and barbecue. Seating may be limited on weekdays as the restaurant has limited staff.

Devour a delicious brunch on the lush green patio at The Hen House.
10. The Hen House - Wheaton (West Suburbs)
This locally owned breakfast, brunch, and lunch spot serves an extensive menu on a lush green patio. The Hen House has something for every member of the family, from basic eggs and bacon to indulgent chocolate and strawberry waffles to specials like the filet mignon benedict.
Photos courtesy of the restaurants